Mork and Mindy and Lemmy and Too Much Sugar in Denver
Robin Ince's Horizons Tour Diary
We should be in Omaha right now. 
Originally, the tour bus was taking us all the way to Salt Lake City on the first leg of US tour, but Brian looked at the schedule and decided he didn't want a two day trip to Denver when we could get there from Minneapolis in two hours. I see his point. 
Instead of Nebraska, we have just eaten desserts so sugary I feel as if my teeth are melting and my internal organs have turned to candy floss. 
I brush my teeth, I tense my gums to hold my teeth in, just in case.
Our waiter was overly attentive. He is the waiter Sartre writes about.
"His movement is quick and forward, a little too precise, a little too rapid. He comes toward the patrons with a step a little too quick. He bends forward a little too eagerly; his voice, his eyes express an interest a little too solicitous for the order of the customer."
Perhaps it is because English people are known as bad tippers that he puts on a bit more of a show and cares a little too much about our opinions of the cheesecake. Sometimes, you just want to say, "Don't worry, we're not those English people. We promise to tip well, but you don't need to faith any interest in us or our pudding critiques". 
As the plane begins its ascent, I see a broad smile on Brian's face. He loves to fly and it is always a delight to see his excitement, especially if it is one of his favourite passenger jets, this one isn't, but he is still traveling to the clouds. 
On the plane, I was reading the big book of the Supernatural America exhibition. As luck wouldn't have it, when the stranger sat next to me, I unwittingly turned the page onto the image of Carolee Schneeman's Interior Scroll, in which she removed a scroll from her vagina and, while doing so, read from it.
I hastily turn the page. I know it is art, but does the stranger. I think this is why my neighbour feigns sleep for the rest of the journey, fearing that I might engage her in conversation. 
I also read from a couple of issues of Broken Pencil, the magazine of zines and alternative culture. I decide not to take out the issue that deals with how fascists have used zine cultures, because Sieg Heils after interior scrolls may be too much. 
On the way into Denver, Brian sees a sign for Boulder, Colorado and starts to sing the Mork and Mindy theme tune. The last time I was in Denver was 1988, the peak of my Robin Williams obsession. In every city, I sought Robin Williams memorabilia. I try to recall if it was in a record shop in Denver where I found my first Jonathan Winters LP, Down to Earth. Winters was a hero of Williams, a groundbreaking comedian in his own right, and would eventually join the cast of Mork and Mindy. Denver was where I saw Tom Hanks in Big for the first time and also the first time I realised just how heavily armed US police were. Asking directions to The Old Spaghetti Factory, I noticed just how big the pump action shot gun in the police car was. 
There is a lot of concrete here that was here in 1988. The art I particularly remember from that visit was John DeAndrea's Linda. It was the first time I experienced Hyperrealism. The figure looks so real that, the longer you look at it, the more your mind creates the illusion of her breathing. Since then, I have had similar experiences looking at the work of Ron Mueck and Patricia Piccinini. I love her fleshy, fairy tale creations that can look both monstrous but also desperate for, and worthy of, your love. 
Having stuffed my face at lunch, admittedly mainly with lettuce, but good quality lettuce in ranch dressing, I decide I better go for a walk, so I look up Denver bookshops. Some may think I am always seeking out secondhand bookshops because of by lust for printed material, but I also seek them out in unfamiliar towns because it allows me to get lost a little. We usually stay in the hotel/car park/financial part of the city and you won't find secondhand bookshops there. Hedge fund managers didn't make their money due to an overwhelming fascination with books about obscure Spanish exploitation films and ritual animal mask use in folklore. They may have a desire to invest in a first edition of The Hobbit, but they are the sort that would remove the slightly tattered binding and have hit replaced with new leather from the flayed corpses of whatever self-serving financial conjuring trick has destroyed some ancient firm or guild. 
Today, I decide on Kilgore Books and Comics as it is a mile and a half away and, I presume, named after Kurt Vonnegut's Kilgore Trout. It starts with plenty of hotels, car parks and anonymous glass buildings that hide a myriad of sins by revealing only our reflections. As usual, under stone edifices with Liberty and Justice for All carved into them, there are encampments of poverty and psychiatric despair. Beyond that, I find a street where the quirks begin, enigmatically closed diners, plenty of yoga outlets including CourgeoUS Yoga. There is also a square of bleakily inviting bricks called Black Box which, unsurprisingly, turns out to be Denver's leading underground music venue.
Just before I arrive at Kilgore, I come face to face with a mural of Lemmy, decorating the side of Wax Trax records. Entering Kilgore, I really don't want to find anything. It has a display of REsearch books and, fortunately, I have their edition of The Atrocity Exhibition already. I do not have the book of interviews with Henry Rollins, Billy Childish, Jello Biafra and Lawrence Ferlinghetti though. I leave it on display, hoping someone else will purchase it so I know its destiny was not to be mine. I look at local zines and comic books. I had already decided I would get Blammo by Noah Van Sciver as I had read this was the first book that Kilgore brought out when they went into publishing. The interviews are still there when I reach the counter, so its destiny WAS to be mine. I chat to the bookseller and he gives me a trout sticker drawn by Noah. Like me, he is clearly a human that cannot resist books and I tell him he must get to Toronto.
I weave through backstreets until I am back at the dead centre.
Tonight was a night with a lot of air keyboard, as well as ecstatic hand clapping to the mushroom clouds of atom bombs.
Brian received a text from Andy McCluskey of Orchestral Manoeuvres in the Dark. He had just noticed that we were playing their Denver venue the night after. Brian was beaming, he was as happy as pig in a metaphor. Our night out was sorted. I was worried that if he had one more glass of wine he would storm the stage and demand to play keyboards during Tesla Girls and then runaway from his science show to join the synth circus.
The audience were elated throughout, utter adoration and a really proper caterwauling demand for an encore. There is something rather delightful about seeing a band turn martyrs burnt at the stake, nuclear war and the end of life in the universe into a great big party.
I think Brian will try to make sure that his equations are a bit more sing-a-long tomorrow night.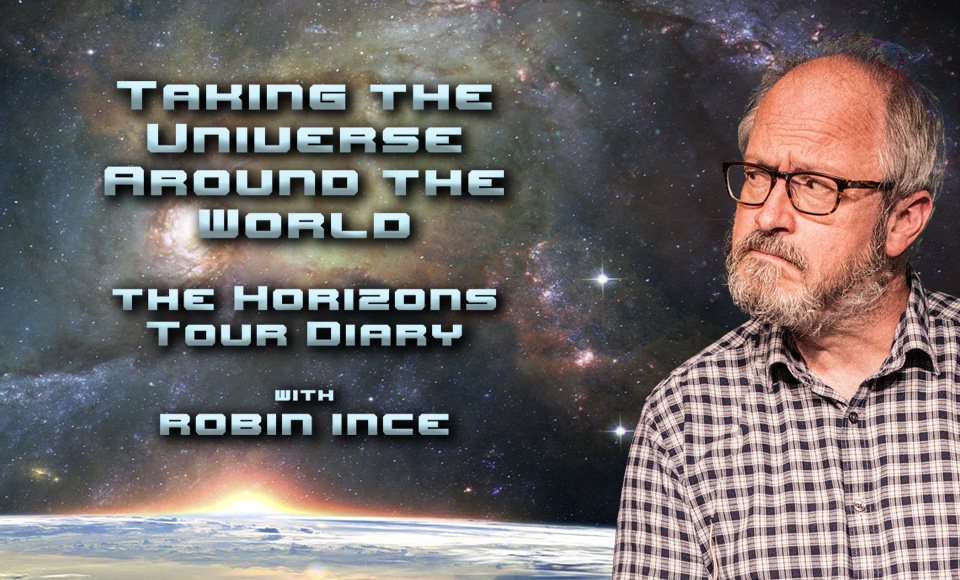 Listen to the Horizons tour podcast, Taking the Universe Around the World HERE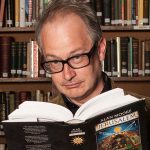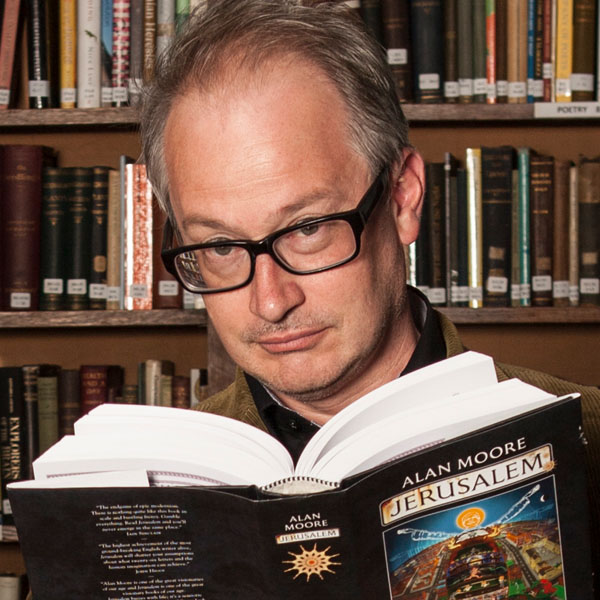 Robin Ince is a multi-award winning comedian, writer and broadcaster.  As well as spending decades as one the UK's most respected stand-ups, Robin is perhaps best known for co-hosting The Infinite Monkey Cage radio show with Brian Cox.  For his work on projects like Cosmic Shambles he was made an Honorary Doctor of Science by Royal Holloway, University of London. His latest book, The Importance of Being Interested is out now.
If you would like to reuse this content please contact us for details
Subscribe to The Cosmic Shambles Network Mailing list here.