Mumbling Mathis in Ohio
Robin Ince's Horizons Tour Diary
Last night, I had a troubling dream about my father.
He ended up bruised and broken by a peculiar series of events that happened in a rapid series of flashes. I presume it is because I am some distance away and also the guilt of touring, of leaving family behind and placing further responsibility on their shoulders. As I leave the dream and arrve back into the hotel room, I am disturbed by a sense that this might be one of the dreams you read about in the scriptures or the Fortean Times, and I warily open my email to see if anything untoward has happened.
It has not.
Reason has prevailed. 
When I am away, I remind myself that my wife keeps the world turning as I go around the world. 
My alarm had gone off at 8.30am as I was told breakfast would be at 9.
By 9.39, texts are still unanswered.
Brian is considerably better at sleeping than me, one of the myriad reasons this older man than me has managed to repel entropy while I tumble head first into disorder. 
My eyes are creased behind their bags today. 
Eventually, I give up and go for a walk. As I cross the bridge and find a statue about emancipation, the call comes, the others are ready for their omelettes. 
Now Steph is here, the day is built around the fitness regime. Brian will spend the morning trying to make quantum entanglement explicable to the lay reader and I will aim to take in as much of Columbus as I can before being placed under 50 kilos on a bench. 
As I wander under the awning of tonight's theatre, I see someone taking a picture of the billboard. 
It must be an early Cox cosmology fan, but on closer inspection it is our tour co-ordinator Natalie. 
We missed Johnny Mathis by one day. He was on stage here when we were on stage in Pittsburgh. He is an icon with a tale to tell (and I recommend you read the chapter about him on John Waters' book, Role Models). For the next 37 minutes, I mumble sing When a Child is Born as I stride along the sidewalk. 
I walk up Broad Street. Columbus is spread low and wide, so I am the lone pedestrian as everyone else is in their car. This means I don't need to be discrete with my mumble Mathis. 
I wander by a church whose banner is the LGBTQI+ banner and promises a welcome for all. I take a detour down some back streets, passed dumpsters and empty car lots. Later, I see a Lazarus Parking, a multi-storey affair that I presume gets its name from people perpetually underestimating which floor their car is on and so having to rise again. 
The library is impressive, spacious , artful and with very helpful librarians. One wall is covered in small paintings of all the authors who have been keynote speakers at the library's yearly Celebration of Learning. The first was Ray Bradbury, an utter educational joy to listen to when it comes to the art of storytelling (I highly recommend watching him in conversion with Ray Harryhausen). The whole space is an inviting celebration of literature. 
By never looking in the city guide books, almost whatever I find is a surprise. Behind the library is lush park with some splendid topiary, hedge figures trimmed to recall the Georges Seurat painted figures in a park. 
I walk the wrong way for a while, seeking eccentric signage, but then turn back for the Museum of Art. Yet again, this is an active space. Buying my ticket, the man behind the counter who has a very impressively decorated ear, nothing gaudy, just an interesting collection of silver, wonders if I would also like to see the special exhibition which is currently Roy Lichtenstein. I am not so sure, as I have seen quite a lot of his work, but the women behind the counter, too distant for me to inspect her ears, tells me I won't have seen anything like this as it is his early work, his pre pop art days. She is both persuasive and correct. I tell the silver eared man that I wish I could find more Robert Rauschenberg in American Galleries, but he has never heard of him. No artist's work has made me smile as much in a gallery as Rauschenberg. I promise him that he is oi for a treat if he goes into the adventure of his work, whether the found objects and decorated stuffed Angora goat, the silk screens, the bubbling mud, or the unfolded boxes. The man behind me joins in with high recommendations. I hope he trusted us, he's in for quite a ride if so.
Early Lichtenstein is influenced by Miro, Picasso and the myth of the American west.
"Art is mysterious but definable 
It is mysterious as a thing 
but definable as a way"
This is one of nine whimsical poems from his master's thesis. 
His desire was to evoke mythic narratives, but beside his images of cowboys and, occasionaly, a man on a lion, I am most captivated by his painting of a woman knitting. I always like to see the knitter celebrated. 
I hoped that his painting the Diver was a celebration of when Dali was showing off by turning up to a do, the 1936 surrealist exhibition in London, in a deep sea diving outfit. He wanted it to illustrate the depth of the subconscious he wanted to reach, but due to his failure to correctly set the valves, he almost suffocated. The burial at sea was not required. Anyway, that's not what the painting is about, it's more about Jacques Cousteau, who was far more adept at valve settings.
Due to the limits of time, I have to quicken my face and make rash decisions about the art when I reach the floor of contemporary artists. Here artists talk about reacting not merely to culture and the material world, but also the virtual world. As David Chalmers writes in his latest book, we do a disservice if we discount virtual reality as being  part of real experience.
I am taken by Robin F Williams' Final Girls, a piece inspired by the final girl theory of slasher movies with a touch of The Man Who Fell To Earth too.
"On top of the layered art-historical and cinematic references, Williams also uses techniques derived from painters on tik-tok and instagram" (for instagram painters, I recommend you check out John Levers, who also provided that art for the final den poem print).
I also want to find out more about Jadé Fadojutimi – "My paintings derive their shapes, colours and patterns from clothing, anime, video games, soundtracks, childhood obsessions, traumas, experiences and objects I have found along the way". You only have to cut out a couple of those and I would say that is the same for what I write as well as the stand up of many of my friends.
I am also captivated by Nick Cave's sound suit , Somaya Critchlow's The Weight of Silence , Ken Fandell's The skies Above and much more besides.
I think back to Basquiat going around The Museum of Modern Art  in New York and commenting that there were no black artists to be found. Here in Columbus, there seems to be a move forwards, as well as in other cities too. There must be at least some positive change or so many hacks wouldn't be making money by viewing any increase in diversity so negatively. Rather than seeing this an increase in the diversity of visions, the jump to, monetised position is to consider any white male artist having a canvas taken down and replaced by a non-white artist as some sort of act of censorship. I have been naive for so much of my life in my failure to recognise the low hum of white supremacy that is in so many places, including amongst those playing the progressive. For some, there will always be the presumption that art, proper art, truly springs from white men, as others are still battling their barbarism, their lack of sophistication, or their genetic predilection of compliance. In the UK, I see there is an article in the Saturday papers We're Hurting Oxbridge in the Name of Equality. Are we? This is the position of the eugenicist who holds Francis Galton's Hereditary Genius as an essential text.
I was also very fond of Aminah Brenda Lynn Robinson's Self Portrait with Rabbit which reminds me of the most splendid in the catalogue of supermarket art and Thomas Hart Benton's bleak and monochromatic Strike.
I love that the gallery has jigsaw puzzles of some of the paintings to see if you can reconstruct the works as you stand before them, and there are plenty of places to leave your post it-note comments. I am tempted to buy the 1000 piece jigsaw of Andrew Wyeth's Christina's World, but if I start buying jigsaws as well as books then there will be true luggage chaos.
"When I was a kid I was basically she-ra, that feels relevant"
"People only ant to complain and talk about the fault of others"
"am I enough?"
You can also make things from tin foil in the creative zone.
Walking back on the street, I pass the the drug and alcohol dependency clinic. Outside are two solid granite benches, carved in the it says "Treatment Works" and "Recovery Happens."
I weave through streets. I admire a shop window that has vibrant dresses that would be perfect for an all singing, all dancing stage production of The Stepford Wives. There is also Discovery Park, the first park specifically developed to celebrate Ohio's public educators. There is a striking statue of teachers and children and learning. We will truly know we are civilised when the statues of the teachers and the nurses and the scientists and the philosophers outnumber those of the generals and politicians.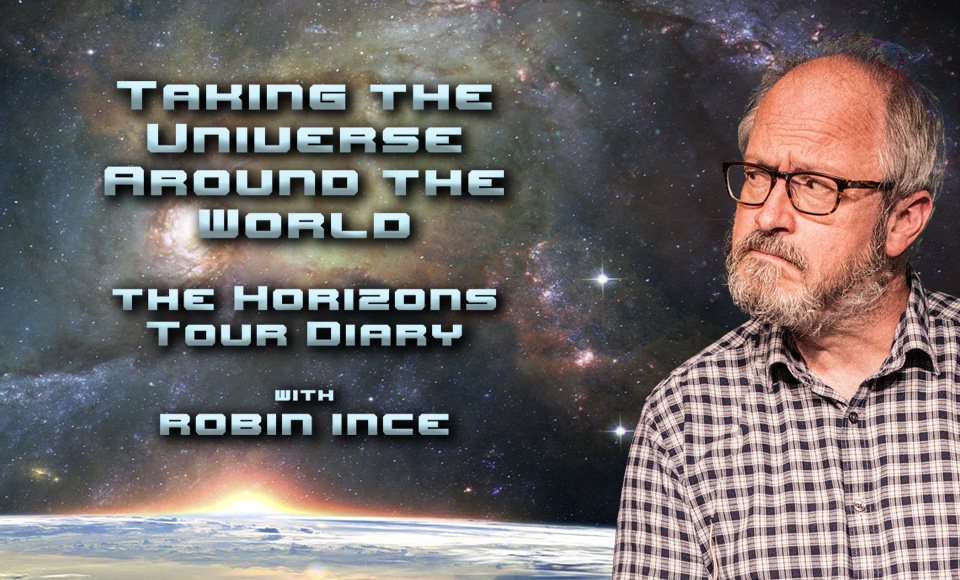 Listen to the Horizons tour podcast, Taking the Universe Around the World HERE
Robin's Walking Tour of Columbus Gallery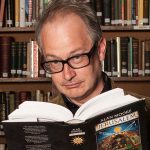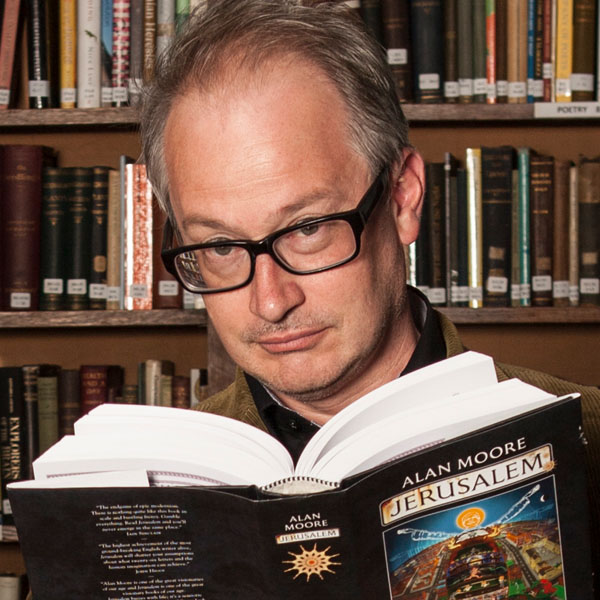 Robin Ince is a multi-award winning comedian, writer and broadcaster.  As well as spending decades as one the UK's most respected stand-ups, Robin is perhaps best known for co-hosting The Infinite Monkey Cage radio show with Brian Cox.  For his work on projects like Cosmic Shambles he was made an Honorary Doctor of Science by Royal Holloway, University of London. His latest book, The Importance of Being Interested is out now.
If you would like to reuse this content please contact us for details
Subscribe to The Cosmic Shambles Network Mailing list here.