A Murky State of Mind
Robin Ince's Horizons Tour Diary
A man is subtly urinating in a wooden flower box, the dead twig leaves concealing his penis like Adam's first take before he found a fig leaf. 
Brian is particularly taken by a shop of gingham and spurs and looks at a bleached denim jacket that might have been his if he were still touring with Dare. The windows still have old cardboard cut outs of adverts for rodeo-ware and Steve Kanaly, Ray Krebs in Dallas, sporting some cowboy boots that will increase your chances of having an affair with an oil magnate's wife. I go off alone, hoping the next time I see Brian he is walking on stage in a stetson, spurs spinning. 
I am rain wet and sweat wet. It is a muggy Autumn in Portland as it seems to be most of the year. 
A man asks if I have any spare change. His dog looks well and I would be lying if I said I had none.
A few blocks further up, a man is picking some kind of multi-coloured food that has been thrown to the ground, putting it in his mouth like a hasty Monsignor gobbling communion wafers. Portland is a city with a mental health crisis on permanent display. The world that many of these people, singing to the passing hydrants and ambivalent to oncoming trams is unlikely to be the world I see. They are interacting to alternative visions. 
My state of mind is murky.
Walking west, I start to see the Portland that I saw when I was 19 years old. 
I wonder if the hotel which I stayed in then is still standing. It is still probably the worst hotel I have ever stayed in. Toe nails on the floor and a dodgy window that was easily opened from the fire escape. It is easy to forget the hoopla of organising travel in the late 1980s. We would sit with our copy of Let's Go USA, circling the hotels that were affordable, then call them up, book a room, no confirmation email, no website to view the potential rooms. 
No clue generally. 
That Portland Hotel was one where the room rate was either an hour or the rest of your life, I think we were the only ones booked for a couple of days. We lasted one night. 
The next day, we saw what was left of the roses from the rose festival in a now desolate park and rejoiced in a secure hotel room. 
I have chosen Daedalus Books as today's store. 
I like the name and the picture of the window online.
Fortunately, there is nothing in the glass cabinets that I need today. 
It has a good range of the academic and the popular. 
I see a book by David Wilkerson, the man who wrote The Cross and the Switchblade, the story of Nicky Cruz, a gang member who embraced Jesus. Cruz's own version of events, Run, Baby, Run, was very popular with 12 year olds when I was at school, less for the elements of redemption and more for the lurid scene where a man is knifed in his armpits. 
I nearly buy Wilkerson's Purple Violet Squish, his journey into the world of hippies and counter culture. The title comes from one hippies description of what he thinks God is. 
A biography of Will Eisner is also a nearly purchase. 
In the end, knowing I bought too much yesterday, I leave with just two books. 
The first is Diane Arbus's Family Albums based around a 2003 exhibition of the photographer's work. In the introduction, the curator explains that the work is arranged in the order in which the photographs were taken, but this may be disjoined from the intended original sequence.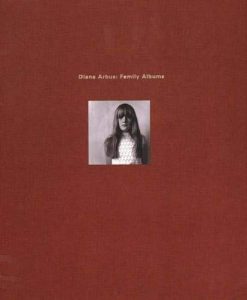 "But we have come to believe that, given the extraordinary difficulties surrounding so many projects around Arbus, including this one, they actually embody in their fragmentation and disjointedness something of the challenges and pleasures in studying this most important photographer and her pictures."
The other purchase is Jim Keith's Mind Control and UFOs: Casebook on Alternative 3.
Alternative 3 was a spoof TV documentary about top secret interplanetary travel and plans to move certain people to Mars via a station on the dark side of the Moon. Originally intended to be broadcast on 1st April, unfortunately industrial action meant it was not broadcast until later. Without the fool's context, it became a minor version of Orson Welles's War of the World's radio broadcast. Keith wonders how much is pure fantasy and how much of this spoof is a gateway into peculiar shenanigans. The owner gives me a bookseller directory as I leave which I resist opening. On the walk back, I pop into Powell's City of Books. This is Portland's equivalent of New York's Strand bookshop and, like that store, it is just too big and there is just too much. It does not have the same reward of the smaller shops and their sometimes arcane possibilities. If I had the time and luggage space, I would have also visited Melville Books, Mother Foucault Books and Bearly Read Books.
I was going to have some more adventures in the city but, after doing some writing and attending to what I hope are the final proof reader notes for my next book, I slump into a vague melancholy. I think it is ebbing out of my subconscious. It is made of some of the things my conscious mind is hopeful to keep in storage there, but the door is ajar. 
I surprise myself by falling asleep for 90 minutes and wake up just in time to shower and get to the soundcheck. I decline a car and absorb more of Portland (this is a poor decision bringing to mind the death of Prince Albert).
Portland has a Harvey Milk Street which gives me an opportunity to tell Steph about Harvey Milk, the first openly gay politician to be elected to public office in California. I remember being 15 and seeing the great documentary The Life and Times of Harvey Milk. Milk was murdered by Dan White, a former member of the San Francisco City board of supervisors. His murderer famously received a lenient sentence, partly due to something described as the Twinkie defence, the defence that he was suffering depression exacerbated by sugary foods and drinks.
Milk remains an icon.
We have a new bit of theatricality tonight, so while rehearsing my brain shows me a film of which stage lamp I will fall over so that I can turn a moment of philosophy into slapstick. Any attempts to be Bertrand Russell will always have Stan Laurel tapping on my shoulder.
When Brian introduces me, he will often sarcastically say, "Robin's a comedian. Well, I say that, he calls himself a comedian"
Whenever he says that, I think "I don't really".
I am always wary of self aggrandising and, each night, wherever I may be, I always think , "I am only what the audience judge me to be". I aim to offer no false promises.
I still don't feel part of that comedian gang and, if anything, I am moving further away from feeling any sense of being in that fraternity. I never played the big clubs and now three generations or more of comedians have come along since I began and the dominate faces are much younger than my druid face.
Tonight's questions in Portland included –
Do alternate realities have the same end of time&space as our reality!?
My biggest question has always been the existence of Life in other planets. Have you come across any solid evidence that we are not alone?
Does multiverse theory mean there's a different reality where "you" have done every thing possible including never existing and always existing?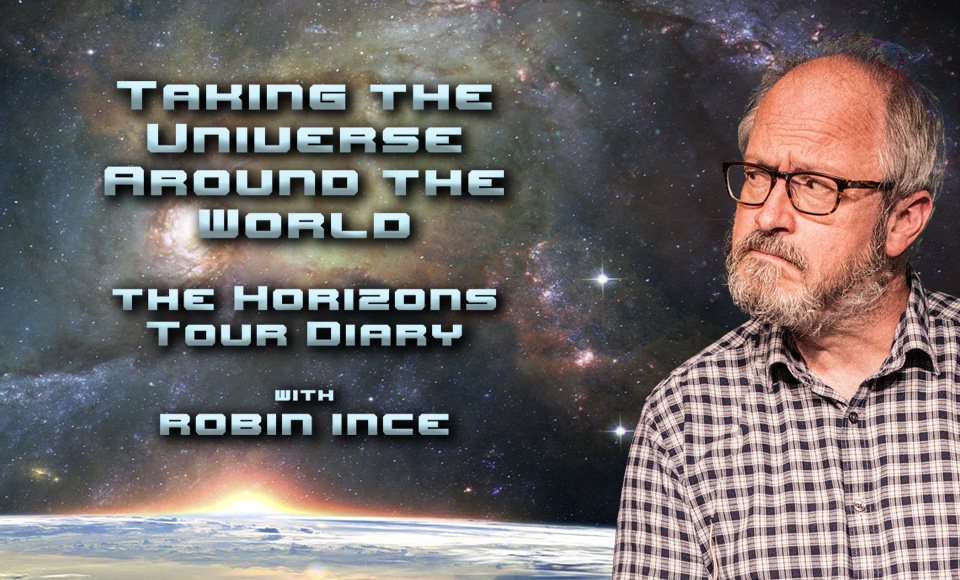 Listen to the Horizons tour podcast, Taking the Universe Around the World HERE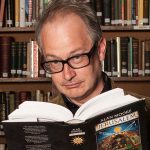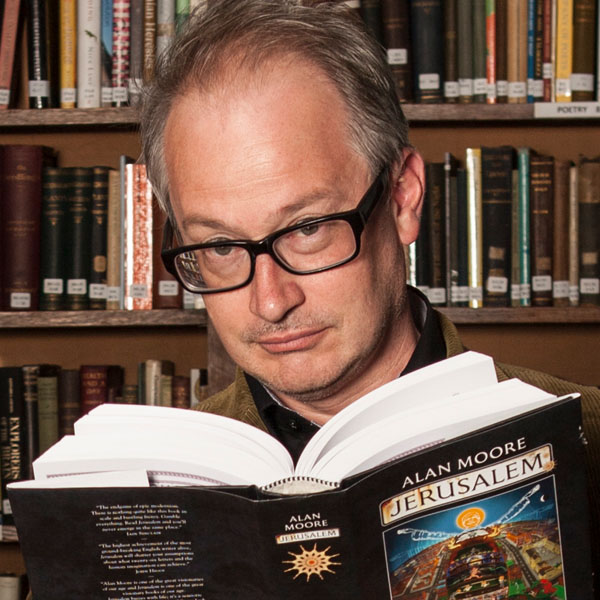 Robin Ince is a multi-award winning comedian, writer and broadcaster.  As well as spending decades as one the UK's most respected stand-ups, Robin is perhaps best known for co-hosting The Infinite Monkey Cage radio show with Brian Cox.  For his work on projects like Cosmic Shambles he was made an Honorary Doctor of Science by Royal Holloway, University of London. His latest book, The Importance of Being Interested is out now.
If you would like to reuse this content please contact us for details
Subscribe to The Cosmic Shambles Network Mailing list here.