No Idles, Lots of Spiders
Robin Ince's Horizons Tour Diary
This morning, Brian thought about spiders.
He is not keen, but they have been booked so they will be taking part in tonight's Monkey Cage at The Factory Theatre. After fiddle fuddling around with some ideas for the show with Caroline, we all went off to the park for exercise and to a film a promo for the new series of Monkey cage (all available from BBC Sounds in one fell swoop within a week or so, but also available as each episode airs on YOUR FAVOURITE STREAMING PLATFORM). 
We decided the new promo should involve a lot of punching and some slapstick.
A man who had been feeding the cockatoos in a nearby tree came over to see what we were up to but Brian didn't like his Francis of Assisi vibe. 
We did a little bit of exercise and then my cast iron alibi kicked in and I left them to it. 
Back at the hotel, I started to work out just how many books I could fit in my luggage and did a little writing. Once I knew there was room for two more small ones, I went off to Grand Days, a prestige charity shop with fine fabrics and books. They had excellent shelves and I was nearly tempted  by a two volume Ernest Haeckel on the Evolution of Man with some idiosyncratic etchings on the evolution of nipples, a book by Akira Kurosawa and something about the development of computers that was clearly way beyond me. I decided that today was a rare no book day.
Carolyn was stuck in traffic, so by the time she arrived there was no space for tea and cake and we went straight to The Factory Theatre to meet the spiders…and some humans.
We passed The Enmore and saw that Idles were playing, a favourite live band of mine and though the expense of replacing my spectacles now means that I have to retreat from the mosh pit, they lure me closer than anyone else (a position Savages held while they were still alive).
No Idles for me tonight.
The panel was fantastic. Mariella (ecological behaviour expert) managed to persuade Brian she had left Austria because of the chocolate famine due to her perfectly deadpan delivery. Dieter was our urban spider expert and Claire Hooper, a comedian of many credits, fit in with seamless confidence and wit, as well as ensuring the complex and ultimately cannibalistic sex life of certain spiders who seem to hurl their ejaculate about willy nilly was covered.
Towards the conclusion, a St Andrews Cross female was brought out, centre stage in her web, framed by perspex but, much to Brian's surprise, not boxed in. A male was then introduced for live cannibalism that did not come to fruition.
It was one of the best audiences we have played to, tremendous energy throughout and, due to that, they almost covered up that we were recording under a flightpath.
Brian and Steph raced off while I hung about to ogle the spiders and recreate a photograph taken in Southampton of me holding a book called Men – Their Secret Ways (one of the cheeky stars of the Bad Book Club who now housed at Hepcats Barbers and Beauty Parlour in Chippenham).  The book is a series of photographs of sexy fishermen with their testicles occasionally hanging out of their trunks, not a pose I adopted I should add for this photo, the spider frame replaced the book. I was buttoned up as ever.
​​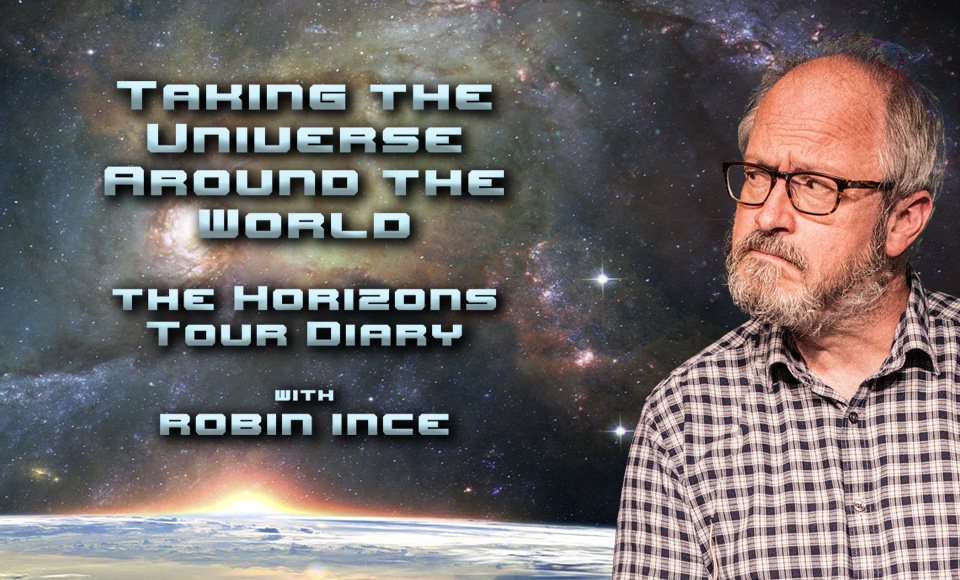 Listen to the Horizons tour podcast, Taking the Universe Around the World HERE.
Bibliomaniac is available for pre-order now at cosmicshambles.com/shop with exclusive art cards.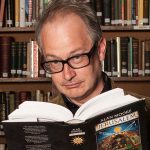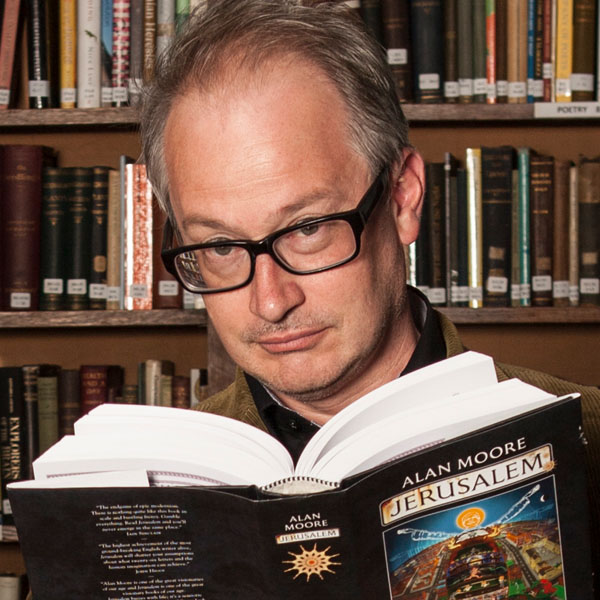 Robin Ince is a multi-award winning comedian, writer and broadcaster.  As well as spending decades as one the UK's most respected stand-ups, Robin is perhaps best known for co-hosting The Infinite Monkey Cage radio show with Brian Cox.  For his work on projects like Cosmic Shambles he was made an Honorary Doctor of Science by Royal Holloway, University of London. His latest book, The Importance of Being Interested is out now.
If you would like to reuse this content please contact us for details
Subscribe to The Cosmic Shambles Network Mailing list here.