On the Road Again
Robin Ince's Horizons Tour Diary
Does Sertraline enhance dreams?  Does it make me notice them more?
Last night, I was being driven to The Book of Mormon by my mother (who died in 2015). 
We went around a roundabout that was brutalist and steep, like a concrete corkscrew. At some point, my mother vanished and I discovered that within this ascending roundabout was a hotel. On the stairwell, a living lion, that one closer inspection had the body of a small deer, was stood looking at me from a glass case. I went into my room and stood on my wife's handbag. She would be annoyed as she had somehow left it behind although she had never been there. Walking out of the room, I found myself in a gift shop. Reece Shearsmith was helping someone choose a toy from a wicker basket but I did not disturb him. Walking down the stairs , there was a snake with hair like a shaggy dachshund. Its head detached from its body and both continued loving autonomously. I wondered if the body was clockwork… it was on that step that I woke up and looked at my budget hotel room and my family sleeping around me. There was not shock dram within a dream, a monster faced Nazi did not lunge through the window when I opened the curtains and, as long as I am awake as I am typing this, the dream is long gone. 
After a family lunch where people expressed disappointment at both the soup and the cheese board (very sweaty cheese), I am now on the first train of my journey to Brighton. The arena tour with Brian Cox starts tomorrow at Brighton Arena. Brian is currently in Liverpool with the technical team as the arenas allow a new level of ludicrousness in terms of screens, stages and images that will interact with the Professor. I am not at this rehearsal as my interjections do not need technical evaluation, merely psychological evaluation. 
By the looks of things, this will be the biggest tour we have ever done. We have taken the show around North America, but it is quite a leap from 2500 to 14,000. That's big for a physics lecture, we might even sell more than the psychic mediums with their ghost mockery. 
Maybe I will do some of my own psychic medium worth – "I am getting the sense that there is someone here who had a strong interest in time lords and was frequently picked last for foot ball at school….?"
I can sense a heat haze of nervousness encircling me. My stomach is not somersaulting, but it is doing a lazy rhumba. My world is a world of art centres, but every couple of years I get to perform in arenas. The adrenaline is different and so are the rules, whereas my solo shows, and radio stuff, whether Reality Tunnel or, to a lesser extent, Monkey Cage allows me to be rabid with the connections being made in my mind, in this environment I have to rain myself in and be aware of why I am there and my function in this lecture on black holes and spacetime.
It is important for me to be aware of who people think I am. It's not my show and I may be a stranger. Also, as on social media too, the size of the audience means that there is a possibility that meaning can find itself faraway from intention.  While talking about brains on the North American tour, I would give the audience some idea of just how different Brian's mind was from mine. This would lead to me talking about an ADHD diagnosis and the worry that I had when it came to telling my wife. To my surprise, she just beamed and said, "That would be wonderful, 'cos I've always thought you were bipolar".
It seems that a couple of bipolar people were uncertain if it was a dig and, though they realised it wasn't, this story is easily replaced. I have not censored myself, I have just thought of the size of the audience , the context and the fact that if it has a greater percentage chance of being misunderstood in this environment, then I'll save it for another time (or you can hear me tell it properly on my Radio 4 show – Reality Tunnel – available on BBC Sounds etc etc etc ).
You could call it cowardice or you could call it consideration, but I am aware that this is not MY show.
I have twice got in trouble with Brighton audiences on a Brian Cox tour. Once preposterously, and in a way that led to me sending the complainant a copy of Susan Sontag's essay on camp, and once in a way that unsettled me but which did not lead to me changing what I did. On our last tour, I would recite a poem about the passing of time and the joy of making dens in the woods.
On this night in Brighton, I received some furious tweets from a mother. She had lost a child and this had caused an eruption of emotion. She said that I had no idea how many people in the audience had lost someone and that this poem was callous. I tried to explain myself but realised there was little to be gained by me arguing my corner when she had experienced something so devastating. She was wrong. Every night I thought about how it would affect people. On the first day I recited it, I had someone in the front row whose son had died. I had been approached by others who had lost a child and they told me what they took from the poem. They had not reacted negatively. Some had taken comfort from it. Though I took this mother's fury seriously, on this occasion, I believed that I could continue to justify the poem's inclusion while also being saddened by her upset. (I wrote more lengthily about this incident and about contemplating death and how cosmology can sometimes help with this in one of the chapters of my book The Importance of Being Interested – out this week in paperback – yes, this post does contain TWO PLUGS).
Tomorrow, I will wake up in Brighton. Will Kolley Kibber be there? 
I'll sit on the beach til the mods overturn the deckchairs and then I'll go to City Books and see if they've got Amy Jeffs' Storyland. Then, I'll try to keep people happy and watch my mouth, but not so much that it freezes. 
(I have just had a pushchair fall off the luggage rack and punch me in the chest. Are there devils here in carriage C?)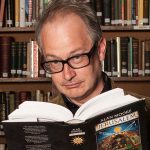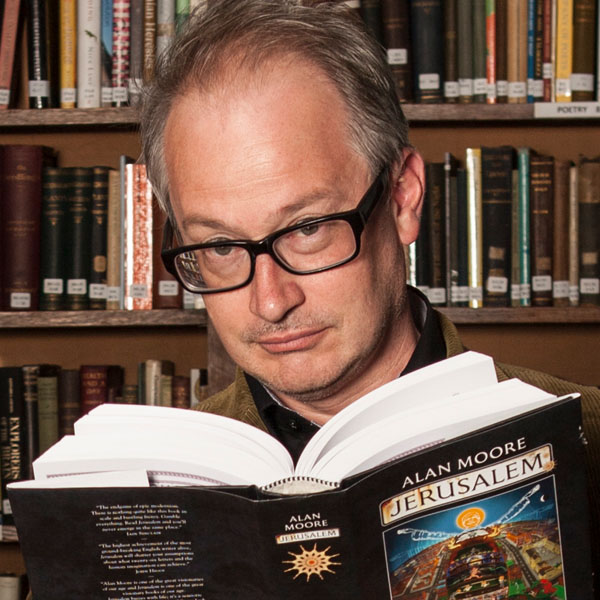 Robin Ince is a multi-award winning comedian, writer and broadcaster.  As well as spending decades as one the UK's most respected stand-ups, Robin is perhaps best known for co-hosting The Infinite Monkey Cage radio show with Brian Cox.  For his work on projects like Cosmic Shambles he was made an Honorary Doctor of Science by Royal Holloway, University of London. His latest book, The Importance of Being Interested is out now.
If you would like to reuse this content please contact us for details
Subscribe to The Cosmic Shambles Network Mailing list here.