From Peter Weir to Eddie Izzard
Robin Ince's Horizons Tour Diary
Last night, I ate alone in the hotel restaurant and performed my usual cosplay of being an academic from an MR James story or a background character in a Terence Rattigan play. 
I ate my lettuce without mumbling too much.
Then, I watched Peter Weir's The Last Wave, perhaps a little apocalyptically pertinent in an Australia that has experienced excessive rain in 2022, but it remains a film of haunted brilliance. 
Unusually, I can't find my dreams when I wake up in the morning. What I do find is a dusting of guilt and melancholy. The guilt comes from failing to have achieved more while on this tour. I had hoped to start my next book in all our in between hours, but the only writing I have managed is this daily blog post and my column for The Big Issue. The melancholy comes from a sense of failure and worry about my new book and whether anyone will turn up for the bookshop shows. It only takes the slightest glimmer of possible failure to feel besieged. The sense of distance from my family is also on my shoulder. I have been away for much of this year and this will continue until late December. I would like to be watching Andor with my son or listening to him explain the latest game he is playing or be sat in the attic hoping to find a way of being helpful to my wife, though this is not always something I can achieve. 
I have now reached the stage where I realise some of the books I have picked up on the way will not be coming home with me, though fortunately I do not have to make that decision until NEXT TIME I leave Adelaide. Today, I go to Perth, then back to Adelaide for a Monkey Cage recording, then to Sydney for two more, then to Canberra for one more Monkey Cage and our final Horizons show in Australia. 
I am now worrying about whether I took my Sertraline. I know I got to my rucksack with intention of taking one, but I have a suspicion that I got distracted by some thing else in my rucksack and forgot all about why I started to move towards it 5 seconds before. 
I start composing ideas for our Monkey Cage scripts – we'll travel from spiders via vineyards to the immensity of the Universe, so we have a lot of ground to cover and a fear of the first intoxicated Monkey Cage. I will keep a fierce eye on Brian and ensure his Meursault ends up in the spittoon rather than belly. 
I finish Tig Notaro's book on the airport lounge. I heavily underline these words from her stepfather, Ric. 
"He declared that he now realised it is not the child's responsibility to teach the child who they are; it's the parents responsibility to learn who their child really is."
I must always keep this in my mind, I hope that I do. 
Sadly, I see that Eddie Izzard is trending on Twitter AGAIN. Men seem particularly aggressive to her, with repeated threats of "if he went into the ladies toilet when my granddaughter was in them, I would soon sort him out". I think the violence of their imagination says more about the ugliness of their imagination and desire than Eddie's. I think this sort of thing is further encouraged by the dehumanising words about Izzard on Netflix comedy specials. In 1990, I was working with my pal KP at the Greyfriars Kirkhouse during the Edinburgh Fringe. Eddie Izzard was on at 6pm every night and she got me to video every show for her.
It was a masterpiece. At that point, there was no one like her. Her delivery was so perfect that within a couple of years it just became a way other comics delivered lines, it was contagious. All of us who worked there used to be able to recite whole routines.
After her show was Johnny Immaterial, another comic who was an utter delight and who is now a children's author. I still sing his beautiful and moving parody of Status Quo –
Your spine is curved and you've got no feet
You're kind of yellow and you're nice to eat
Your a banana now
Whoah whoah
You're A Banana Now.
On the plane, I read a booklet about Nic Roeg's Walkabout and more of WNP Barbellion's The Journal of a Disappointed Man. In his brother's introduction he writes, "He longed to capture and comprehend the entire Universe, and would never have been content with less, 'I could swallow landscapes' he says, 'and swill down sunsets, or grapple the whole Earth to me with hoops of steel, but the world is so impassive, silent, secret."
I also decide to reread Carlo Rovelli's Helgoland as few scientists writer so beautifully and with so much awe AND understanding. I love how he sums up how quantum theory changes our relationship with the Universe, "a reality made up of relationships rather than objects".
​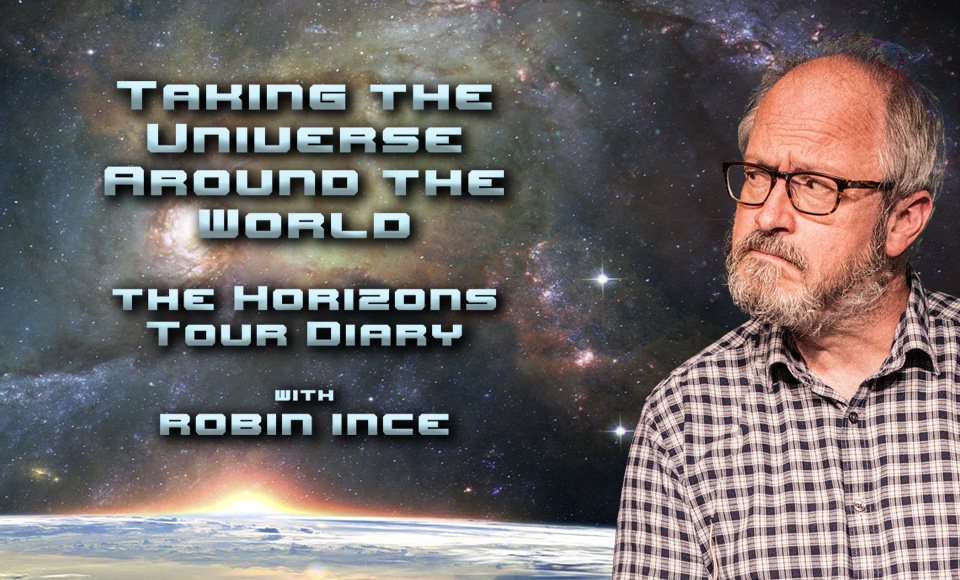 Listen to the Horizons tour podcast, Taking the Universe Around the World HERE.
Bibliomaniac is available for pre-order now at cosmicshambles.com/shop with exclusive art cards.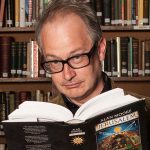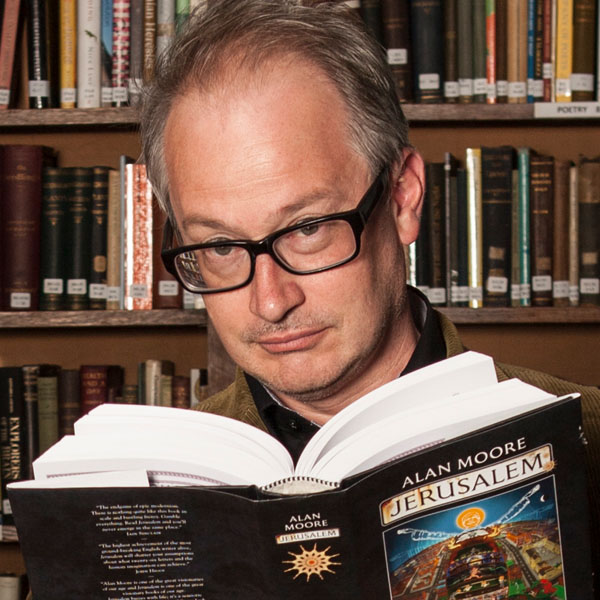 Robin Ince is a multi-award winning comedian, writer and broadcaster.  As well as spending decades as one the UK's most respected stand-ups, Robin is perhaps best known for co-hosting The Infinite Monkey Cage radio show with Brian Cox.  For his work on projects like Cosmic Shambles he was made an Honorary Doctor of Science by Royal Holloway, University of London. His latest book, The Importance of Being Interested is out now.
If you would like to reuse this content please contact us for details
Subscribe to The Cosmic Shambles Network Mailing list here.