A Poem in Permanent Ink
Robin Ince's Horizons Tour Diary
Somewhere in my dreams, Manic Street Preachers played a part, but I can't quite define where. 
The main quest was a warm up gig where I couldn't work out anything to say. I was blank as I pored through my notebooks and failed to see how any sentences had the potential for a joke or comedy.
I woke up with stomach cramps and dishevelled innards, sadly not caused by my dream worries.
Something was not quite right and, on a travel day, the anxiety is heightened as you imagine something terrible happening on the plane.
On the way to the airport, I talked to the driver about getting lost to try and find something when traveling and he said it was a habit he had fallen into too. We talked of looking for stories and one almost happened at that moment as a driver realised the turn off was far sooner than they were expecting and lurched across the dust and kerb with axel shattering momentum. 
Later, we both wondered what had happened to the habit of people applauding when their plane landed.
At the airport, the check in liked my accent. It has been a long time since I heard that. When I first came to America, this was an almost hourly occurrence. Either my accent is not what it was or, like landing applause, polite Englishness no longer holds the currency it did, even though it is rarer .  Brian once warned me about politeness. There is a certain politeness that is attached to "the southern gentleman", a politeness that masks a lynching mentality. It is for this treason that I never combine my politeness with a linen suit and fedora. 
I enjoy the words Karen Joy Fowler creates when writing about Ursula K Le Guin in the introduction of No Time To Spare.
"…when I read Le Guin on trees and rivers and all the vanishing beauties of the world, I feel transpose. I feel other-awed. I feel tongue-gaped". 
Fowler writes that she can think of no other writer "who has created the number of worlds that she has, never mind their complexity and intricacy". 
On the way to the plane, Brian tells me this is a jet he is fond off because it is very safe. This worries me. 6 Horus before the result was called, Brian told me we were definitely staying in the EU. 4 hours before Trump won the presidency, Brian told me it would definitely be Hilary. 
I now realise the dramatically ironic chances of crashing in there middle of Umqua National Forest has greatly increased. 
In an uncertain frame of mind, I decide to bolster myself by rereading a portion of Sarah Polley's book. In her chapter on the problems of allowing artists declared "mad geniuses" to ride roughshod over those around them, she tells the story of the pain and anxiety the went through as an eight year old working with Terry Gilliam. She recalls a line from the screenplay, ""your 'reality', sir, is lies and balderdash, and I'm delighted to say that I have no grasp of it whatsoever'. It's a wonderfully seductive line, but one that only a privileged white straight man could live by without devastating consequences". Polley then tells a very different story. Twenty years later, she is working with the Belgian director  Jaco Van Dormael. She experiences his tremendous reserves of empathy. In one scene, Polley would be in a car and there would be an explosion of flames directed at the windscreen to create the experience of a car crash. Having been traumatised by numerous dangerous moments on Munchausen, effects like this still made her vary nervous. Van Dormael picked up on this worry and asked if she would like to watch the effect first with him sat in her position. When he saw that Polley was still nervous he said he would find another way of doing it. Polley said she felt very bad about this as everyone else was fine with it and she should do it. Van Dormael put his hand on her shoulder, "but none of us were in Baron Munchausen when we were children". For him, the most important thing was that this should be a good experience for everyone involved, because they would all live with this experience forever. 
Perhaps because I was at a high altitude, and high altitude seem to heighten emotional experiences, but I find this story deeply touching and felt it work its way to my eyes.  
Looking at my twitter in the car to the city, I see a tweet that brightens my heart.Someone has had a line from the poem I perform in the Horizons show tattooed on their arm – "Emergent Complexity Briefly Defeats the Void". This makes me very happy and he has now earned complimentary tickets to any show I am performing in. 
I am genuinely proud to have something of my mind tattooed on someone's arm. 
The others went to exercise in Golden Gate Park, but I decided I wanted to get lost. I knew where I was going, the library and then City Lights Books. I saluted the Tony Bennett statue and then walked down Market Street. Street preachers from the twelve nations of Israel were in full flow.
"J Edgar Hoover was a transvestite and he destroyed the Black Panthers.
Jeffrey Dahmer killed black men and put them in the freezer…"
Then, the jazz drummer on the next street corner started to drown it out.
As usual, the closer I got to the civic centre, the more defiled and shattered humans there were.
I thought about Viktor Frankl's Man's Search for Meaning.
I wondered how many still had hope and dreams of a future.
Frankl was a holocaust survivor. He described the necessity of, however desperate the situation, still holding on to a future. He wrote that you knew who would die next when you saw that all imagination of a world beyond the camps was gone.
Entering the library, a banner declares that this is the "Queerest. Library. Ever."
Walking by City Hall, I see the location of one of the most brilliant shock horror climaxes in horror movie history – the terrifying alien pod caterwaul of Donald Sutherland in the Invasion of the Body Snatchers (meaning that Sutherland is in at least two of the top five great horror movie conclusions, though I think his Don't Look Now demise is not quite the final scene).
I walk back past the 12 nations of Israel, a new speaker is now talking of the racist oppression and murders caused by the LGBTQ community. The rhetoric is getting more brutal. A frail man with a walking stick attempts to argue with the speaker but he is yelled at "Stand away! Get back! Stand Away!" 
I see the Hungry I, famous to me since I was a teen and started reading about Lenny Bruce and Mort Sahl. Those days are long gone. It became a strip club. The sign. A blonde woman in suspenders made of neon still hangs above the door, but the suspenders have not been illuminated since 2019.
In City Lights books, I decide I need more poetry so I can learn to get better and hopefully ink more arms. I buy Steve Reigns' A Quilt for David. This true story, told in poetry, is about David Acer, a gay dentist in a conservative Florida town. Eight of his patients accused him of giving them AIDS. It is a story of scapegoating and mob behaviour.
I knew nothing of Anne Waldman, but she is a poet, performer and co-founder of The jack Kerouac School of Disembodied Poetics. Fast Speaking Woman is a collection of chants and essays.
"When I
see you
climb the walls
I climb them too
No way out of the cosmic mudhole!
No way out of the telephone booth"
I know nothing of the San Francisco Cacophony Society, but I will after buying the big heavy book I couldn't resist.
"The cacophony society was a collective comprised of rabid individuals who would never join a collective…."
I climb the streets, I have a vague sense of the direction I should travel in and I am in no hurry. I am tempted by whisky and dim sum, but we are all eating together later, so walk on by.
At Grace Cathedral Park, my mind starts to play Red House Painters.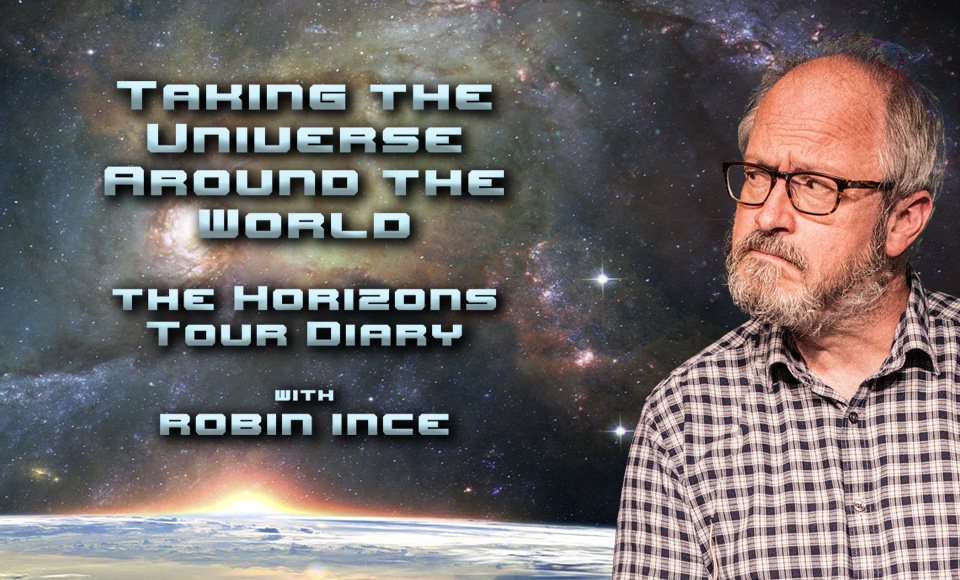 Listen to the Horizons tour podcast, Taking the Universe Around the World HERE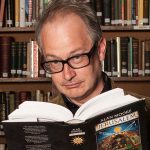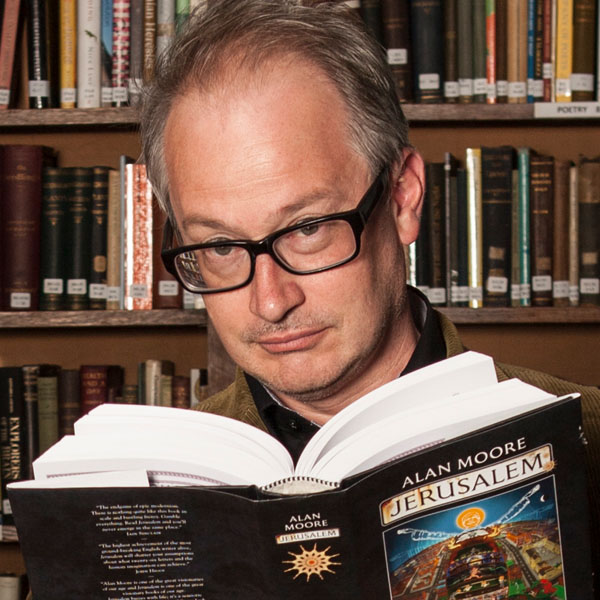 Robin Ince is a multi-award winning comedian, writer and broadcaster.  As well as spending decades as one the UK's most respected stand-ups, Robin is perhaps best known for co-hosting The Infinite Monkey Cage radio show with Brian Cox.  For his work on projects like Cosmic Shambles he was made an Honorary Doctor of Science by Royal Holloway, University of London. His latest book, The Importance of Being Interested is out now.
If you would like to reuse this content please contact us for details
Subscribe to The Cosmic Shambles Network Mailing list here.