The Thoughts of A Two Time Winner of Pointless Celebrities
Robin Ince's Blog
"I just died in your arms tonight, must have been some kind of storm."
Sat at breakfast, the only loner in a scattering of late middle aged couples, I wonder why there must be music at breakfast. I can't recall who once said that music at such times was there to cover the fear of having thoughts so early in the day (maybe it was me).
The music is perfectly innocuous, nothing that will disturb a troubling memory, Cher's Believe, 10cc's I'm Not In Love and Cutting Crew. I Just Died in Your Arms tonight does take me back to my unhappy boarding school days. I can smell that floor cleaner on the orange linoleum that was almost pungent enough to cover up the smell of fear from the younger boys mixed with the aroma of homosexual panic. The baked beans are cold and the veggie sausage has been turned to protein gristle, but the hash browns and mushrooms are hot. I've never been one for breakfast anyway.
I visit Jill at The Ripon Bookshop as I did not get the chance to see the shop the night before. She kindly gives me a box of postcards from the work of Robert McFarlane and Jackie Morris and a copy of a new magazine called Strong Words which includes an article about Alison Bechdel's excellent comic book, Fun Home. It is true, I will work for books and book memorabilia rathe than for food or cash. A woman approaches me and asks if I know who she is. Foolishly, fearing insult, I nod that I do. She has the look of a local poet, but I don't think she is. We talk a little more and I regret my polite pretence. I am not sure how well she is and worry about that for much of the next hour.
Julia gives me a lift to Harrogate station for my three train journey to Brockholes, a station I have never alighted from before, a situation which it turns out will not change today. After Leeds, the jovial boozy men of Saturday board the train, they happy in their bottles and good-natured, but my anxiety blinds my ability to read.
Delays at Huddersfield so, to ensure I get to Holmfirth in time, Clare comes to pick me up.
There is much I like about Huddersfield including James Mason's documentary about it (Home James) where he tells us, "the people of Huddersfield are a quiet people" and I love their art gallery and library whose stairwell I quote in my book. I was on the same forecourt the day after BREXIT and it felt like a forbidding place, something was released that day which still stalks us.
On that day, I was on the way to play Marsden library which was battling for survival, a battle it is still winning. I also played someone's lounge in Marsden once. It was one of the best lounges that I have played, though I was a little worried before I played it, not merely being in someone's private home, but also being in the town which was the location for The League of Gentlemen's local shop for local people.
Was I to be sacrificed or cannibalised?
Mik was back at Holmfirth as well as a few other faces that I had seen before and some new ones in Space 1999 tops. Clare was a Pointless fan so I was careful not to issue any spoilers as the episode I did with Josie would be aired tonight.
Mike gave me a lift back to Leeds thought sadly he allowed me time to browse in the Oxfam – one Johnny Cash biography, a collection of off off Broadway performance texts, a book off Conversations with Truman Capote and a copy of Colin MacInnes's Absolute Beginners (though I had quite forgotten that that would play apart in this evening's Pointless).
I arrived in Farsley in time to see some people's reactions to Josie and me on Pointless – I would say our best answers – in reverse order – were Always Crashing in the Same Car, Arundhati Roy and Eve Ferret.
I was to be the first and last live event in Truman Books this year. I drank tea, ate Oreos and chatted to the audience which included a criminologist whose expertise was genocide.
I raced through as much as would erupt from my mind including the story of Lemmy's funeral (which I have never put in a book talk before but which allowed me to do a Dave Grohl impersonation – voice not drumming).
Rather rudely, I forced Amanda to pay me, today's currency was Rob Halford's autobiography, Confess. I am collected by the Bishop of Leeds. I really haven't been collected from enough bookshops by bishops during this tour. We finish the night drinking red wine talking of many things as time passes invisibly.
————————————————————-
This week I will be at Toppings in Bath, The Blue Bear Bookshop in Farnham, David's in Letchworth, Cambridge Junction and 12 London Bookshops over the weekend including Brick Lane Bookshop, West End Lane Books, Sheen and Kew Bookshops, Bookseller Crow in Crystal Palace, Kirkstall Books in Sydenham, Books by the Water in St Pancras (on the canal) , Dulwich, Stoke Newington and all ending up with Newham Books at The Wanstead Tap.   . All Tour dates here.

Order signed and dedicated copies of The Importance of being Interested here.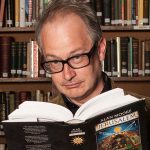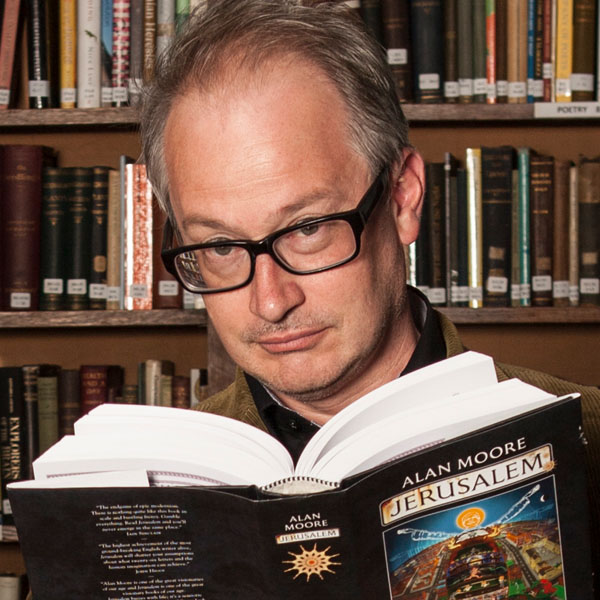 Robin Ince is a multi-award winning comedian, writer and broadcaster.  As well as spending decades as one the UK's most respected stand-ups, Robin is perhaps best known for co-hosting The Infinite Monkey Cage radio show with Brian Cox.  For his work on projects like Cosmic Shambles he was made an Honorary Doctor of Science by Royal Holloway, University of London. His latest book, The Importance of Being Interested has just been released.
If you would like to reuse this content please contact us for details
Subscribe to The Cosmic Shambles Network Mailing list here.