And she said "Well, I don't think you're a fishmonger. I think you've done a plop in the wrong lavatory." – Happy Birthday, Rik.
Robin Ince's Blog
Rik Mayall would have been sixty today. He is the main reason that my ungainly employment for the last twenty five years has been shouting at strangers for money. A few weeks ago, I hosted an event where we showed Bad News Tour and then I chatted to Adrian Edmondson and Nigel Planer. The theatre was full of joy and Motorhead T shirts. As I watched it I thought, "my god, they were so young when they became stars and so brilliant, too." Now I am 49 and they are entering their seventh decade. The teenage memories of worship are still powerful, the desperation to place every Comic Strip, Wogan appearance, every Dangerous Brothers split second on Betamax tapes, little realising that one day there would be instant access via "an information superhighway" that would be a library of nearly everything bloody ever, and yet it still can't answer the question of whether John Noakes's nob was bigger than Heathrow airport.
On the day Rik Mayall died, I wrote this.
I walked out of a toilet cubicle to see Michael Legge standing motionlessly in front of me. He stared at me, as he often does after standing outside toilet cubicles, but then started to say something in the manner of mournful bad news, "Rik Mayall is dead." We walked through the streets of Leeds curling our lips and reciting Rikkeries.
Rik Mayall was my comedy idol.
My first memory of a 1980s obsession is sitting in the back of a Capri with my sisters insisting I do my Kevin Turvey impersonation. I needed little encouragement for my unbroken voice to attempt the swoops of outrage and incredulity, and snorts of self-congratulation, that drove Rik Mayall through Kevin's failed attempts to examine sex, work and tarmac.
This was my first taste of alternative comedy, followed by Alexei Sayle's appearances on OTT. These were the things that made a nearly teen realise what he wanted to do with the rest of his life. This was my punk, and many others too. We were just too young to have our future shaped by listening to The Clash and The Sex Pistols, we had new wave and two-tone to be box bedroom rebels to, but it was alternative comedy that had the cultural kick to knock us into teenage shape. Here was comedy your mum and dad didn't understand – sweary, dirty, snotty, loud and stupid. Here were the lines drawn between youth and age. To further the delight, Rik also mocked exactly that rebel pose. We were drawn to the People's Poet to laugh at him, while also knowing we were him…just a little bit…maybe a little too much…how many political badges did you have on your Oxfam suit jacket?
Colin, pisspoor bassist with Bad News, who is mainly in the band as he has some money, was a similarly deluded middle class kid pretending he was an edgy hedonist who sometimes caused curtains to catch fire as he was snogging women.
Rik Mayall was a great at playing deluded virgins, which is exactly what we were.
The utter commitment, the feral energy, the wide-eyed indignation, the violence, he was a dervish on stage and totally mesmeric. All words I use fail dismally to capture the tears and spasms of laughter that he generated in me. How many times did I watch every episode of The Young Ones and The Comic Strip Presents… Their potency never seemed to dim.
Rik Mayall stepping sliding in dog shit, then stepping in it again in a socked foot after removing his shitty shoe, hobbling cak-footed to his front door and shouting, "mummy. mummy. MUMMY!" – I fell from my seat at the Prince Charles cinema, gasping.
A few months later, I saw a cinema double bill of Mr Jolly Lives Next Door and Didn't You Kill my Brother? Oddly, looking back, I adored Alexei Sayle's film, but found Mr Jolly just too loud and chaotic. Once it shrank back to TV size for its Channel 4 outing, I realised it was a vomity masterpiece. Rik Mayall's grotesquerie was maybe too much for the cinema screen, but it jolted the small screen to manic life.
I used to study him and wonder what it was that made him so funny.
I pondered the eyes – the irises of his eyes were small enough that the white of the eye could be seen all around them, that wide-eyed intensity looked right at you. It grasped you and never let you go.
The lips – sneering lasciviously, sneering arrogantly, snorted up with flared nostrils like Kenneth Williams with bloodlust.
His face and body were jittery and anarchic, just the right amount of fear of the unexpected in the audience to enrich the laughter further. In The New Statesman though, he moved like a slinky reptile, the loungiest, and lizardiest of them all.
His voices were the sort of comic voices everyone thought they could imitate, they infected you.
And then there was that energy, that "fuck you, I think you'll find the next scene you're playing with me will be mine, just relax and watch, then start acting again when I walk out of frame, though give it a few moments for my love and applause to die down"
The people's poet is dead…but how can he be dead when we still have his poems
Fart gag follows.
In a burpier, fartier, stupider way, Rik Mayall inspired my generation as much as Joe Strummer inspired the ones a few years previously. There are writers, comics, and actors whose possible futures changed when they saw him for the first time. I grew up to be a professional idiot, thank you Rik.
1574 gin and tonics please Monica, large ones.
FOOTNOTE
By the way, I wasn't exaggerating, Rik Mayall's influence on many of us really was huge, possibly bigger than John Noakes's nob (even erect)
FOOTNOTE AGAIN
(I saw Rik in Simon Gray's The Common Pursuit with my friends Heather and Carolyn – we only had shop assistant jobs then, but we still spent all our money to make sure we could get front row seats. We looked up his nostrils for two hours)
I am currently on tour across the UK – Eastleigh, Corsham, Newcastle, Aberdeen and Glasgow are all imminent plus a Soho Theatre run and lots more places. Details of all HERE.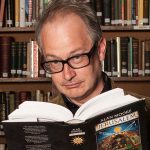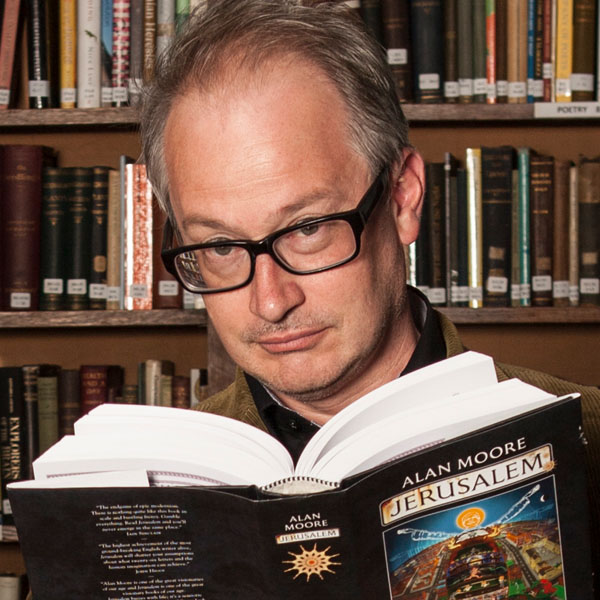 Robin Ince is a multi-award winning comedian, writer and broadcaster.  As well as spending decades as one the UK's most respected stand-ups, Robin is perhaps best known for co-hosting The Infinite Monkey Cage radio show with Brian Cox.  For his work on projects like Cosmic Shambles he was made an Honorary Doctor of Science by Royal Holloway, University of London.
Photo by Ace MegaRex on Foter.com / CC BY