The Day Robin Ate Some Yoghurt
Robin Ince's Horizons Tour Blog
Some days are harder to write about than others when perpetually on the road. 
Ate some yoghurt. 
Got in a car.
Stood backstage.
Wrote about the day before. 
Did a show.
That was roughly Saturday. 
Brian began his day with crab cakes in a rich sauce with two poached eggs and a side of berries.
I am more careful before long car journeys due to my anxiety that I will suddenly have to leap out of the car and squat in swamplands while truckers blow their horns and snakes flee in disgust. 
This has never happened in the 30 years of this and similar anxieties, but that doesn't prevent my febrile anxiety imagination running through a multitude of shameful narratives. 
Today's world art manifesto to inspire is the Kinetic Manifesto from the Soviet Union by Lev Nussberg. 
'ENGINEEER, what have you done for BEAUTY?'
'ARTIST, how are you perfecting the instrument of ART?'
'WORLD, to you we off an art of SOUL. MIND and BODY'"
My attempt to use the same complimentary soap from hotel room to hotel room has been dashed by the box being thrown away during a room clean, so this hollow gesture is shattered by my decision not to put this clammy tablet loose into my rucksack. It will fragrantly slime my books, I fear. 
Today, we are driving from Washington DC to Philadelphia.
Brian uses his time altering his illustrations of Penrose diagrams and explaining enlightening cosmological issues of quantum entanglement to me. Then, I listen to the talking book of David Foster Wallace's Infinite Jest.
We drive by Baltimore, a city I have sadly never been able to stop at beyond changing buses at the station in 1988. It is embedded in my cultural memory due to my teenage obsession with John Waters and my love of cop drama Homicide, as well as the work of Barry Levinson.
I am sure the docks are greatly changed from Edie Massey's time.
I fondly remember her version of Big Girls Don't Cry being played on the John Peel show and Peel calling for Channel 4 to show Pink Flamingos and Desperate Living in a time when Channel 4 might actually have attempted such a bold move.
It also reminds me of a story about Divine, undoubtedly my favourite of Stock, Aitken and Waterman's 1980s roster of stars, playing a gig in Egham and falling through the stage.
Sunk into the stage up to her midriff, Divine bodly kept singing from the floorboards.
Traffic is bad, so we go straight to the theatre with new diagrams of the end of time.
While Brian deals with a singularity, I seek out a new song for the end credits (I won't reveal what it is now, you'll find out).
Tinkering with the Universe takes longer than imagined and we go all the way up to the 6pm deadline of DARK STAGE.
We got to the hotel where its revolving doors are bamboozling everyone it seems. Brian never likes to see occupants of a hotel he is staying in failing an intelligence test, so it puts him in a bad mood, made worse by his key card failing to work when he gets to the 25th floor.
Our tour manager, Leigh, takes everything in her stride and he is soon experiencing his optimum 20 minute siesta which assimilates his mind in time for stage time. The rooms hum loudly with the noises of surrounding rooftop air-conditioning blades spinning, which gives them a soundtrack like Eraserhead. I do not look behind the radiator, but I know that in Heaven, everything is fine.
The show is a little too long tonight and the hotel bar looked like it was going to be a little too touristy, so we stay backstage for an hour or so and drink a little and discuss possibilities of what behaviour of the Universe may not make the cut.
The thermal vents are neatly gone, BUT WAIT, as we walk to the hotel they may be saved….
We will find out in New York.
My Philadelphia books were The Thurber Carnival and Elaine Brown's A Taste of Power, the story of her as the first female leader of The Black Panthers. I learn a new poem from her childhood days of clapping games.
"Wild Bill Hickok was a Peaceable Man
He peed out of the window on a bald-headed man
He came down the steps with his dick in his hand
And said, 'hold it motherfucker
I'm a peaceable man"
Due to the day's schedule, I didn't get as far as I should into either book, so Philadelphia reading day is being extended into our Sunday in New York and then the next New York book is Widow Basquiat.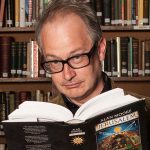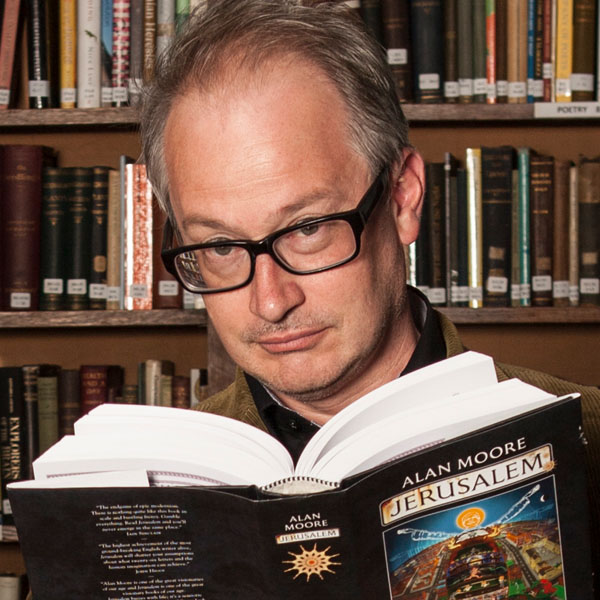 Robin Ince is a multi-award winning comedian, writer and broadcaster.  As well as spending decades as one the UK's most respected stand-ups, Robin is perhaps best known for co-hosting The Infinite Monkey Cage radio show with Brian Cox.  For his work on projects like Cosmic Shambles he was made an Honorary Doctor of Science by Royal Holloway, University of London. His latest book, The Importance of Being Interested is out now.
If you would like to reuse this content please contact us for details
Subscribe to The Cosmic Shambles Network Mailing list here.