An All Too Short Trip to Pittsburgh
Robin Ince's Horizons Tour Diary
Crossing the border from Canada to USA, it appears that Brian Cox's passport has an anomaly.
Due to his specialness and his ability to walk through solid objects without atomic interaction, his passport misses a necessary stamp. The first person at the border is con fused and a little grumpy, as you may well be at 1.30am. She asks about "the band" in the bus, but Brian explains he is a scientist. This increases the confusion. What would a scientist be doing in a tourbus. She asks if we have any research or scientific sample, perhaps imagining that the bus is filled with the flawed Dr Moreau-like mutations that have been created by this crazy scientist.
The problem is soon ironed out. Brian is stamped and we continue. 
Before we left Toronto, we had to do some COVID tests which left everyone perplexed as we were led through their procedure by disembodied but authoritative voices, a bit like Moses with the burning bush. We were all negative, but no one asked to see our health reports as we crossed over. 
The bus journey took much longer than we imagined and we appeared in Pittsburgh at dawn. I groggily disembarked and took to my bed, frustrated that I would have so little time in Pittsburgh. 
Time for breakfast just after midday, grilled cauliflower and potato salad and a pint of coffee. 
I asked the barista about the zombie museum, but it seems that it has moved on from the graveyard where Romero began Night of the Living Dead. Pittsburgh has been mystic to me since I was ten due to Romero. I imagine it to look like it does in Martin, Romero's beautiful and melanin holy vampire film, bleached and haunted by memories of steel, but it is bright and filled with people dressed as Ally Sheedy in The Breakfast Club. As usual, not far from any gentrification, there are also the humans who have been left behind. On the corner by the 7-11, a man drops his trousers to struggle with his Y fronts, he is still battling once I am over the crosswalk. All pass him without comment and barely a glance. 
I have so few hours to experience Pittsburgh, so I start simply by going to the Andy Warhol Museum. I am always most interested in his early work, having seen so much of the later screen prints and beyond. I was fortunate to see the big Andy Warhol retrospective at the San Francisco Museum of Modern Art, it was also on that visit that I discovered the work of Suzanne Lacy. Her work on how the media portrayed the murders and victims of the Hillside Strangler in the late 70s is powerful union of art and activism. Another work of hers that is s striking call to action is De tu Puño y Letra  (By Your Own Hand). In Ecuador, an estimated 60% of women are victims of violence and only 10% of women are believed to escape from violent partners. Men in a bullring recite women's words of their violent experience. 
The Warhol museum starts on floor 7 and I work my way down the stairs to the present. I love his folding screens and the surviving Dior design of a ship window display. While his colourful desserts remind me of David McKee's Mr Benn work (which is compliment I assume you). I also love seeing how Warhol worked with his mother who did much of the lettering on his commercial designs, as well as an album cover for Moondog, the blind poet and musician who dressed as a viking. I am slo impressed by the tactile reproductions of Warhol works to help give people who are partially sighted or blin a sense of his art, though I am always suspicion that anything in an art gallery that says "please touch" is some kind of a trap. I also enjoy the preserved Great Dane in a perplex case. This was Cecil, a splendid dog that Warhol was persuaded had been Cecil B DeMille's. A little bit of Romero comes towards the end of the museum in the archive room where there are images of Tom Savini turning Warhol into a zombie. The second floor is reserved for a contemporary artist, Paula Pivi, who has filled one room with technicolor polar bear cubs with names like Fried Halibut Again, I Bring Art Where I Go and Mama Who Is The Artist?
I had hoped to go to The Mattress Factory, but looking at my watch, I realise I would have to rush it, so swap visiting another gallery for using Pittsburgh as my gallery and looking at the signs and concrete structures around me. On the building opposite The Warhol Museum is an advert painted into the brickwork, Geo L Wilson – Speciality Products for Concrete Construction. As I age, I have become more enthralled by big old walls and the thought of how they came to be and the hands that built them. I have always been impressed by the number of signs on any freeway that tell you "Wrong Way", a sign that must often become apparent when too late, A new one to me on the path to a car park is "Begin One Way", almost fortune cookie advice. I look under bridges and enjoy rusted fire hydrants, then admire all the impressive yellow bridges that take people across the water. Back over the river, I try to make sense of another advert on painted brickwork – it seems to say Superior Sanitary Union Man – a good working title for a Springsteen album. I also enjoy the window above the violin repair shop, presuming the violins balanced on the frame and fading in the light were those left repaired yet unpaid for, never to be retrieved and destined to buckle, as a valentine's day couple sit sadly unaccompanied as they eat their pasta vongole. 
I walk by a small parking lot – Park at Phil's – this is not just any parking lot, a car park sign would not be good enough, you've got to know this is Phil's place and you can trust Phil.
I pop into Amazing Books and Records on Liberty Avenue. I know I must be frugal, but soon spy a book about Rod McKuen. He seems to be unknown by many, but was a huge success across the world and my mother was a big fan of his. I think his work , his gravelling voice, his sweet natured poetry gave her comfort during difficult times. I buy the book for her, even though she can never read it. I also buy a book by Luke Rhinehart, best know for his highly influential dice books, about EST and Werner Erhard, the kind of character who appears in Adam Curtis documentaries as the path to our 21st century madness is traced.
In my hotel room, I eat coffee beans and record another episode of the Taking The Universe Around the World.
I am tired, so the negative voices find it easier to jemmy open doors in my head. Outside the theatre, I look at the Horizons poster and how I am a totally non-existent part of the show on all the advertising and it troubles me. I eat some blackberries and tell my ego to be quiet.
The Pittsburgh is a nice old theatre and admire the bricks they have here too.
Despite making the show 20 minutes shorter just one week, all that time has come back without adding anything, an Einsteinian problem or just a problem of the excitement of physics making Brian's brain fizz and froth?
Tonight's audience questions include "how does negative time distort matter?" And "The same structures and patterns appear over and over in nature. Do you, Brian Cox, expect to see new patterns, or variations on the same patterns, as our understanding of the universe increases?".
I enjoy performing my poem more and more, of all the possible purposes of me being in the show, I think that is the main one. I was lucky to come up with that poem on the day I was off to Beautiful Days. That festival has such a lovely audience and when I was approached by someone after my show who was in tears and wanted a photograph of the poem, I knew I had stumbled on the right words.
Pittsburgh is the first proper standing ovation in the USA for the show.
I end the night drinking wine and telling Brian and Steph that they must watch Christopher Walken in the Dead Zone. I still think it is one of the most beautiful and moving films ever to be classed under horror and, with The Fly, is another of Cronenberg's brilliant and underrated romances.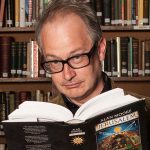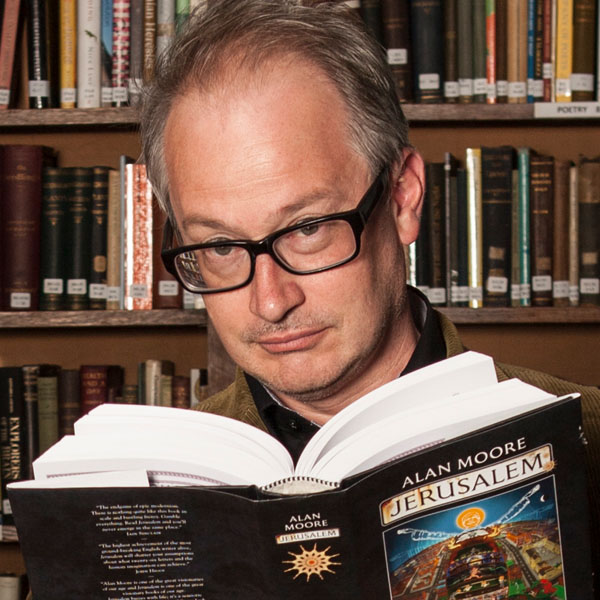 Robin Ince is a multi-award winning comedian, writer and broadcaster.  As well as spending decades as one the UK's most respected stand-ups, Robin is perhaps best known for co-hosting The Infinite Monkey Cage radio show with Brian Cox.  For his work on projects like Cosmic Shambles he was made an Honorary Doctor of Science by Royal Holloway, University of London. His latest book, The Importance of Being Interested is out now.
If you would like to reuse this content please contact us for details
Subscribe to The Cosmic Shambles Network Mailing list here.