A Sold Out Show in Montreal
Robin Ince's Horizons Tour Diary
We leave Ottawa on the tour bus to travel to Montreal.
Brian is keen for us to watch Severance and so starts trying to work out what needs to plug into what and what must be downloaded and uploaded to ensure such joy is possible. While doing this, he manages to spill his fizzy Chardonnay on his show trousers.
Yes, yes, I know, one should always change out of your show trousers before drinking fizzy chardonnay while engaging with technological quandaries, but sadly Brian had never seen that particular late night public information film. If there is the vague fragrance of rancid grapes wafting over the stalls of the Montreal auditorium, please be aware that is him not me. I have my usual odour of 19th century bookbinding glue. 
I applaud his ingenuity and he eventually conjures Severance to life, at least for the first 30 or so minutes of episode one. We arrive in Montreal just after midnight and slump. 
My habit of waking up throughout the night is not dispelled by melatonin. 
Whenever I used to arrive in a new room and a new city, I would put the television on just to get the gist of the culture, but the dominance of the 24 hours news culture, this shoddy, civilisation threatening entertainment cycle holds no delight for me. 
Today, Brian only text messages in French.
Brian starts the day with eggs in a rich sauce as usual and I eat blackberries and brush croissant crumbs of my cardigan. Why am I so messy? 
At school, I was banned from using an ink pen because of the Jackson Pollock quality of anything I attempted to write on. Shirt tails untuck and I naturally crumple anything on me. I am what is needed for the balance of the universe if Brian Cox is to remain pristine. 
Homeland deadlines are easily forgotten when there is an ocean between you and them, so I hastily write my column for The Big Issue. Fortunately, It is on one of my favourite subjects, Hull. 
I love that end of the line city and its ability to be matter of fact with the marvellous – a very underrated city (Larkin, Ronson, Fanni Tutti). 
Due to to the inability to deal with all the questions about the Universe in the ten minutes allotted to the Q and A for the Horizons show, Brian and I have decided to record a podcast to deal with some of the the unanswered questions. We record episode one in his hotel room and deal with the Schwarzschild radius, complex life and alien visitations. After that, he explains the happy holographic pentagon code and the casual wedge puzzle, as well as the redundant coding of spacetime. It seems I might be the redundant coding of spacetime and so might you. 
Throughout this tour, I am reminded of the physicist John Wheeler's description of the evolution of physics during his career – first it was particles, then it was fields, now it is information. 
We walk down to the water and I delight in seeing one of my favourite pieces of architecture, Habitat 67. I was fortunate to meet and listen to the architect, Moshe Safdie, when hosting one of the Hadfields' Generator shows in Toronto (which will hopefully be back in early 2023). Safdie spoke of the importance of immersing himself in the culture for whatever location he was working in, including surrounding himself with the music of that place. I adore Habitat 67, it is a mythical piece of brutalism that has somehow come to exist in the real world.
We walk along the water and Brian and explains how you can sail from Montreal to Duluth via the lakes, and then we look at the funfair and its Coney Island rollercoasters across the water.
On the way back to the hotel, Brian is tempted by a camera shop. He'll capture your soul anyway he can. He covets lenses while I look at a book of Martin Parr's photographs of Hebden Bridge in 1975.
Back at the hotel, I record the first diary entries with asides for a podcast – Taking the Universe Around the World, which should be available in the next day or so.
I think about a little sleep but thinking is the problem and, as I lie under the sheets, my brain keeps burbling on in its jittery manner.
The Montreal audience give Brian the loudest walk on cheer yet. This is our first time here and it is a sell out. There is room to play but we still work hard to make sure it doesn't go TOO much over time. Audience questions tonight include "If there are stars around black holes, could these stars have solar systems with eternal life forms stuck in the event horizon?" And  "Do you think the humanity made a right choice between a digital computing and analog computing?"
It ends with a standing ovation (second night in a row) . Brian always finds taking a bow a bit embarrassing, but I notice he is a bit more comfortable with it when everyone stands. They are a wonderful audience and leave the theatre happy.
Over drinks, we discuss great actors' techniques for getting standing ovations. Apparently, during King Lear, Sir Robert Stephens' trick was to delay coming on for his bow as long as possible until the audience presumed that it might be an artistic gesture for this Lear. The houselights would start to go up and the audience would stand to leave. At this point, Stephens would take to the stage and the audience, now trapped standing, would applaud. He would walk offstage saying, "see, Peter, ANOTHER standing ovation".
I finish the day reading about the Amur Maple in the Montreal book of my international reading challenge, Bronwyn Chester's Island of Trees.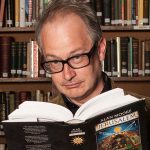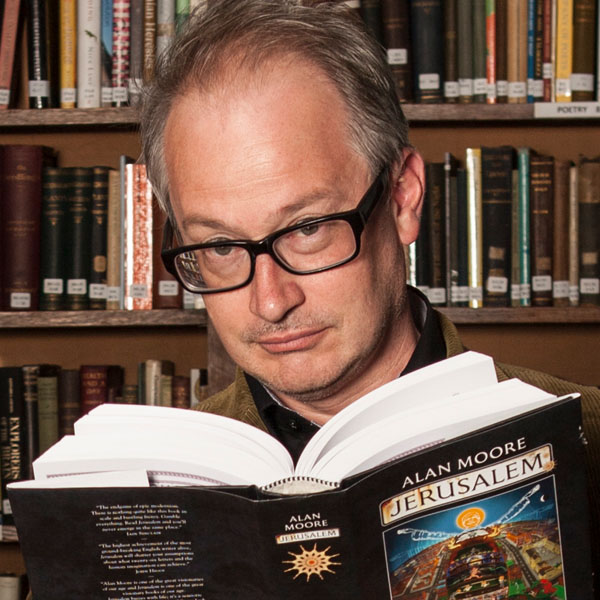 Robin Ince is a multi-award winning comedian, writer and broadcaster.  As well as spending decades as one the UK's most respected stand-ups, Robin is perhaps best known for co-hosting The Infinite Monkey Cage radio show with Brian Cox.  For his work on projects like Cosmic Shambles he was made an Honorary Doctor of Science by Royal Holloway, University of London. His latest book, The Importance of Being Interested is out now.
If you would like to reuse this content please contact us for details
Subscribe to The Cosmic Shambles Network Mailing list here.