The Span of Someone's Life
Robin Ince's Blog
Looking at Facebook, I see that it is Abi James's birthday. Abi was a delightful presence in the audience of many of my gigs.
I last saw her for a quick chat as I sped through the grounds of Cheltenham Science Festival in the Summer of 2021. She died a few months later. I was on my #100Bookshops tour when I found out that she had died. On that day, I had lunch with Mik and Angela Raven. Sadly, Mik died in the late Summer for his year. Thinking of them both, here is a cut up excerpt of the chapter of Bibliomaniac in which they appear.
"One of the things that I love about books is that people can live on on a page, they are still in the world. On Abi's facebook page, there is a Terry Pratchett quotation, "No one is finally dead until the ripples they cause in the world die away… The span of someone's life, they say, is only the core of their actual existence". 
Meg is behind the counter today, and we talk about the size of the universe and the fabric of spacetime. Other people's understanding of ideas never bores me. I am still at such an early stage of comprehending the universe – a position that I am unlikely to move from, however much time I have left. After all, it just won't stop expanding. Hearing how other people react to these incredible ideas – as with Meg – gives me a better understanding of how to understand. 
Mik and Angela are there too. Mik is a regular at my gigs in the north-west, so much so that I have often told him to stop paying for tickets, but he is stubborn (my agent will be glad to hear). The rooms that I play may not be grand, but they are frequently filled with really lovely people, and some, like Mik, attend many shows in a year.
Mik is going to come along to Holmfirth tomorrow too, which is useful, as whenever I see him and his wide-brimmed hat in the audience, I know not to trot out the same old gubbins again. He assures me that the gubbins is in a state of constant flow and that it's okay – two shows have never been the same. I hope so….
…..The rail line to Ripon fell under the Beeching axe in the 1960s and, with no public transport, my friend Julia has kindly offered to give me a lift to her home town. She is another person I have got to know from meeting her regularly when I've been performing in the north of England. During our journey the conversation gets to the great ethical problem of 'At what age should you buy your child a bottle of vodka?' My son is still more for Minecraft than Morosha….
…..The Little Ripon Bookshop is not so little any more, but it's not quite big enough for tonight's event, so I am at the Ripon Arts Hut in between this month's amateur light opera of HMS Pinafore and the next youth-theatre production of Death of a Salesman. It is an excitable crowd, in the best way, and more like a Friday-night gig than a book talk.
Back at my hotel, I find out about the death of Abi. Like Mik, Angela and Julia, Abi has been a regular in the audience at my events for years, though mainly in the west rather than the north. She was a popular science teacher and was one of those people who added extra energy to any audience. I had last spoken to her a few months before at the Cheltenham Science Festival and she was as animated as ever. The relationship between act and audience is not as one-way as it may sometimes seem, and whilst it can be flighty and occasional, it has a concrete tangibility to it as well. Sometimes people drift away and you don't see them at an event for years, and then you notice them return and, at drinks in the bar afterwards, they'll tell you of those missing years almost apologetically. 'Sorry I wasn't buying tickets for your shows between 2007 and 2018, but I met a man and went to live in Budapest.'
Sometimes there is sadness: 'Do you remember a gang of us always used to come to your gigs in Penzance. I thought you'd like to know…' And then you'll hear sad stories of an early death. Sometimes you only notice the face in the crowd when it is gone. I know that every time I am in the West Country I will expect to see Abi and then I'll remember that she can't attend any more.
Signed copies of ​Bibliomaniac are available now at cosmicshambles.com/shop with exclusive art cards.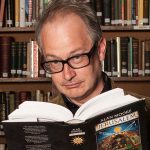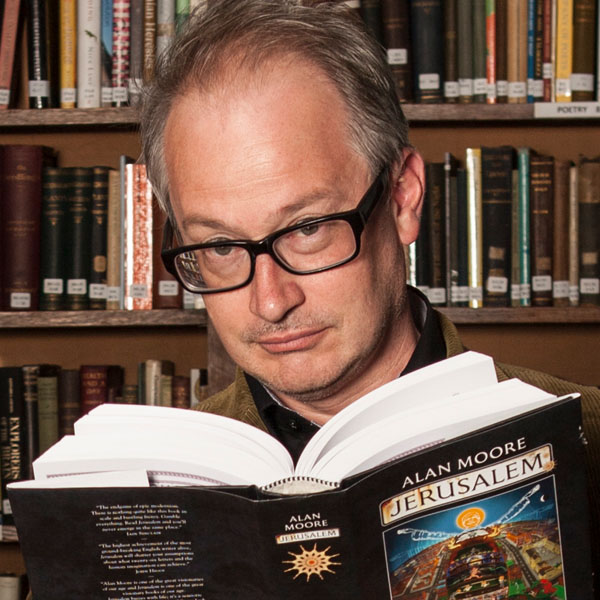 Robin Ince is a multi-award winning comedian, writer and broadcaster.  As well as spending decades as one the UK's most respected stand-ups, Robin is perhaps best known for co-hosting The Infinite Monkey Cage radio show with Brian Cox.  For his work on projects like Cosmic Shambles he was made an Honorary Doctor of Science by Royal Holloway, University of London. His latest books are The Importance of Being Interested and Bibliomaniac.
If you would like to reuse this content please contact us for details
Subscribe to The Cosmic Shambles Network Mailing list here.