The Temptation of Darwin and Bowie
Robin Ince's Horizons Tour Diary
Arriving in Newcastle just before 2pm, the men are scattered around the forecourt with roses and other bouquets, waiting for their lovers who have been away all week.
There are passionate embraces deftly achieved with any thorn impalements. 
I risk a trip to Books for Amnesty, knowing full well that any purchases will tip me over the weight limit, having already filled up in Notting Hill. Unfortunately, the front table tempts immediately. 
Solitary Sex: A Cultural History of Masturbation is intriguing. The cover is Hedy Lamarr is naked on the cover, a still from the notorious movie Ecstasy. Fortunately, in the last few years, she has become increasingly well known for her technological inventions than her nudity and beauty. 
The real corner is finding an 1892 copy of Charles Darwin's The Formation of Vegetable Mould Through the Actions of Worms with Observation on their Habits. It is £35 but I decide it must be mine as I have read from my cheap paperback copy so many times on stage. 
Next to it, there is an 1899 Origin of Species, rebound by whatever library it lived in, but in near pristine condition. At £50, I think I better leave it…for now. What comes with me on top of earthworms and masturbation includes the Autobiography of Edith Sitwell, a hardback copy of Jean Rhys's Smile Please, a Tallulah Bankhead biography, Jess Zimmerman's Women and Other Monsters: Building a New Mythology and Patti Smith's Year of the Monkey (why the hell hadn't I bought that already?)
I browse until my Bowie clock tings. I have been desperate to see Moonage Daydream but touring schedules have made this quite impossible. Today, there is a subtitled screening at Tyneside Cinema, and I would have to leave early to get to Corbridge on time, but I cannot resist getting at least 90 minutes of Bowie, so I rush across town and scrape into the stalls just in time for the glamour and Nietzsche to explode, fusing leotards with Nosferatu.
My knees bounce up and down throughout. I am reinvigorated. I am desperate to get to see some kind of real live music gig soon and think of all those transcendent gigs I have been to as I walk back to the station in the vague rain. There is a beautiful teenage tragedy as a young girl weeps uncontrollably, her hopes of seeing Bowie at the stage door dashed. A perplexed reporter interrogates, desperate to know why Bowie is worthy off such emotional fireworks. Thought the tears, she sums up it up in two words – "he's smashing". 
At 90 minutes, I depart anxiously. I have two carer bags and a rucksack and I am desperate not to disturb the rest of the audience with two much fumbling and scrunching.
Sadly, I move quicker than I had estimated, and so find time to purchase On The Origin of Species and a copy of De Profundis.
Last time Corbridge was my destination I barely made it as the trains were cancelled and the roads were strewn with branches after a hurricane. This time, it is an easy local line journey brightened further by leafing through a series of illustrations of the activities of worms.
I perform from the pulpit of this former church turned into a highly active bookshop (you can read more about Forum Books in Bibliomaniac).
Helen from the bookshop kindly gives me a lift back to Jesmond, taking in the occasional haunted road and dead end, this time the blockages are man-made bollards rather than oak branches.
The rest of the tour have gone to bed by the time I check in, so I sip wine and listen to Lantern on the Lakes.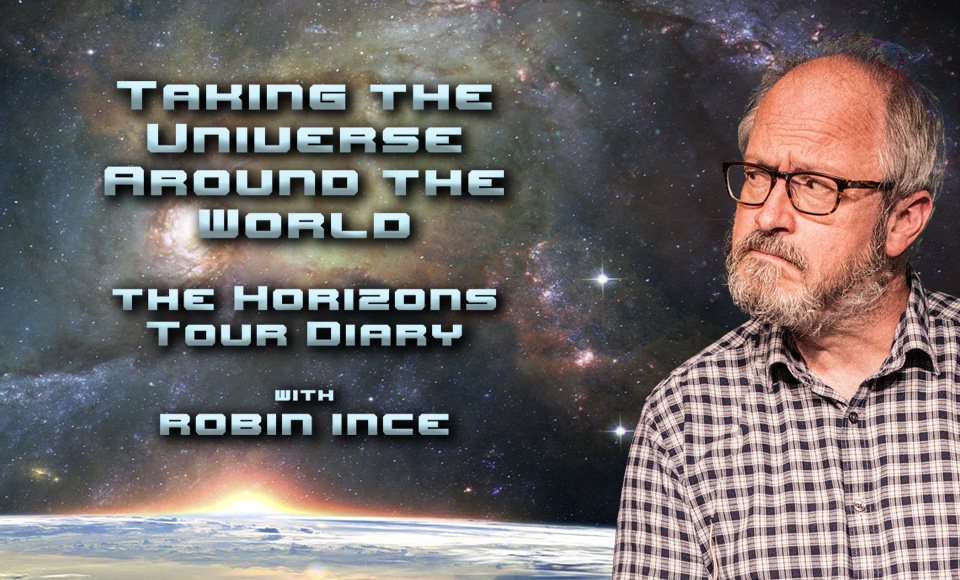 Listen to the Horizons tour podcast, Taking the Universe Around the World HERE.
Bibliomaniac is available for pre-order now at cosmicshambles.com/shop with exclusive art cards.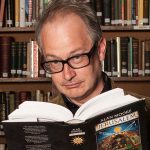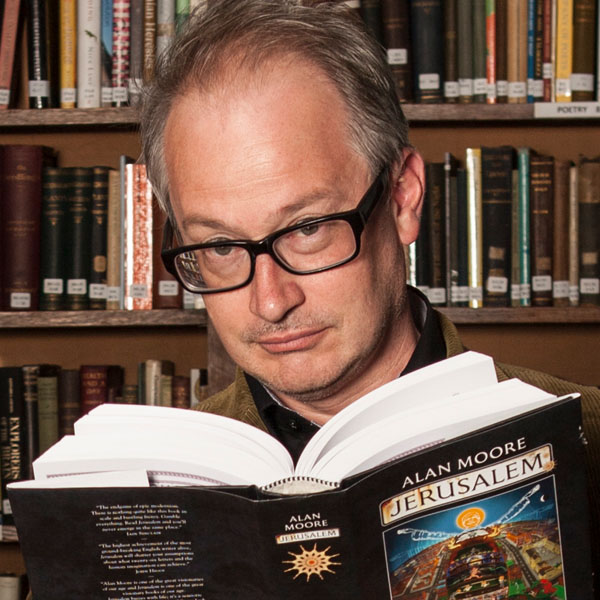 Robin Ince is a multi-award winning comedian, writer and broadcaster.  As well as spending decades as one the UK's most respected stand-ups, Robin is perhaps best known for co-hosting The Infinite Monkey Cage radio show with Brian Cox.  For his work on projects like Cosmic Shambles he was made an Honorary Doctor of Science by Royal Holloway, University of London. His latest book, The Importance of Being Interested is out now.
If you would like to reuse this content please contact us for details
Subscribe to The Cosmic Shambles Network Mailing list here.