The Days Are Beginning to Blur
Robin Ince's Blog
The days are beginning to blur.
I remember where I was the night before, but the night before that…?
Exeter to Crickhowell was a gentler day, three trains and one gig.
I was particularly excited to be told that Crickhowell had a Boots as that meant I could find blister plasters, such deep joy bubbled in that hope.
I had thought I would read more on this tour, but two or three events today and disturbed sleep patterns, though not disturbing as yet as I am still gathering 6 hours of sleep or more most nights, is leading to a mind with little focus during the downtime. Staring out at the landscape has trumped reading Jeanette Winterson or Philip K Dick for now. I managed a little Robert Anton Wilson between Taunton and Filton Abbey Wood, and then Let Me Not Be Mad by AK Benjamin to  Abergavenny (Stewart Lee promises that out contains "uncomfortable truths".
Crickhowell is a small town of beautiful landscapes and expensive cheeses. I am now in full tour mode and relying on oatcakes, cherry tomatoes and goat's cheese spread with a teaspoon to maintain the calorific count necessary to manufacture tangents in whatever flow state I find either on stage or in the corner of the bookshop.
First, I patched my feet up and then, feeling a little less tender pawed, I wandered around Crickhowell. I was going to eat cake in the lovely bookshop cafe, but it sounded a little hectic and I was in an isolated frame of mind. I returned to my hotel room and ate a piece of caramel shortbread that Laura Penfriend had given me after the Wotton gig so so long ago (48 hours ago).
Re-energised, I pootled out again to look at the last remnants of a castle and sit in the park counting the colours of Autumn. I slid into a negative frame of mind, detached and gloomy, the weeks of travel ahead and the fear of failed events became daunting and shadowy.
I walked to my venue so the organisers knew I was there, but then went back out and sat on a bench not worthy of a memory plaque ("Sitting next to the fire station on the main road was Len's favourite place to be, dearly missed") and flicked through my book seeking a new place to begin.
A few minutes beforehand, I returned side of stage hoping that the useless fog would clear and I would engage with the audience. In my mind at least, the first 15 minutes was without spark, though what they saw and what I heard can often be a very different experience. Somewhere through my sentences, I felt there was a connection forming, then I began to gallop.
The critical voice rarely takes a vow of silence, but when he did pipe up, I was moving fast enough to ignore him. By the end of the gig, I was happy with what I had done.
I signed busily and learned something of those that had been in the room. The audience included Anne Goldsworthy who I had had a very useful conversation with for the chapter on education and imagination. Ten year old Finley had a question for me that I could not answer involving The Stones of Callanish. I have now done the research so I will have an answer for the next Finley.
There was time for a pint of tropical IPA in Treebeards Bar with Emma and Drew (who keep the festival running so well). Fortunately, it was closing time. It is a good thing to only have time for one pint when you still have 94 gigs ahead in under two months.
I never go straight to sleep and always waste an hour when I get to bed. Tonight, I watched a series about paramedic crews, then, for fear there was a sad story around the corner,  I switched to a documentary about the decades of Cliff Richard until it reached a clip of Loose Women which tipped me into the decision that it was time for sleep.
————————————————————-
Come to the Volcano Theatre in Swansea tonight – 7.30pm. Saturday is Shelf Life in Cardiff at 1pm and Griffin books at 730pm in Penarth, then Think Tank in Birmingham 2pm Sunday. The new week begins with Blackwells in Oxford at 7pm on Monday… All Tour dates here.

Order signed and dedicated copies of The Importance of being Interested here.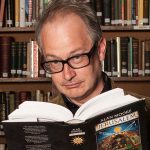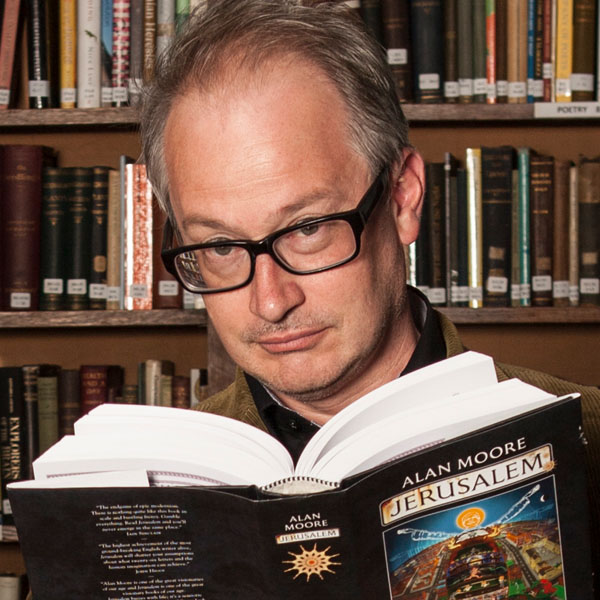 Robin Ince is a multi-award winning comedian, writer and broadcaster.  As well as spending decades as one the UK's most respected stand-ups, Robin is perhaps best known for co-hosting The Infinite Monkey Cage radio show with Brian Cox.  For his work on projects like Cosmic Shambles he was made an Honorary Doctor of Science by Royal Holloway, University of London. His latest book, The Importance of Being Interested has just been released.
If you would like to reuse this content please contact us for details
Subscribe to The Cosmic Shambles Network Mailing list here.