The Humanity of Dream-Like Non-Human Felt Creations
Robin Ince's Horizons Tour Diary
Here is the first half of my Tuesday in San Francisco…
Scrolling through social media, I see that people are still criticising Matthew McConaughey for his speech at the White House last week. It is a strange thing to still see people angry with someone because they are against child murder. Whoever would have thought it was contentious to be against murdering children – what a world. 
We appear to have timed our free time in San Francisco to coincide with the museums being closed. COVID days are still not over and cities are still not fully functioning. This means no visit to the Museum of Modern Art and, even more disappointingly, no chance to see the Jim Henson exhibition at The Contemporary Jewish Museum. The humanity that Henson created via the dream-like non-humanity of his felt creations and their accomplices feels as culturally powerful as the humanism that Rod Serling gave us with The Twilight Zone. To make up for not being able to explore Henson's mind and muppets, I sit in my hotel room and watch, yet again, the very beautiful piece where Fozzie and the gang discover that Jim has died. 
The day began with the wrong omelette. I was defeated by Swiss cheese. The whole of the top of my breakfast was covered in Swiss cheese icing and my eye to stomach connection shit down hunger almost immediately, helped by a string of Swiss cheese getting confused near my epiglottis. 
Steph and Brian went walking in the woods with Jerry Harrison (of The Modern Lovers and Talking Heads), so I prepared myself for my invitation to the mortuary to identify their coyote digested remains in a few days time. I had already arranged too meet my Allusionist podcast pals, Helen and Martin. 
I decide that I must walk off my Swiss cheese and so I decide to walk the 4 miles to Golden Gate Park. Sidewalk stencils have left spray painted messages on the pavement under me, including "Evil Fauci" (an anti vac message or a band) and "Stop Fucking War" which has been further stencilled over to read Stop Butt War on this stretch of palimpsest pavement (if you haven't noticed before, palimpsest is Ione of my favourite words and I will aim to use it whenever possible). 
There are plenty of houses ready for Edward Hopper's easel down California Avenue. 
San Francisco is a city I have known well since I was young, not through visits, but through the films of Clint Eastwood that dominated my teenage hood. It is much the same way that I knew Manchester long before I visited through the sings of The Smiths. I know the Fillmore district and the Tenderloin like I know Whalley Range and Rusholme. 
The stand up of Robin Williams obviously also played its part in creating the map in my head. In my dreams, I see Williams joining us on a Monkey Cage panel, sat between Katie Mack and Eric Idle, riffing on the event horizon or Schrodinger's cat. 
I turn off California and see some very fine topiary. 
Green Apple Books is in the Richmond district, just beyond Pacific Heights. It is a place full of inviting bakeries and ice cream shops, interspersed with independent ironmongers and a hair salon that looks untouched since 1962. The hairspray in the window could hold your beehive in place all the way to Nixon's inauguration.  
I have limited time before I must continue my journey to the park and so my book mania takes hold of me and I make rapid decisions. I am Hyde in bookshops like these and then Jekyll sits in a bench with his brown paper bag and looks inside, incredulous and confused, "but what manner of creature bought these". 
In the remaindered section I see two things that I know I must have because they have been on the list for a while, a hardback copy of NK Jemsin's How Long 'til Black Future Month and A Grace Paley Reader. Jemisin is a three time Hugo award winner and it has been something of a dereliction that it has taken me so long to approach her work. This anthology shows the development of her work, short stories that would lead to novels, ideas in embryo that would grow up into a passionate adulthood.
Her introduction starts twenty years ago, when she was less sure and more in debt, but it ends here.
"Now I mentor up-and-coming writers of color wherever I find them…and there are so many to find. Now I am bolder, and angrier, and more joyful: none of these things contradict each other. Now I am the writer that short stories made me.
So come on. There's the future over there. Let's all go"
In George Saunders' introduction to A Grace Paley Reader, he writes, "You have trouble believing this much wit is washing over you".
I see a book about the cinema of Michael Powell, a favourite of mine and an artist whose work I have watched many time with my dad, so I buy this book for him. There is a memoir of Mapplethorpe by Jack Fritscher which finally confirms that it like May Pole Thorpe not M -Apple – Thorpe – which will reduce my social shame at the photography admirers' convention.
There is a book by Mandy Merck – Perversions. I remember her work from Time Out magazine when I was a curious teenager. It includes essays on Freud, Amazons and Andrea Dworkin. It will probably bring on a Proustian rush of memories of my LGBT friends taking me to the Institute of Contemporary Art to educate me. This edition was given to Renee by Mandy in the Christmas of 1994 going by the inscription. I buy yet another book on the films of David Lynch and Women of the Beat Generation signed, not by the author, but by one of the books's subjects, Diane Di Prima, "Poet priestess".
"You cannot write a single line w/out a cosmology
a cosmogony
laid out, before all eyes"
(the opening lines of Rant)
A little late, I scurry towards the de Young museum where I will be meeting Helen and Martin at the entrance (a plan we made before we knew there were three).
There is rollerskating of many skill levels before my eyes, some of great confidence, gliding as if in Xanadu, others are fawn-like, leaning on their patient, caring friends as they attempt this new way of progress for the first time.
I remember an albino crocodile the last time I visited the park. We stared at it purposely, seeking out a single blink or sense of life and realised that your branch on the tree of life goes back so far if you perfect this appearance of perpetual, granite stoicism, broken only on occasions where you plunge your jaws around the utterly unexpecting.
Martin goes off to seek some bison, and Helen and I go into the Alice Need exhibition after sharing a small lemon tart to energise our critical faculties.
Tuesday continued with Helen and I looking at the work of Alice Neel and it was utterly superb, an education on so many levels. Looking at her work I could imagine that she had had an influence on Paula Rego, David Hockney and Lucian Freud among others. Her work is a history of oppression, of destitution, of counter culture, of pregnancy, of humanity.
At the entrance, she is described as "one of the twentieth century's most radical artists".
The title of the exhibition is People Come First, something she stated on 1950, "for me, people come first". Her images of the depression, with skeletal figures passing through an impoverished landscape are desperate and haunting. Many of her portraits are of activists and people who fought to improve the lives of the many. There are beautiful images of Mercedes Arroyo, a social activist who taught at the Communist Party affiliated Jefferson School of Social Science and of the feminist Adrienne Rich. There are paintings of young male artists of the seventies and when you peer at the years of their deaths – 1984, 1985, 1987 – you know this was the calamity of AIDS.
Alienation, an almost cartoonish illustration, shows Alice pissing in the toilet while her lover pisses in the sink. Her portrait of Joe Gould, smiling out of the canvas and both adorned with and surrounded by multiples penises is so vivid, as are paintings of pregnant friends, naked and swollen nippled.
"You can't leave the humanity out. If you didn't have humanity, you wouldn't have anything".
There are so many stories here, so much beauty and so much pain, this has leapt straight into to the top ten art exhibitions I have visited (I don't know the full list, but for now I will add Lousie Bourgeois and Robert Rauschenberg, both at Tate Modern, and Tracey Moffatt and Pipilotti Rist, both at Sydney's MCA).
We took an uber to the theatre. Martin and Helen departed to buy luggage and I went and sat at the side of the stage and slavered over my purchases from Green Apple books.
Last time we played The Golden Gate theatre, Brian and I thought it was the worst show of the tour. Something just didn't click. This was not the feeling today, we were energised and so were the audience. There seems to have been an increase in the dry ice that floats across the stage ever since Brian decided to add some equation solos. Foot on monitor, iPad in hand, watch a physicist wig out with some cosmological explanations in symbolic language.
Tonight's questions in San Francisco included
If we exist in an intersection of time and space – does this suggest that our consciousness exists beyond our bodies (space)?
Is there a good way to make money using black holes, singularities, and relativity theory? (my answer here was – "yes, you are watching it"
Is there a possibility of there is a universe where people have noodle hands
– Eli (11 years old)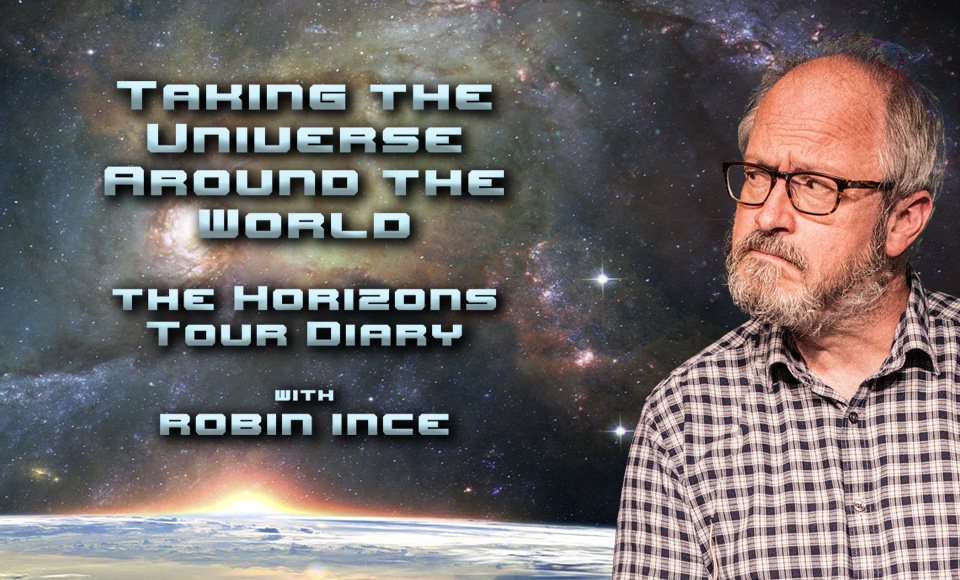 Listen to the Horizons tour podcast, Taking the Universe Around the World HERE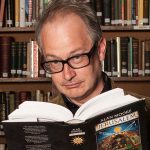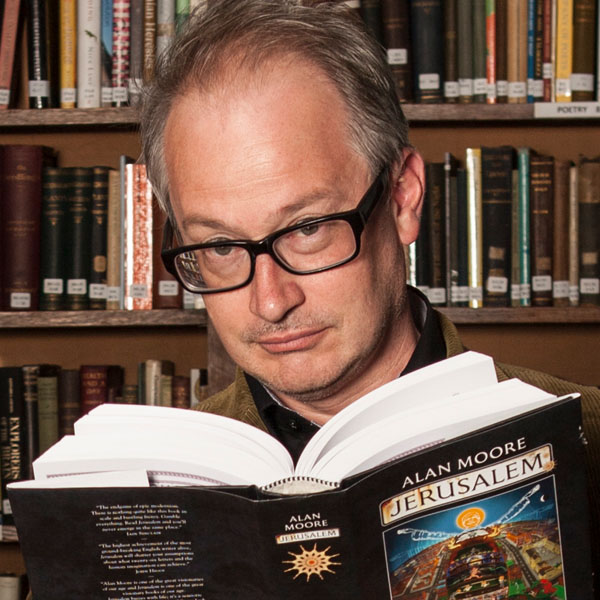 Robin Ince is a multi-award winning comedian, writer and broadcaster.  As well as spending decades as one the UK's most respected stand-ups, Robin is perhaps best known for co-hosting The Infinite Monkey Cage radio show with Brian Cox.  For his work on projects like Cosmic Shambles he was made an Honorary Doctor of Science by Royal Holloway, University of London. His latest book, The Importance of Being Interested is out now.
If you would like to reuse this content please contact us for details
Subscribe to The Cosmic Shambles Network Mailing list here.