The Illusion of Free Will in a Deterministic Universe
Robin Ince's Horizons Tour Diary
The windows in my room are open. This causes the door to rattle and jitter and make noises as if a persistent, but incompetent intruder is trying to get in throughout the day.
This is good. In a day of nothing, it is comforting to conjure up ghosts. 
I have been left with plenty of supplies – fruit, crackers, chocolate – on top of the gifts of from the lovely traders of Edmonton – but Leigh, our wonderful tour manager, was worried when I said that I wouldn't be ordering room service because I was worried about waste.
Twenty minutes later, room service knock on my door with a bowl of yoghurt, fruit and muesli.
Our tour manager is a feeder. Get ready for my appearance on TV's Britain's Fattest Science Sidekicks. 
I recorded another episode of Taking the Universe Around the World, thought about Kurt Vonnegut, and then got in with sampling the books in my luggage.
I began with Tanith Lee's Don't Bite The Sun, a novel set in one of those Utopian futures which is too Utopian to be good for anyone's mental health. 
"It's jang to change your body, to switch your sex, to do anything you want to keep up with the crowd" 
Lee creates some new vocabulary . 
Tosky is neurotic. 
Droad is bored out of your mind. 
Groshing is marvellous. 
Lee describes the average Jang dream ecstasy as "to be a mote of pulsing light, sucked to and fro between fiery suns, novas and palely smoking moons, a kind of cosmic, all-over comprehension of having love". 
This is my first Tanith Lee novel and it was perfect for a Sunday morning, a rich visual and verbal energy that dragged me into daylight. Lee was wildly prolific and also wrote two episodes of Blake's 7, on top of her 90 novels and numerous short stories. 
Then it was time for Anna Kavan's Sleep Has His House. 
I thought I had found out about Anna Kavan from an essay by Michael Moorcock, but it seems that this is a false memory. Then, I think it might have been Angela Carter, but wrong again. 
This frustration gives a little more pointless purpose to the day. 
In The Guardian, Chris Power wrote of her, "If she is known for anything beyond her 1967 novel Ice, it is for having suffered mental illness, having been disastrously married (twice), and having been addicted to heroin, all of which she explored in her writing". 
Though not critically revered, I am taken by the quality of the dream imagery and journey through the subconscious which is telling a story that is ultimately far more conscious (as any Freud know).
"The monstrous efflorescence of the universe burgeons in the flick of an eyelash. Creation is under way. The solar system is off. Larger and more brilliant blaze the globes, the stars roar past like stratoliners to destinations not checked in quadrillions. The billiard ball Earth swings up and flattens colossally underfoot. The thunderous revving of the cosmic machines settles to the steady best of eternity."
Whoever's essay introduced me to Kavan, I am glad they did.
I read another Henry Dumas story from Echo Tree. I will now read one each day.
I also flit through Leonard Cohen's The Book of Longing and Lynda Lawrence's The Weekend Witch – "let's get down to the business of transforming you into a witch". Though designed for women, I'll see if it can have any affect on my sinistral powers.
Brian is going mad – he needs a social life, not a wild one, just Steph and me will do, we are THAT MUCH FUN.  We have a zoom chat and he tells me about Von Neumann machines and why we can maintain our illusion of free will in a deterministic universe. It is my only conversation of the day and if you are going to have just one conversation a day, you might as well make it an interesting one.
Last night, I watched Shirley, a fictional account of Shirley Jackson's relationship with a young woman while battling to wrote Hangsaman and then I watched the first and last 15 minutes of Atom Egoyan's Exotica. I have seen it many times and would put it in my top ten films. The ending alone is beautifully, bitterly poignant.
Leigh insists on ordering me room service from afar again and I choose a movie. The first has one of my favourite actors, but a script so utterly leaden in the way it slams a hammer into your splintered skull with every plot point that I skip to the end after 30 minutes of endurance.
I was recommended many Canadian films and was keen to watch I Heard the Mermaids Singing or Jesus of Montreal, but they are inaccessible to Alberta at this current time. I pinter The Elephant Man, but can I eviscerate myself through that emotional shredder tonight?
Perhaps, Atom Egoyan's adaptation of Felicia's Journey?
I go to bed, thinking about writers I am glad the world has had – Octavia Butler, Flannery O Connor, Kurt Vonnegut and on. I do this to hush the negative voices I accidentally woke as I accidentally channel hopped into Fox News and almost immediately saw my skin become grey and diseased at its touch.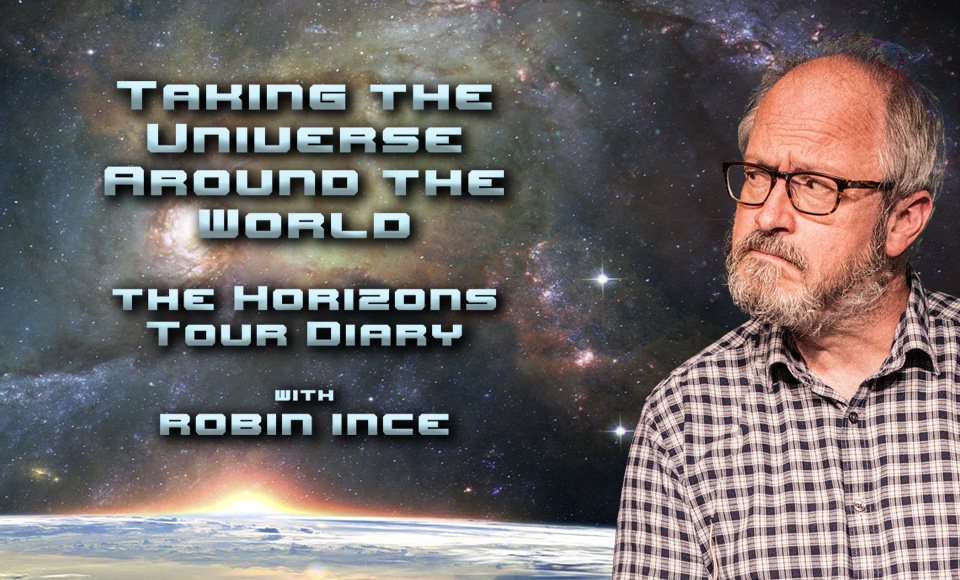 Listen to the Horizons tour podcast, Taking the Universe Around the World HERE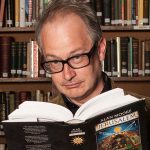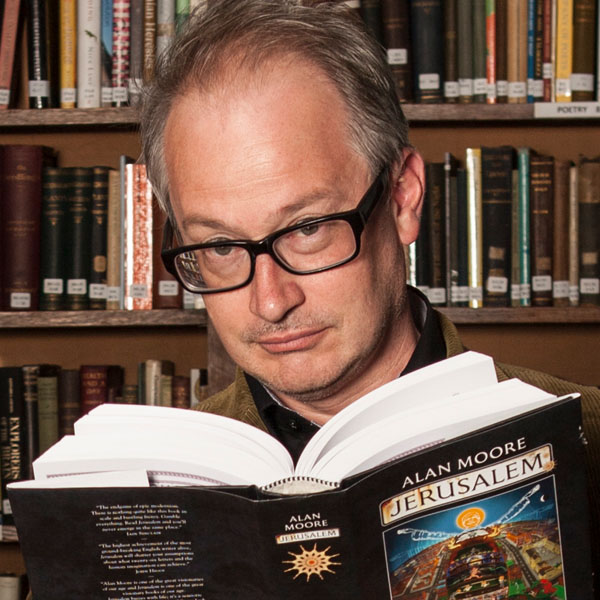 Robin Ince is a multi-award winning comedian, writer and broadcaster.  As well as spending decades as one the UK's most respected stand-ups, Robin is perhaps best known for co-hosting The Infinite Monkey Cage radio show with Brian Cox.  For his work on projects like Cosmic Shambles he was made an Honorary Doctor of Science by Royal Holloway, University of London. His latest book, The Importance of Being Interested is out now.
If you would like to reuse this content please contact us for details
Subscribe to The Cosmic Shambles Network Mailing list here.