The Ultimate Turing Test in Birmingham
Robin Ince's Blog
The ultimate Turing test will be when a Sat Nav is able to get you to where you want to go in Birmingham. Sunday was the nearest the 100 Bookshop tour has got to killing me so far.
Sunday travel is frequently a charmless escapade. I was traveling from Cardiff to Birmingham and then home. The first train was busy, but not painful. Like so many privatised lines, CrossCountry led the way in grubby and dirty rolling stock, though most lines have caught up or overtaken in tattiness. Considering the expense of rail travel in the UK it amazes me how we put up with the grubby overcrowded-ness of our infrastructure. I think this is one of the reasons that England in particular is going through a period of madness. The cognitive dissonance required to cling to the belief that we are the greatest nation in the world has required short circuiting of our brains. The evidence of decline is everywhere, and as we see the maggots crawling through our roast beef we  must conclude that they are not maggots, but sparkling angel imps sent to bless us for our persistent excellence.
The journey was fine. I sat on the floor by the door and typed away at what might be my Linda Smith Lecture (2nd November, Gulbenkian theatre, Canterbury). Once the lecture was going to be on the culture wars, but now I have decided that this will be little more than a tetchy footnote and it will be what comedy has done for me, what it can do for all of us, neuro-divergence and joy.
Getting up from the floor, I seemed to pull something in the lower part of my ribcage, I think age is beginning to tangle up my innards with my bones.
The venue, Think Tank, was just 14 minutes away from Birmingham New Street. The Sunday avenues were busy with hectic shoppers and hangover sufferers or the still drunk lurching at unpredictable paces and angles. When I was very near Think Tank, my Sat Nav thought it was time to change tack and so I traveled through street after street or roadworks or sudden holes. Students may have heard an old man swearing at the clouds. The weight of the books and the limited energy left in my body approached a penultimate straw. The world was falling apart and I hated it. I spoke to Alex, a hugely supportive and regular part of my midlands audience. He heard the language of a bedlam.
I met him on the street near-by and he guided me in. I was sodden with sweat, a bald, damp man with the face of Tycho Brahe on my chest. Think Tank is run by lovely people, and all my fury evaporated as I approached it. I sat in the centre of the auditorium like an exhibit or a dire warning. The audience came in and, with them, my delight arrived too.
I had a lovely time and answered questions on my favourite element and whether I was taller than Princess Margaret (you'll find out why one day).
I was dropped off at New Street, a tremendous relief, passing the autograph hunters waiting for Bruce Dickinson. My audience were masked, a later report told me that his were not, despite the fact that I am sure he did a song about the Phantom of the Opera (didn't he?).
The train to Milton Keynes was solidly jammed with human, but I made it home. Overjoyed to see my family and hear the latest reports of my son's progress on Minecraft.
The following day was day 14  and I will keep this day brief.
Woke up in my own bed.
Started the much needed wash cycle.
Did 3 interviews for other people's podcasts and four local radio interviews.
My friend Charlie, who runs the the Berkhamsted Book Festival (7th November – Pragya Agarwal, Mike Brearley, Alexei Sayle, Nikesh Shukla, Lisa Jewell, Mark Steel, Claudia Hammond, AL Kennedy, Natalie Haynes and loads more – day tickets available ) ran me to Oxford Blackwells. Such a beautiful and vast shop. My hedgehog adviser, Hugh Warwick, was there and took the rather wonderful photo in the green room seen above.
————————————————————-
Coming soon to Liverpool (Pritchards, The Reader, Merseyside Skeptics), Harrogate Book Festival, Wivenhoe Bookshop, Norwich Science festival. All Tour dates here.

Order signed and dedicated copies of The Importance of being Interested here.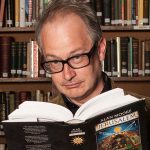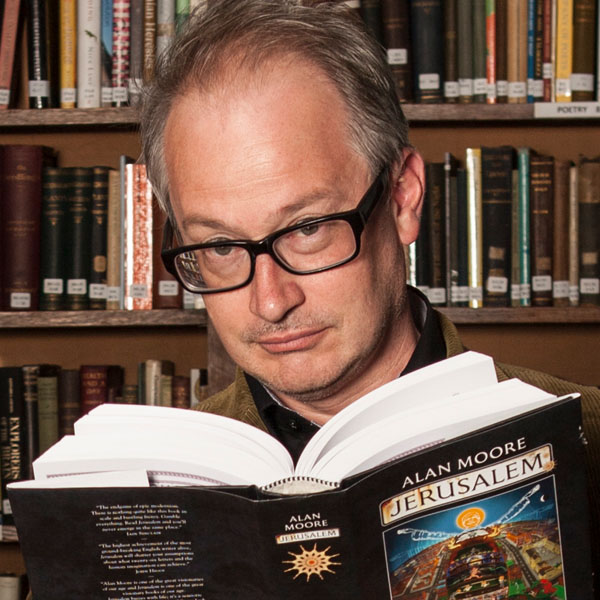 Robin Ince is a multi-award winning comedian, writer and broadcaster.  As well as spending decades as one the UK's most respected stand-ups, Robin is perhaps best known for co-hosting The Infinite Monkey Cage radio show with Brian Cox.  For his work on projects like Cosmic Shambles he was made an Honorary Doctor of Science by Royal Holloway, University of London. His latest book, The Importance of Being Interested has just been released.
If you would like to reuse this content please contact us for details
Subscribe to The Cosmic Shambles Network Mailing list here.