This Should've Been Mik's Seat
Robin Ince's Horizons Tour Diary
"I'm hanging out of me arse. I'm hungover. I'm fucked. I'm still drunk. Let's just get to this boat party and then fuck off home!"
The two wallflowers then speed walk to the ticket barriers, cursing that they're open, "That's 30 quid I've wasted". 
On the train in, I listen to two women bemoaning the uselessness of their husbands and the lack of getting what they want. From what I hear on public transport, so many relationships seem to be a life lived sighing in judgement and disappointment , but the exhalations give meaning until the grave. 
I am on my way to Leeds. Yesterday was day off – flight from Belfast to London – haircut – book donation to Oxfam to make up for the books collected in Dun Laoghaire and Belfast and popping into Berkhamsted Waterstones to sign some of my books. I watched Mad Max: Fury Road with my son, then started Netflix's number one movie of the day and, as usual, watched 20 minutes before jumping to the end to see if it concluded as I thought and it did. 
In my dreams, I shaved off my beard and was repelled by what I found underneath.
I started Saturday reading about how John Waters made Polyester, a Douglas Sirk movie elevated by transvestism and Odorama (a scratch and sniff card of startling aromas). 1950s beefcake Tab Hunter fulfilled the Rock Hudson role. His autobiography, Tab Hunter Confidential is worth your time even if you think it might not be, covering the career of an actor who was both gay and willing to argue with the tyrannical Hollywood regime. 
I am happy to discover that the friend I have dedicated Bibliomaniac to received her copy today. As usual, I kept it quiet until the book could be in her hand so she was taken by surprise. Katherine deserves a book dedicated to her at the very least, she is a good and kind human.
I pop to the post office to send a copy to my dad. I am away so much at the moment I do not know when I will see him next which always worries me as, when I am not on tour I am a frequent visitor, but I am also frequently on tour. This will be me very behind on episodes of Antiques Road Trip and Maigret. 
I am in a looking out of the window at wind farms mood on the train to Leeds, but also read a few short essays by Ursula K Le Guin and start on Kieran Setiya's Life is Hard – How Philosophy Can Help Us Find Our Way. 
"My relationship with adversity has changed as I've aged. Hardships hit closer to home these days…When I was younger, I was more oblivious. I needed the reminder in my epigraph – a remark by the philosopher Ludwig Wittgenstein to his sister Hermine – the people often suffer in ways they don't express. Hardship is routinely hidden."
​Leeds is full of Saturday energy – buying stuff and boozing.
I go on my usual signing trek, starting with my books in the Leeds Station WH Smith. There are five copies of The Importance of Being Interested at Waterstones, but no one can find them, so this will be the home of the increasingly rare unsigned editions.
For non-signing purposes, I go to Thornton Arcade and look at Village, a shop filled with fine photographic books and fashion images way out of my league of possibilities. They have a table of Cafe Royal's photographic books that cover everything from scarecrows to the Handsworth Riots via Soho in 1990.
I check for a comic book on Yayoi Kusama in OK Comics. They don't have it at the moment, but they have many temptations. I turn my back on them realising I am away from home of two weeks now and the weight of books obtained must be rationed.
My final destination is The Bookish Type, a queer bookshop in the Merrion shopping centre, tucked away on the first floor it is worth a diversion. I have specific requirements. Firstly, Eustace Chisholm and the Works by James Purdy. My friend Shaun told me it was his first gay novel as he navigated coming out and his fondness for it has inspired me to read it. He is in stock, as is a book on the banners of the Greenham Common women. The weight of these two will do for the day. I feel I should always try and purchase something in at least one independent bookshop of each destination. The night before, I was watching Mavis Nicolson interview Tom Baker. Baker was saying that you need to be wary of being thrifty when you are doing okay, make sure you put some money back into the things you want to thrive. I was drawn to the interview by the news of Nicolson's death. She was a quite brilliant interviewer. I would say the  best interviewer on British television – she had such warmth, curiosity and compassion. I recommend interviews with Kenny Everett, James Baldwin and Kenneth Williams, but really I recommend any you can find.
At the arena, my first job is to go to the seat where Mik Raven should have been sitting with his wife, Angela. I last saw Mik just down the road at a Skeptics in the Pub event that he had helped organise. It was barely four weeks ago and that night we talked of making sure that Mik could make it to the Horizons show. Sadly, cancer took him. As he had been such a staunch supporter of my shows, I didn't want the space left to go unmarked. I had hoped to find a hat like Mik's and place it on the chair that should have been his, but, with limited time, I failed to find one. I found a picture of a wide-brimmed hate and wrote a few words and placed them on his chair.
Alice Roberts joined us tonight too, so we had a run through as this would change the shows shape a little, but not too much.
When Brian took to the stage there was a particularly aggressive shout of "Brian, I love you", where love is a threat rather than a promise. There was a fantastic energy in the audience, which was lucky. Just before I ended my short set at the top of the second half, power went down, spotlights disappeared, and I became unamplified. I improvised around the situation and then Adam, our stage manager, popped out to say that we would have a short break while the problem was fixed. I thought, to hell with it. I will stay on stage instead and see if I can project to the back of an auditorium of 8000 people. Reports suggest that I can. This situation was a joy for me, technical hitch curveballs fire up the mind. The power came back on and I returned to the story whose punchline had only been seconds away five minutes ago.
The rest of the show went without a hitch, then we sat in a hotel drinking wine until Brian's cosmological conversation on information paradoxes confounded my post Midnight mind.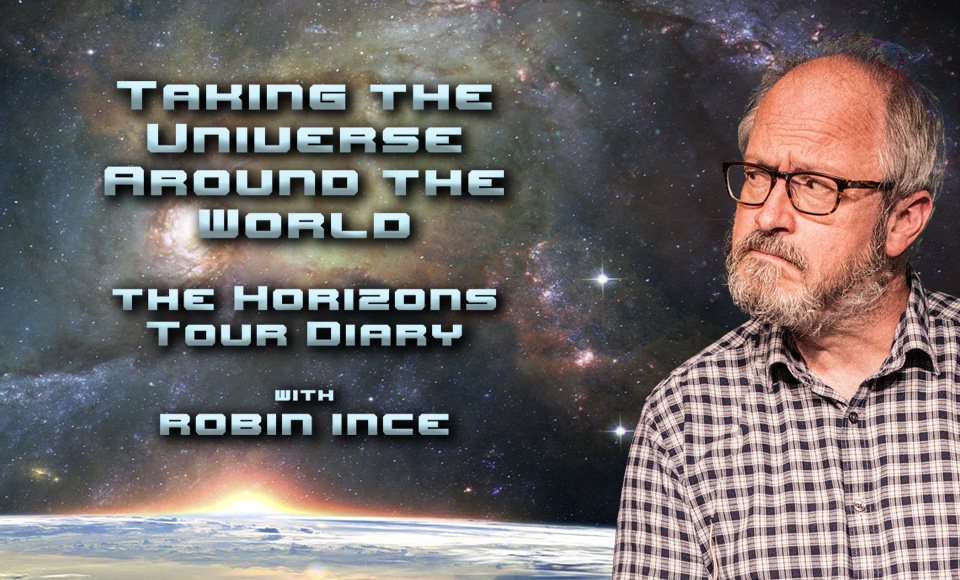 Listen to the Horizons tour podcast, Taking the Universe Around the World HERE.
Bibliomaniac is available for pre-order now at cosmicshambles.com/shop with exclusive art cards.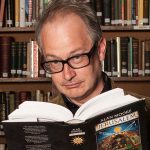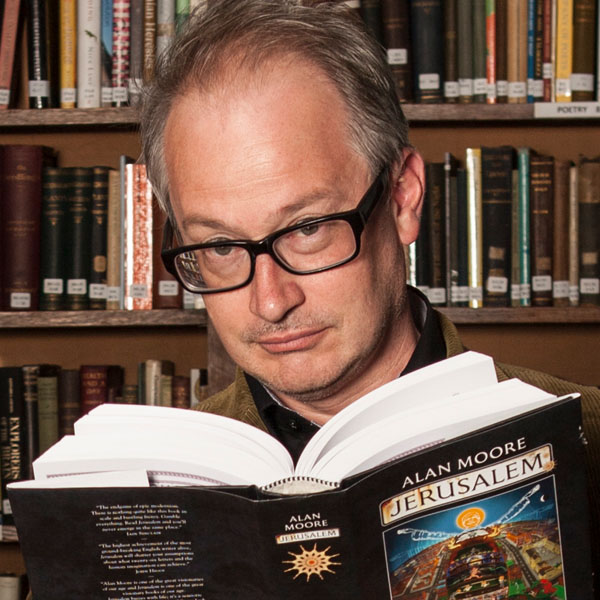 Robin Ince is a multi-award winning comedian, writer and broadcaster.  As well as spending decades as one the UK's most respected stand-ups, Robin is perhaps best known for co-hosting The Infinite Monkey Cage radio show with Brian Cox.  For his work on projects like Cosmic Shambles he was made an Honorary Doctor of Science by Royal Holloway, University of London. His latest book, The Importance of Being Interested is out now.
If you would like to reuse this content please contact us for details
Subscribe to The Cosmic Shambles Network Mailing list here.