On Tim Brooke-Taylor
Robin Ince's Blog
Sometimes, during waves of nostalgia where fond memories of the past are repeatedly reheated for talking heads shows, what can be lost is an emotional importance beyond the fast jab punch of fondness, which goes with remembering discontinued hard boiled sweets and arcane dance routines from Summertime Seaside Special.
For many of my generation, the TV shows that went beyond enjoyment into importance, into something that sustained us, were Doctor Who and The Goodies. Tom Baker has told the story of walking down Oxford Street and being stopped by a man who just wanted to tell him that his bleak childhood in a children's home had been made bearable on late Saturday afternoons by watching Tom convey that eccentric Galifreyan humanity he brought to the show. Nothing else was said, damp-eyed the man moved on, he just had to say thank you. Similarly, when The Goodies were on their reunion tour of Australia they found themselves slightly lost after leaving the stage door and two burly men in basic vests approached them. Initially fearing they would be losing their wallets and possibly some blood, the men just wanted to say thank you – "you made a pretty shitty childhood bearable. Thank you."
When I saw that Chris from Bristol's Slapstick Festival was calling me at 8.50am on Easter Sunday I was aware it must be bad news. In the last few months, we have lost a few of the finest supporters of the festival – Terry Jones, Neil Innes, Roy Hudd and Richard Williams. This was all before COVID-19.
Now, many of those that regularly entertain the crowds are in the high risk group during this time. When I have seen the flippancy with which some pundits have talked of the "necessary deaths" of older people I have thought of many of those I know in those brackets and of their lust for life and vibrant energy. Nowhere was that more often on display than at Slapstick.
It is not just about the length of life you have, it is about what you do with it and what you contribute, too. This idea of some utilitarian Logan's Run-like "fair enough allotted time to live" fails to take into account the purpose and commitment in a life too.
Of the faces that flipped through my head before I answered the call, Tim Brooke Taylor was not among them.
I hosted two events with Tim in late January and he was in terrific form. The gentleness of his demeanour meant that people have sometimes overlooked the sharpness of his mind which was vividly on display throughout the weekend.
Tim would have been 80 this year, but that weekend's schedule showed he was not planning on slowing down. With Christine, his wife, sharing the driving he started in Worthing on Friday at a Clue live show, got to Bristol by midday on Saturday to talk about At Last the 1948 Show, then a Goodies event in the evening, next day it was an afternoon event about I'm Sorry I Haven't A Clue, then an evening show of I'm Sorry I'll Read That Again and then drove off to Bradford on the Monday to do another live clue show. There were no complaints or grumbles at any of the events, he arrived with joie de vivre and a fine mind. Before we began, I showed him a copy of Eye Marty, the very lovely autobiography of Marty Feldman, and it was delightful to see both his eyes and Christine's light up at the memory of him. Those clips of At Last the 1948 Show demonstrated Tim's brilliance as a physical comedian. There was also evidence of some wonderful corpsing that demonstrated the joy of that team's creativity at the time. Tim also co-wrote one of Monty Python's most famous sketches, The Four Yorkshiremen which was originally from At Last the 1948 Show. He told us that Python kindly sent him a small cheque after their run at the O2.
That night, it was a celebration of The Goodies and a rundown of favourite episodes as voted for by the public. All three Goodies disagreed with the public's decision but gamely sat through the whole of Ecky Thump anyway. The palpable fondness in the room throughout the night was delicious.
My love for The Goodies was such that my dad used to bring a tape recorder back from his office and I would sit next to the telly, holding it up to the speaker, recording the show but actually recording my high pitched childish giggles. Like many children who dreaded school on a daily basis, The Goodies was something I could savour and hold on to, whether on telly or reading their books over and over and over again.
!!S??t! ???k!! Listen, who swears?
Christopher Robin has fallen down stairs.
We grew up and then we had I'm Sorry I Haven't a Clue, rightly venerated and another occasion where you can see the joy of four canny minds working together and enjoying each others wit and company.
As adults, we can put aside the things that were important in our childhood and slowly relegate them. In middle age, we often return, now with a greater sense of who we have become and what made us that way, we can look at those things with refreshed eyes and revel in the joy and also be thankful to those who make our life not just bearable but worthwhile – those people whose company we anticipate with excitement whether in physical reality or on the radio. 
You can listen to Robin's conversation with Tim at this year's Slapstick Festival on this podcast here. We were due to put out a 50th anniversary of The Goodies podcast this week but now it seems slightly odd to do so.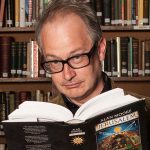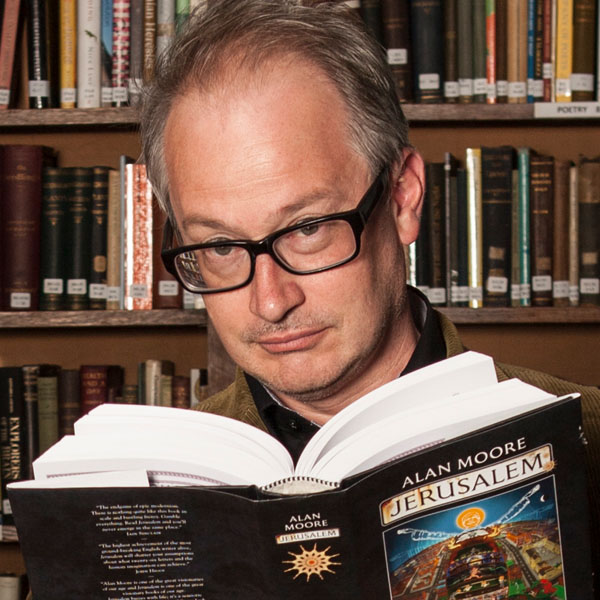 Robin Ince is a multi-award winning comedian, writer and broadcaster.  As well as spending decades as one the UK's most respected stand-ups, Robin is perhaps best known for co-hosting The Infinite Monkey Cage radio show with Brian Cox.  For his work on projects like Cosmic Shambles he was made an Honorary Doctor of Science by Royal Holloway, University of London. His latest book, I'm a Joke and So Are You is out now.
If you would like to reuse this content please contact us for details
Subscribe to The Cosmic Shambles Network Mailing list here.
The Cosmic Shambles Network relies on your support on pledges via Patreon so we can continue to provide great, new, exciting content without the need for third party ads or paywalls.
For as little as $1 a month you can support what we do and get some great rewards for doing so as well. Click the Patreon logo to pledge or find out more.