Duelling Toilets and a Quiet Room
Robin Ince's Horizons Tour Blog
"But the reason I decided to go to New York was because I had seen Iggy Pop and I thought I had seen God" – Widow Basquiat.
Yesterday, I forgot to boast about another of my minor victories against my milksop Englishness. 
We are staying in a nice Manhattan hotel, no roaches and $12 if you want to drink some water, but my room backed onto the lift shafts. I ponder the the grazing of my walls as they went up and down, I didn't want to make a fuss.
But I didn't need to make a fuss, I just needed to say, "I need to change my room". 
I didn't pause, say, "I just wondered if it might be possible, but you see, I don't sleep well and…"
Nope.
Straight in there.
A brief uncertainty from the reception desk, but I looked like I had intent and would not be dissuaded and so, I found myself in a wonderfully quiet room, devoid of clues of tourists coming and going and finding out their key card would not get them to the floor they hoped to go to. 
In Central Park, we saw a 4 year old and a 6 year old (approx) building their field of dreams, knocking around a baseball with remarkable confidence and energy. 
Monday was a day of cannibalism. Brian realised that his dues for The Explorer's Club on East 70th were severely overdue. Fortunately, a phone call sorted it and he was back in the fold of astronauts and arctic explorers. We were given a tour of the building which is built from remarkable relics – roof beams from Captain Cook's ship, meeting room tables where Teddy Roosevelt planned the Panama Canal, chairs from the Medicis and canvas from the wings of the Wright brothers' plane. Every corner has an artefact representing the adventurous impulse. 
We are show a painting of an 1863 expedition which went terribly wrong and ended in cannibalism. One of the explorers was desperate to be killed, so committed crime after crime with the wish of being shot for his insurrection. On the third attempt, it was eventually agreed he would stand before the firing squad and he also insisted that he was content to be cannibalised. AS he stood before the guns, they failed to fire due to the intense cold, so he warmed the triggers with his own breath. Quite a tale. 
We were shown a painting of Peter Freuchen. Trapped in a blizzard, he burrowed into the snow, but the intensity of the weather led to him being buried under 6 feet of snow. He recalled that frozen dog excrement was solid enough to become a chisel and so defecated and then used his own frozen stool to strike his way out. On another occasion of desperation, he decided the best way to survive would be to eat his gangrenous leg.
It is fair to say such people have amygdalas far less active than my own fearful almond of grey matter. 
We managed to fit in a run up Madison Avenue to fetch a coffee where, as usual, Brian looked liked Sebastian Coe and I looked like Jimmy Carter. I was also relieved to see that I had just missed the New York antiquarian book fair, that could have been quite a bankrupting event. 
Downtown, Brian was interviewed over zoom for Star Talk while I began the final copy edit on my next book. This is the proposed cover. 
I had forgotten how strange the restroom opposite our tour producers office is – two toilets facing each other for a strange incontinent romance.
While he worked on new images for the upcoming shows, I took the opportunity to wander to Mercer Books. I was coy in my purchases, knowing I am still away for sometime, the weighty book about Will Eisner stayed on the shelf. Sadly, they didn't have the biography of Anne Sexton that was on my mind, but I came away with a couple of issues of Bookforum, a comic book by Daphne Gottlieb and Diane Di Massa, Jokes and the Unconscious, and a collection of essays by writers on comics, Give Our Regards to the Atom Smashers.
In the evening, we eat in the same restaurant as the night before as it was excellent and we are saving most our adventurous spirit for new ideas on the stage rather than from the kitchen. We are joined by my friend, Elsa. Last time I saw her was in a small town on Long Island, not from from Gatsby's West Egg, but off season so it was affordable. We try not to dwell on how ling ago it was since we last met, but it is close to half a lifetime ago. Thew problem with half life times is the first half is long and second half picks up such speed.
My New York book on this visit is Madame Basquiat, a sparse yet also full and intense exploration of the great artist Jean Michel-Basquiat through the eyes of his muse and lover, Suzanne.
"'There are no black men in museums' he says. 'Try counting…'"
I'm not sure how much the Sertraline is taking the edge off, but I think it has blunted some of the barbs.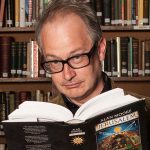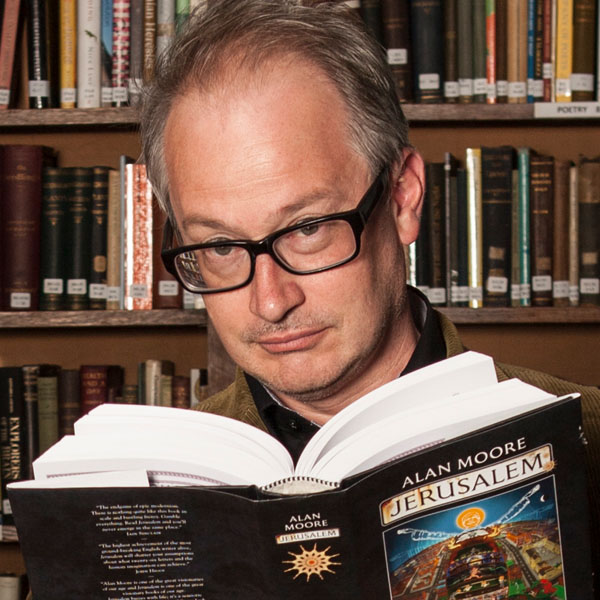 Robin Ince is a multi-award winning comedian, writer and broadcaster.  As well as spending decades as one the UK's most respected stand-ups, Robin is perhaps best known for co-hosting The Infinite Monkey Cage radio show with Brian Cox.  For his work on projects like Cosmic Shambles he was made an Honorary Doctor of Science by Royal Holloway, University of London. His latest book, The Importance of Being Interested is out now.
If you would like to reuse this content please contact us for details
Subscribe to The Cosmic Shambles Network Mailing list here.