Toronto Comic Shops and the Return of Park Boxing
Robin Ince's Horizons Tour Diary
How big does a city need to before it is considered not the done thing to say "hello" or "good morning" when a stranger gets in the same lift as you.
Toronto seems to be at half and half, New York or take the risk as I am no more than a yokel and I enjoy the dismissive look people attempt to conceal. 
Today started with a bran muffin. The tour bus has two toilets, so it is not too much of a risk. 
Brian's trainer and assistant Steph is back on tour with us, so that means we take the kit bag and go off looking for somewhere to punch. Eventually, we find an inauspicious stretch of grass under the freeway which also has a slide and climbing frame. We punch and we sure stretch ourselves with elastic bands and I balance precariously on one hand as I try to do something to decrease the looseness of my abdomen. As I am stretching a big rubber band, a woman approaches me. I think she is about to tell me off for using elastic exercise weapons in a children's area, but actually she was at the show last night and, as she walked by, she noticed two men with equations on their back and thought, "what are the chances of that?" 
I am pleased to say she had a lovely time, though Brian was precariously balanced at the time so did not join in the conversation. The equation is for the equation deals with the Schwarzschild radius so it is only a few steps away from being a celebrity gym in the making – "need to reduce your radius? No one will kick sand in your face anymore when you become a singularity". 
Brian is always overjoyed when full on exercise returns and I am happy too, though I do have an occasional grumble when we get into the second hour, especially on a day like this when the oxygen seems to be traveling through me like marzipan through a flute. 
Brian returns to have his skin restorative siesta and I make plans for some bookshop visits. Toronto has many wonderful bookshops and my bookselling pal, Jeff, has fond memories of the Canadian book fair and gave me a copy of AN INTRODUCTION TO THE TWENTY-FIRST TORONTO ANTIQUARIAN BOOK FAIR by Robertson Davies a while back that I have carried with me to the city. 
First, I make for She Said Boom on College Street, This was the first secondhand bookshop I visited in Toronto when I came over to do the Generator show eight or so years ago. I was attracted to it because it had a furious online review in which the customer huffily said that it looked like it was run by junkies. That's fun, I thought. It is not run by junkies, but it is beautifully curated. In the past, I've bought Douglas Coupland's book on Marshall McLuhan, a first edition of RD Laing's The Divided Self, Mojave Ethnopsychiatry: Psychic Disturbances of an Indian Tribe and, the most expensive book I have bought there, Seduction of the Innocent, the book that explained how comics warped the minds of the young and Batman made people gay.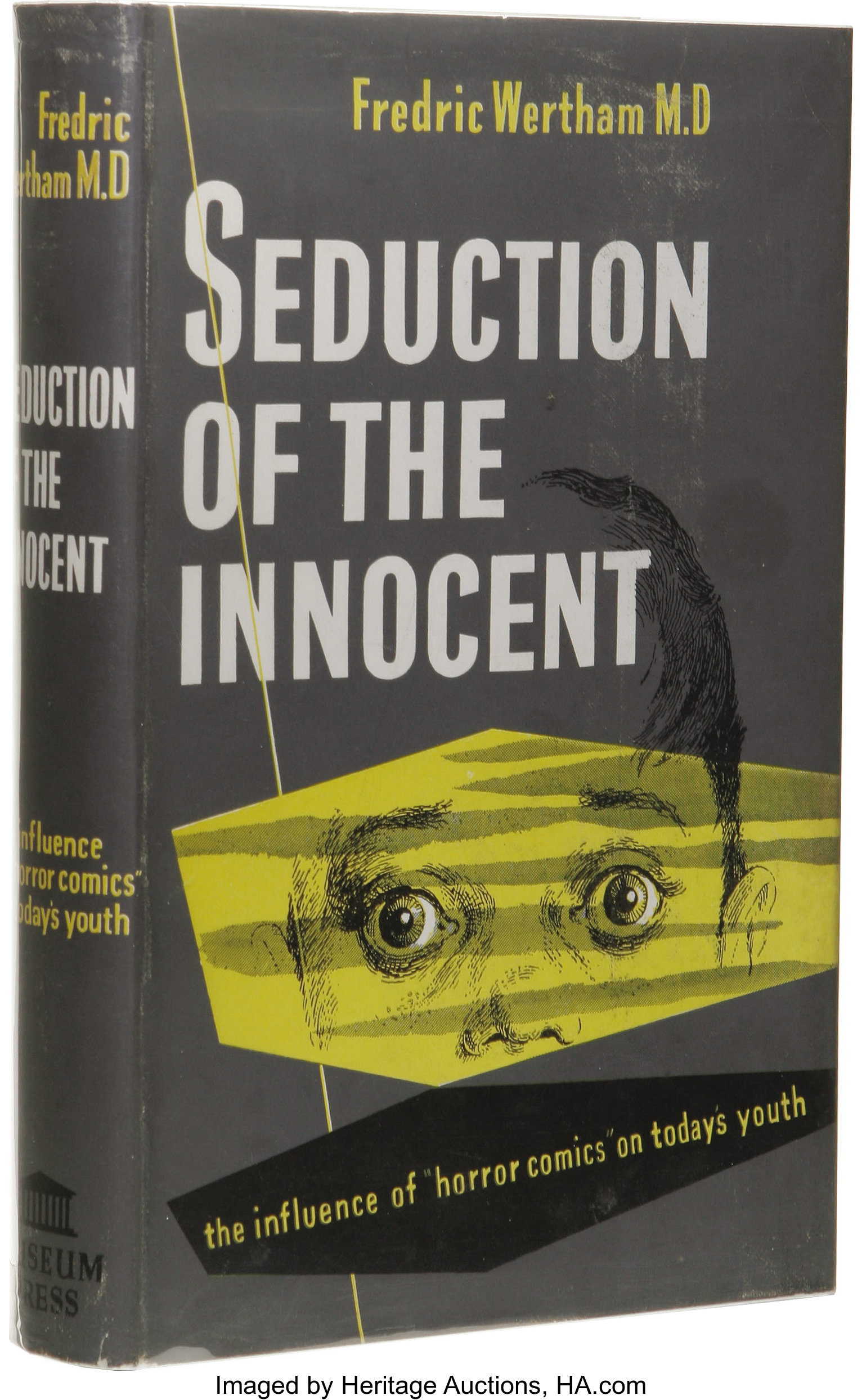 It is also the shop that introduced me to the utter brilliance of The Soft Machine when their second album was playing loudly during a winter browse. Today, I buy The Eternal Ones of The Dream: Myth and Ritual, dreams and fantasies – their role in the lives of primitive man and a very nice copy of the selected fictions of Jorge Luis Borges, which includes The Art of Verbal Abuse, The Duration of Hell, and The Doctrine of Cycles.
"The number of all the atoms that compose the world is immense but finite, and as such only capable of a finite (though also immense) number of permutations. In an infinite stretch of time, the number of possible permutations must be run through, and the universe has to repeat itself.Once again you will be born from a belly…"
I also buy a fine copy of Mark Vonnegut's The Eden Express, his account of his own schizophrenia. The dedications include "To my father, without whom I wouldn't have known how to fight". I am very hopeful that I will make it to the museum and library in Indianapolis in memory of his father and pleased to know that some of those who run it will be in the audience on Sunday.
Further back down College Street, I visit one of my favourite comic shops (Don't tell Gosh!), The Beguiling. It is filled the mainstream and the independent , plenty of zines and beautiful eccentricities. I remember being hugely tempted by an enormous version of Charles Burns's masterpiece Black Hole a few visits ago, but making do with a stack of Steve Bissette's Taboo magazine (where From Hell was first serialised) and a copy of DR and Quinch.  On this occasion, I decide to not even risk looking at the books as my luggage is beginning to chomp at the buckles and zips. Instead, I buy a copy of, an annual magazine highlighting Canadian comic art. I also buy four issues of broken pencil -The magazine of Zine culture and the independent arts. I choose the UFO edition, in which I learn about The Swamp Gas Journal  and also read a great essay on post-kook culture, how the conspiracy theory went mainstream. Also, I got issues on Hate Zines, Body hacking and indigenous artists fighting against extraction of resources. That will keep me going to Pittsburgh.
I draw breath in the Lilliam H. Smith library, a fine arch guarded by griffins leads to the Merrill collection of science fiction , speculation and fantasy and the Osborne collection of Early Children's Books. The Merrill display is heavily Marvel and I remain suspicious of the acclaim for Stan Lee and the less than respectful treatment of Jack Kirby, and then Kirby's widow.
The children's collection has some outstanding pieces, including an illustration of the Little Mermaid by Jennie Harbour from an early 20th century edition. (you can get some sense of it here). There is a little Maurice Sendak, from his tale Hector Protector .- the story of a feisty young boy who gets into an altercation between two blackbirds and a hungry sea monster.
Sadly, this leaves no time for The Monkey's Paw, a fascinating shop filled with cultish books and arcane printed paraphernalia which also have the Bibliomatic, pop a token in to the magic machine and a mystery book will pop out with a ping.
Another good gig. Canada has been excessively welcoming. A photographer has been capturing fragments of Brian's smiling soul throughout tonight's show and wants to get a couple of shots of him by his tour bus bunk. Unfortunately, this takes just long enough for the post Baseball and post Hockey crowd to gridlock the city. Bad news for The Leafs, Tampa won 5 – 3 this time.
My Toronto book is Micheal Redhill's Bellevue Square. I am gripped from the first sentence.
"My doppelganger problems began one afternoon in early April".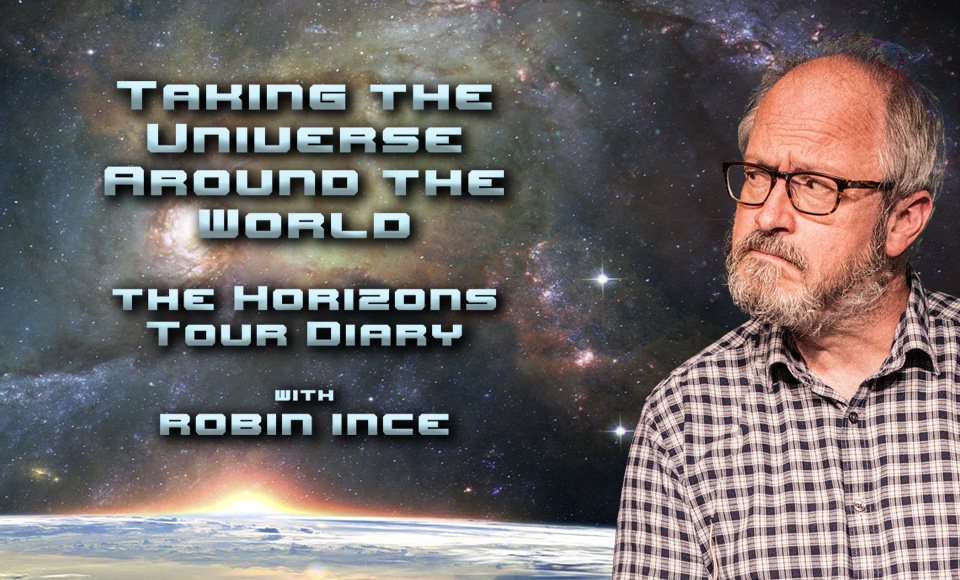 Listen to the Horizons tour podcast, Taking the Universe Around the World HERE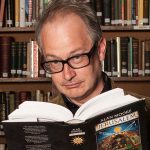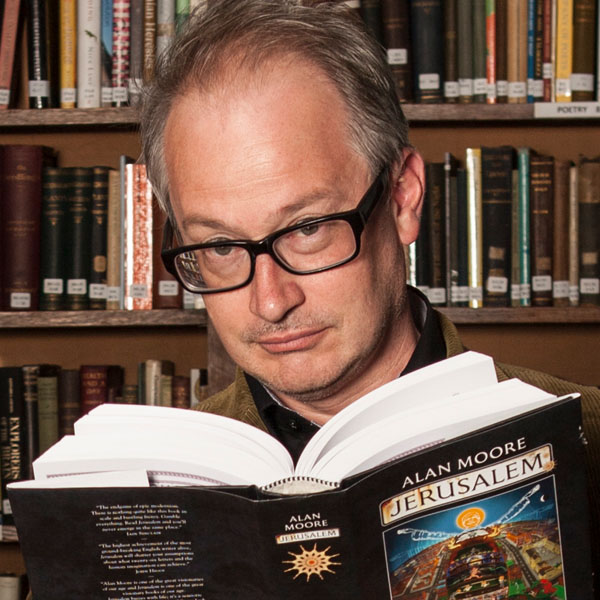 Robin Ince is a multi-award winning comedian, writer and broadcaster.  As well as spending decades as one the UK's most respected stand-ups, Robin is perhaps best known for co-hosting The Infinite Monkey Cage radio show with Brian Cox.  For his work on projects like Cosmic Shambles he was made an Honorary Doctor of Science by Royal Holloway, University of London. His latest book, The Importance of Being Interested is out now.
If you would like to reuse this content please contact us for details
Subscribe to The Cosmic Shambles Network Mailing list here.