Waking up in Philadelphia
Robin Ince's Horizons Tour Blog
On the freeway as we get close to the turn off for Jersey City, I see a proper roadside billboard "Shackled by lust – Jesus sets you free".
We wake up in Philadelphia. Last time we were here, Brian and Steph, trainer and friend, ran up the art gallery steps and had their photographs taken with the Stallone statue, then we found a pleasant hill to box each other. 
I didn't risk running up the steps as I had recently spent a large amount of money having may problematic teeth straightened and, knowing I am clumsy, I didn't want to risk knocking them out after all that. Boxing is safe as there is a strict rule of "NOT THE FACE", not that my face matters, but Brian's looks lovely on a book cover and a flattened face may affect sales. 
This was also the only time that I have visited an art gallery in jogging bottoms. I felt incongruous, but needs must when there is a world beating Marcel Duchamp exhibition. 
Though I see no art urinals today, I do contemplate my hotel toilet as I flush it. Up on the 25th floor, I am struck by how remarkable it is that high buildings can just flush our shit away and we barely contemplate it, while many across the world live in such unsanitary conditions and struggle for clean water. It reminds me of Slavoj Zizek on different attitudes to excremental excess, "an ambiguous contemplative fascination; a wish to get rid of it as fast as possible; a pragmatic decision to treat it as ordinary and dispose of it in an appropriate way. It is easy for an academic at a round table to claim that we live in a post-ideological universe, but the moment he visits the lavatory after the heated discussion, he is again knee-deep in ideology."
There is no time for any art or boxing this time, we are straight in the van and off to Manhattan.
We pass a sign for Secaucus and I think of The Return of the Secaucus Seven, an early film by director and script doctor John Sayles who is not celebrated enough as far as I am concerned. Strat with the monologue in Passionfish where an actor dwells on how she struggled to find the right way of expressing the line "I didn't ask for the anal probe" in a zero budget movie. 
Once in Manhattan, Brian is keen to move in the open air, the first 4 days have seen us caged up and hunched and now we can stretch. We jog around Central Park, not all of it, but we have a go at a few tangents. 
Last night's show ran too long, so we pause at the lights and discuss how to increase the quantum entanglement while decreasing the stage time. 
We get to the reservoir and the wire fence which still contains the echo of Dustin Hoffman's sweat heavy panting from Marathon Man jogging sessions.
We stretch out with coffee and the potential of a cookie and continue our thoughts on how to end the show. Looking at the blossom, I tell Brian that for the last 28 years all frothy blossom has been "the blossomest blossom" ever since I watched Dennis Potter's final interview 28 years ago – one of Channel 4's high points in its 40 year career as far as I'm concerned. This is what we need to find for the end, that image which will become inescapable for the audience once they have heard it, whether it will strike them every time they see the stars or every time they see an entanglement of adaptor wires in their drawer. While once a life might have been measured out by coffee spoons, now it can be measured out in how many cables from long forgotten devices wrap around you.
On the last tour, I appeared near the end of the show to read a poem I had written on the fragility of our moments in time, expressed through a story of building dens in the woods.
For this tour, Brian said, "Just write another poem".
Yup, that is all, "Just write another poem".
I put it to the back of my mind, knowing if I looked too hard for one, I would never find it.
Shortly after a long conversation about ADHD which had brought things that had muddily felt around me into sharp focus, and on my way to one of my favourite music festivals, Beautiful Days, sat on Wembley Central station, a poe turned up in one fell swoop.
By chance, or perhaps because it was in my subconscious, with no sense of deliberate design, the poem fitted easily into the show we started previewing a few weeks later. Brian then reverse engineered elements of the poem into his talk and now, hopefully, people will see the connections that run through.
My favourite feedback on it so far is "It was the best antidote I've experienced to the existential dread of the vastness of space", which pleases me, as that is what I hoped it might do for some.
On the walk back from the jog, we pass The Metropolitan Museum of Art and I think of Robin Williams. He used to busk outside the museum when he was in Juilliard. We talk of how much we would have loved to have had him on Monkey Cage. He was a stand up hero to me, but I find hard to watch that stand up now. I have no such problems with his films. The Fisher King is probably my favourite New York movie, I think it is Terry Gilliam's masterpiece.
"There's three things in this world that you need: Respect for all kinds of life, a nice bowel movement on a regular basis, and a navy blazer."
We find a restaurant that Brian hung out at when he was at the Rockefeller Institute in 1999. He is pleased it still exists and pleased with the wine list. We sit outside and eat fennel.  A stoned and broken man on a bicycle stops by and laughs at his reflection for ten minutes.
The day ends with me watching In The Court of King Crimson. There is much talk about how the band can create a peak experience for those drawn to them. I have only seen them once and all sense of the passing of time was obliterated. There is also much of Bill Rieflin, a drummer with Ministry, REM and King Crimson, eventually moving to keyboards. He is a playful presence despite, perhaps because, he is in pain and dying from cancer, having already had much of himself removed.
5mg of melatonin and then sleep, only broken by brief monuments of wakefulness at 4.30am and 7am. I am determined to relax until he calls me to the next jogging session.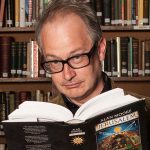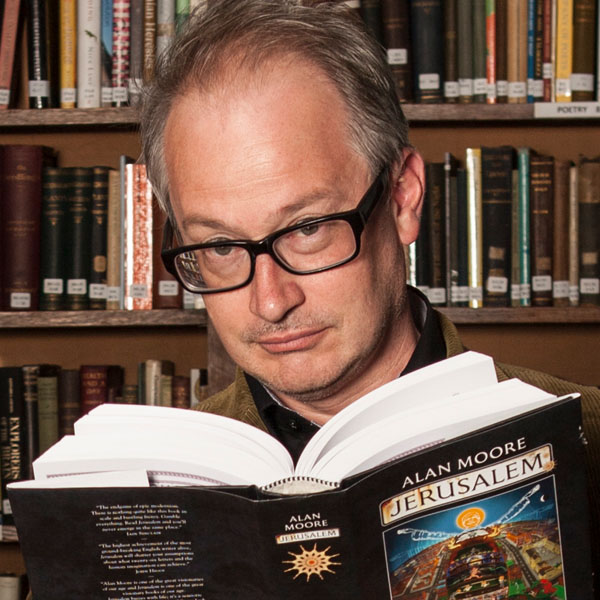 Robin Ince is a multi-award winning comedian, writer and broadcaster.  As well as spending decades as one the UK's most respected stand-ups, Robin is perhaps best known for co-hosting The Infinite Monkey Cage radio show with Brian Cox.  For his work on projects like Cosmic Shambles he was made an Honorary Doctor of Science by Royal Holloway, University of London. His latest book, The Importance of Being Interested is out now.
If you would like to reuse this content please contact us for details
Subscribe to The Cosmic Shambles Network Mailing list here.