Washing Socks and Playing Dublin
Robin Ince's Horizons Tour Diary
I just finished doing something you'll be hard pushed to imagine Brian Cox doing, so you know it is not understanding quarks or playing an Elton John medley on a harpsichord.
I have just washed my socks in the hotel sink. I could use the hotel laundry, but I balk at laundry rates and, living a luxurious life on the road, sometimes you need to wash your smalls in a sink to keep yourself tethered.  It reminded me of when I worked on a TV show with Sean Hughes up in Edinburgh . He was not the easiest person. On the first night he vomited on one of the producer's jeans and he rejected most of the guests offered. One guest who was superb and transcendent was Leo Bassi, a magnificent modern clown, who said that comedy was too important to be done by comedians. The show ended with him stripping down to his Y fronts, pouring money from an ornate jug all over himself and then getting into an air circulation tube with a bag of feathers. Tearing open the bag, he became a honey feathered bird man and then tore around the petrified audience.
Later in the run, everyone had a day off. Sean went to play golf at the links but insisted a runner go and buy him some new underpants. She returned from Marks and Spencers and took them to the putting green. Sean looked at the Y fronts with disdain, saying, "I don't wear pants like that" and threw them back at her. A few days later, we were scripting questions for Johnny Vegas and we snuck in, "has success gone to your head or do you still buy your own underpants." Unfortunately, this question was discovered by Sean in the rehearsal and cataclysmic fury occurred. It doesn't mean you are a monster necessarily. Wagner once sent Nietzsche out to buy his satin undershorts. 
Brian has an interview with the Sydney Morning Herald after breakfast, so I go back to my room and write to fill the time before we all go down to the gym. I decide to wear my T shirt with Brian's face on it. For some reason, Brian is not keen on exercising next to people wearing his face. As we wait for the lifts he suddenly notices what is beaming from my chest and his face falls, "oh no, you can't…". I had bought an alternative and tell him not to worry, but when I whip off his face t shirt to put on my Orang-Utan T shirt he gets even more perturbed by the fear the lift doors will open whole I remain topless. My quick change is complete before the door pings.
"Why do I work with artists…".
This is my first time in the gym and I soon find that my muscles have atrophied since Austin, Texas, but keep going and imagine how limited my reach will be tomorrow morning.
After lunch, I decide to take note of Brian's afternoon rules and have a little nap. This rarely works due to my yelping skull, but I manage to drift off to some strange hypnogogic visions before the phone manufactures birdsong and tells me to get in the van and go to the arena.
Dublin has been a favourite gig of ours since we first played the Olympia theatre. The first time we played the arena, I turned to Brian and said, "Just so you know, Wembley Arena will not be as much fun as that". Our next night in Wembley was still a lot of fun, but Dublin had a dynamism that can elate.
I have decided to try my best to ignore the state of British politics . As usual, The Great Gatsby quotation, "they were careless people….they smashed up things and creatures then retreated back into their money" tumbles around in my head. There is is little to be said, it is a poisonous  and inane parody. Each new leader a yet more shrivelled version of the last, like watching a sped up version of the increasingly intellectually deformed products of endless incestuous unions.
Dublin was as much of a joy as we might have hoped for. After the show, Brian spent time with some musician pals and I spent time with my friends Tara and Carl, before we rushed back for last orders at the bar. Being without a show tomorrow, we don't have to worry too much about being shoddy headed.
Footnote – I mentioned that Laurel and Hardy's final gig this side of the Atlantic was the Olympia in Dublin. Sadly, this seems not to be true, but it gave driver Paul and me lots of time to talk Stan and Ollie, so time well spent.
Audience questions tonight –
My 11yo son Declan wants to know if there's an equation to prove that the quality of a parent's jokes is inversely proportional to their age?
I've noticed over the years that your stance on the existence of other civilisations has soften, slightly. With all the million billion trillion galaxy's stars & solar systems, what's your current opinion on this subject?
Hi Brian and Robin – my kids Alice (12) & Patrick (9) want to know why is the floor in here so sticky?
​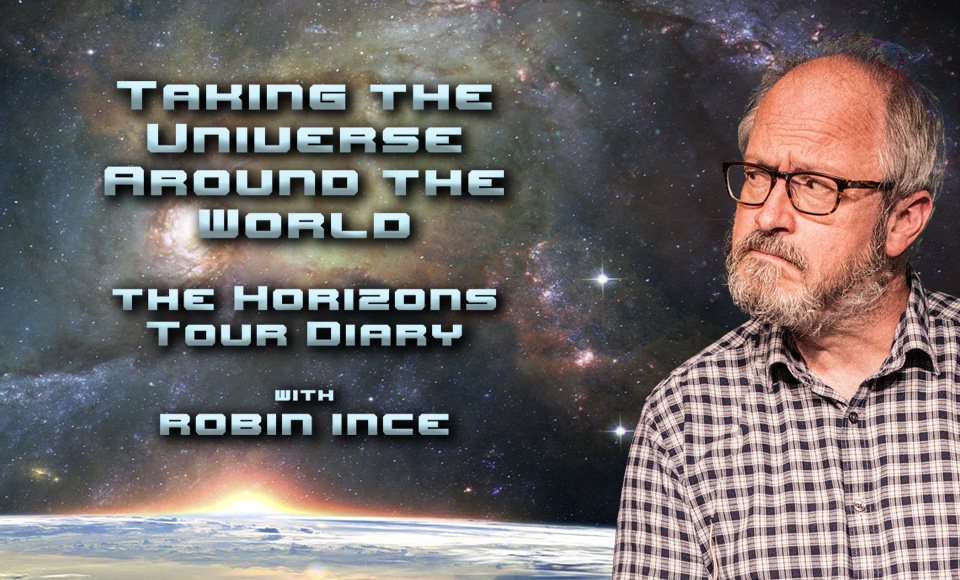 Listen to the Horizons tour podcast, Taking the Universe Around the World HERE.
Bibliomaniac is available for pre-order now at cosmicshambles.com/shop with exclusive art cards.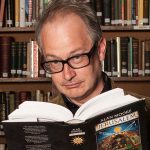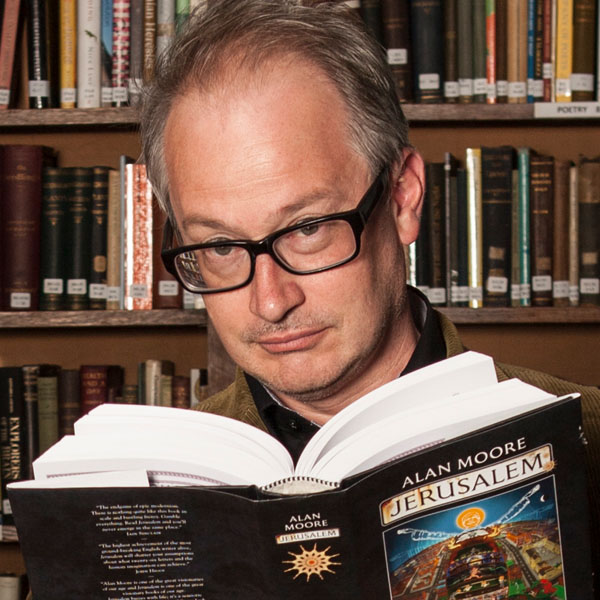 Robin Ince is a multi-award winning comedian, writer and broadcaster.  As well as spending decades as one the UK's most respected stand-ups, Robin is perhaps best known for co-hosting The Infinite Monkey Cage radio show with Brian Cox.  For his work on projects like Cosmic Shambles he was made an Honorary Doctor of Science by Royal Holloway, University of London. His latest book, The Importance of Being Interested is out now.
If you would like to reuse this content please contact us for details
Subscribe to The Cosmic Shambles Network Mailing list here.