Well Mannered Stone Samples
Robin Ince's Horizons Tour Diary
Today, I noticed how the concrete of Chicago pulsates. The perpetual traffic creates an underfoot throb. 
It is usually a good idea too walk in the footsteps of Billy Connolly's curiosity. Like most of those I admire, he combines insatiable fascination with the world with a voracious reading habit. It is thanks to him that I know that the Chicago Tribune building is peppered with brick and stone samples from buildings round the world and across time. In between its own masonry you will find a gargoyle from Westminster Abbey, a piece of Kentucky's mammoth cave, a lump of Sybyl's Cave, a stone from Omaha beach and much more besides. It is a museum of the geology of human civilisation. Connolly's favourite piece is from Missouri, Mark Twain's Injun Joe Cave. The oldest piece I could find is from the Great Pyramid of Giza, 2600BC. According to Connolly, the instruction to Chicago Tribune staff was to collect pieces of famous buildings "by well-mannered means". Just how well-mannered this pyramid and cathedral collecting was has not, as far as I know, been catalogued. 
Looking at these remarkable embedded pieces, I am reminded of a far more awful desecration of a sacred building. It is a sacredness not inspired by its magnificence, but by the fact it symbolises the very worst drives and ambitions of human beings. Fred A. Leuchter was a manufacturer of execution equipment. According to Errol Morris's documentary about him, there was a peculiar humanity in some of his work. Many of the electric chairs in US prisons were built by word of mouth, like the telephone game, so each chair was a little less effective than the last and each execution more agonisingly prolonged. The holocaust denier Ernst Zundel used a report by Leuchter in his defence. To build up his case against genocide, Leuchter chipped away at the brickwork of an Auschwitz-Birkenau. According to Leuchter, the brickwork showed a very low level of cyanide. His scientific method was later debunked. Cyanide is not absorbed into the brickwork, but merely leaves a thin residue on the surface. Take a lump of brick, crush it, and use it as yours sample and you will get the pseudoscientific result that will allow you to be a contended denier of the holocaust. I highly recommend Morris's documentary, Mr Death. As the holocaust of World War 2 grows ever further away and there are fewer witnesses left, I fear more people will casually approach a position of denial. 
There is haze over the lake today. The sky and the lake are as one. After walking for a while in the dense air, I text Steph and Brian to announce that I will not be doing any outside exercise beyond walking and admiring the architecture and girders of the city. 
Today is a gym day. But even Brian, always the cheerleader for driving us to improbable heart rates, is aching today. On this rarer occasion, he decides against a third round of weights. The slightest aneurysm could wipe his brain clean of Hawking radiation comprehension and we just can't take that risk.  
I spend much of the rest of the day at the Chicago Cultural Centre. It is a building of extreme beauty and celebrates creativity through quotations and mosaics and a beautiful domed room, inspiring people in many languages from ceiling to floor and from hieroglyphics onwards. 
There is much to learn from this building, both ancient and modern. 
I start off with a small exhibition about Bronzeville, a black community of Chicago who were intentionally displaced for the purpose of profit. The artist Isabel Strauss then uses found images to tell some of the story of this erasure. Further on, I get to An Instrument in the Shape of a Woman, an exhibition of the work of Leslie Baum, Diane Christiansen and Selina Trepp. 
"With brilliant colour and provocative forms, the artists in this exhibition suggest an alternative Universe, at once familiar and surreal, seen through the prism of their invention".
They capture my imagination immediately.
The title of the exhibition is taken from an Adrienne Rich poem. 
"I am an instrument in the shape 
Of a woman trying to translate pulsations
Into images   for the relief of the body
And the reconstruction of the mind"
I walk up to the dome, a popular pace to get married, and looks at the mosaics of celebrated writers that adorn arches – Volataire, Galileo, Cervantes, Dante….
Milton is quoted high on the wall – "A good book is the precious life blood of a master spirit embalmed and treasured up on purpose to a life beyond life"
The underlying message of much that surrounds me seems to say – "read as if your life depends upon it because maybe it does".
The Robert Colescott exhibition is revelatory. I knew nothing of him, but am enraptured by huis reimagining of St Sebastian – "the body of the catholic saint has become a perfectly bi-furcated hermaphrodite – black male/white female, shot through with arrows." (i am writing this blog late and will type more of these exhibitions later)
I am also increasingly fascinated by all the steel and iron structures that weave through Chicago supporting the railway. I find myself tipping my camera up to this underside. It reminds me of he joy of seeing the labels of the foundries that provided the steel for the Lovell telescope.
Over a lunchish dinner or a dinners lunch (it's 4.30pm), Brian becomes perturbed by vegetable plurals while perusing my asparagus. As far as we know, the plural of asparagus is not asparagi. Asparagus always seems to be a collective, rather than a lonely single spear.  Composer Mike Batt explains that a single Ravioli is a raviolo . Eric Idle goes for Asparagi and then Peter Shaw explains all, "As all language, it depends on: 1) linguistic contingency & convention – NB: broccoli comes from an Italian plural (sing awkward); asparagus from a Greek singular (pl awkward); 2) if you are talking/thinking of an uncountable mass (sing), or individual units/sprigs (pl): >2".
After the show, we return to the hotel and drink with Keith and Lynette Semple and Gary Sherman, director of the horror move masterpiece Death Line, named by the BFI as one of the top ten British movies made by an American director. Gary tells us that his father, a haberdasher, had a store in the hotel we are staying in. He was a man who believed in the fight for civil rights. When Gary was young, his dad asked him if he would like to meet Nat King Cole as he had to fit him.
Young Gary then went on a walk through the increasingly insalubrious streets of Chicago, eventually entering a hotel that was barely more than a flophouse. Gary said to his dad, "but I thought you were taking me to see Nat King Cole?" His dad went on his knees and told him that racial inequality meant black people were segregated, that a man as famous as nat King Cole still couldn't stay in the fancy hotels. That lesson stayed with Gary.
He also told us about how backing singing at Chess records and The Yardbirds fear of Bo Diddley, led to him working with Jeff Beck.
Meanwhile, Keith Semple taught us when not to stage dive.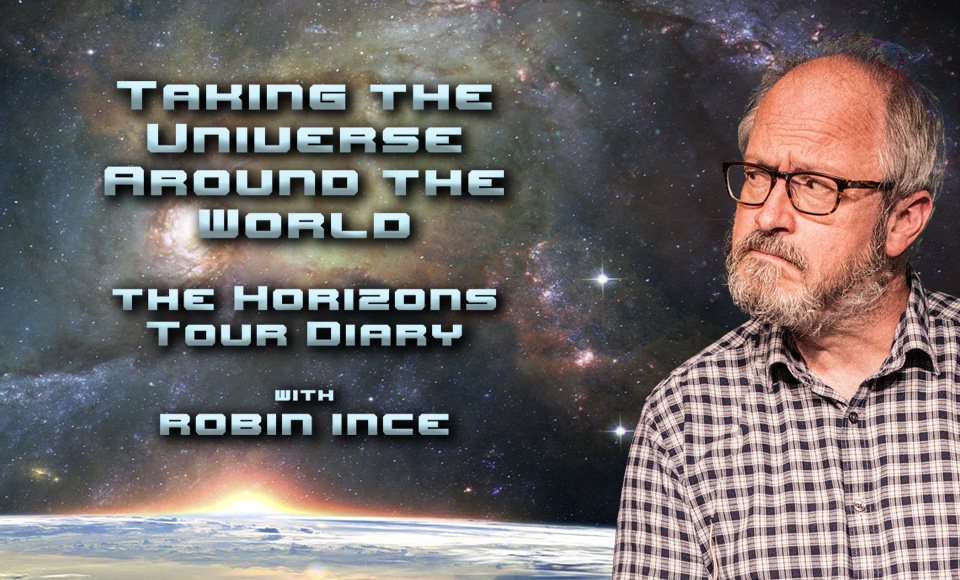 Listen to the Horizons tour podcast, Taking the Universe Around the World HERE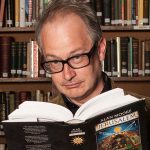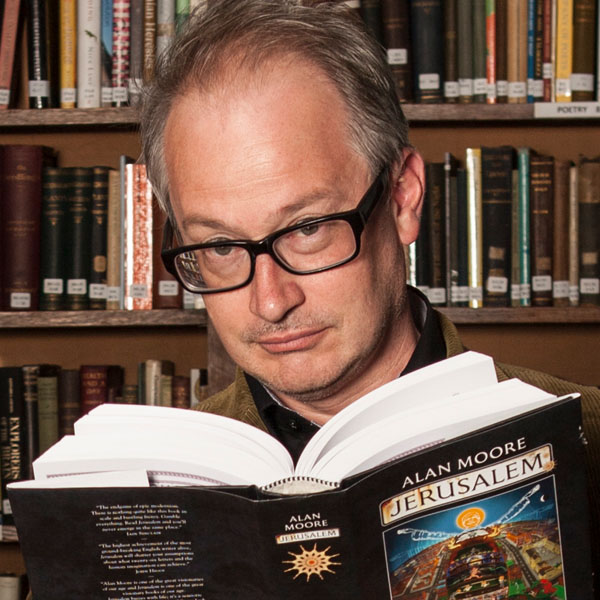 Robin Ince is a multi-award winning comedian, writer and broadcaster.  As well as spending decades as one the UK's most respected stand-ups, Robin is perhaps best known for co-hosting The Infinite Monkey Cage radio show with Brian Cox.  For his work on projects like Cosmic Shambles he was made an Honorary Doctor of Science by Royal Holloway, University of London. His latest book, The Importance of Being Interested is out now.
If you would like to reuse this content please contact us for details
Subscribe to The Cosmic Shambles Network Mailing list here.