When Injustice, Cruelty and Unfairness Means I Can't Help But Type
Robin Ince's Horizons Tour Diary
"Time will destroy you like a Mexican God", Robyn Hitchcock plays in my head for much of the day.
Today is Steph's last day of North America tour which means we have to have a longer than usual gym session just in case Brian and I fail to fulfil our fitness good intentions once she is across the Atlantic. 
I wake up with a vaguely blurry head after a glass and half more of wine than usual, but it is a mere butterfly fluttering through my skull rather than a woodpecker hammering away at it. 
I was wondering if I might wake up to septic tank of fury as I dared to question why Emma Watson gets people screaming that she is "an ungrateful bitch" for daring to disagree with JK Rowling. I didn't think the tweet was that contentious , "What an odd day – when the Supreme Court has removed the constitutional right to abortion, a bunch of people have decided this might be the time to attack Emma Watson instead – something very odd going on here.", but I have had people being both incandescent with rage and others wondering why I would write southing so contentious and saying it would be best if I stopped.
Some odd comments snuck in, but I walked by them and went straight to my black coffee and granola.
I don't really know why I bother making comments. It doesn't change anything, but somehow injustice, cruelty and unfairness (at least from my perspective) means I can't help but type my pointless sentences .
After breakfast, I hammered out 1000 words for the next book project and then we gathered at the gym. I wore my Brian Cox face tour T shirt and fortunately we got lost on the way to the gym so it meant that Brian had to walk in public spaces next to a man with his face on his clothing for far longer than was needed. We lifted and pulled and sighed before rolling around on some sort of ball for the sake of our abdomen.
We all waved Steph off as if auditioning for The Railway Children and then Brian went to redesign some black holes and I went to the Mexic-Arte Museum. 
I learn about the Brown Berets, a Chicano activist organisation that formed in the 70s to participate in pubic demonstrations, strikes, boycotts and sit ins. They spoke out on many things including police brutality and the damage caused by gentrification. There are photographs of confrontations with the Klu Klux Klan . I learn about the death of Jose Campos Torres. A Vietnam vet, he as arrested after a bar brawl and taken by six police officers to "the hole", a place where people of colour were often brutalised. Eventually taken to jail, the jail refused to take him due to his injuries and insisted that he was taken to the hospital. He never arrived. He was murdered, being handcuffed, thrown in the river, while racial abuse was still being shouted at him.
There is beauty here too, though that beauty also holds a painful history, such as Raul Valdez's mural and Ray Gaytan's The Center of the Universe. I am also taken with Luis Guerra's Nahui Ollin and Santa Barraza's dream series, in particular, Mother Looks On While Vulture Preys On Us.
I buy my son a Star Wars stormtrooper shirt in the style of a day of the dead mask T shirt and a decorated skull and myself two postcards.
I have 45 minutes before Brian must be fed, but I risk a sprint to The Museum of the Weird.
The man behind the counter is immediately impressed by my Kurt Vonnegut T shirt and takes a picture to send to his friend. We talk of the need for voices like Vonnegut at times like these a d he mentions that a resurrection of Bill Hicks may help too.
Through the turnstile, I am first greeted by a wax work of Chang and Eng, the conjoined twins who gained great fame as an attraction. Next up is a mermaid, though far from the mermaid that was owned by my wife's family. This one is truly demonic. Disney would not want a musical from this one. Then, it is cryptozoology on the wall, including a horned jack rabbit, followed by varieties of mummification and shrunken heads, before the plaster-casts of Bigfoot and other abominable beasts footprints. I enjoy the Gremlin puppet which may be from the original of the New Batch, a film Christopher Lee considered to be one of his best (and rightly so). The movie waxworks include three Lon Chaney Sr effigies – Quasimodo, The Phantom and the leering figure from London After Midnight – a long missing movie which is often rumoured to have been found in some projection room or prop master's attic, but seems to remain unearthed . In the shop, I buy a postcard of Edward Gorey's house, the Feejee Mermaid and Vincent Price holding the head of Peter Lorre as well as a Museum of Weird comic – "FREE POSTER INSIDE!"
As the man behind the counter tries to find the code on the Gorey house postcard and the woman next to him says that she finds Gorey very odd, so the inability to find the code on the card is to be expected, I ask about the whereabouts of the Daniel Johnston mural (though I do actually say Muriel by mistake , I hastily correct my slip, but not so fast that I avoid a reddening). The man beams as he recalls Johnston and his habit of standing on the street giving out cassettes of his many songs. He tells me that it was sad to see his decline, especially after he nearly crashed huis father's plane due to a sudden desire to re-enact the cover of a Caspar the Friendly Ghost comic book cover. The tears of Daniel's father as he recalls the event in the movie The Devil and Daniel Johnston are deeply moving.
I miss the pro choice rally at the corner of the hotel, but I'm told it was passionate and impressive. I made a reference to the supreme court's antediluvian decision on stage last night, but I was told to avoid it today. Yesterday, I felt it had to be mentioned, but I will find my own stage to talk of it again. Someone said that you shouldn't be political on stage, but I think calling what has happened simply "political" is just a get out clause, this is a savaging of human rights and an ominous signs of future possibilities.
Walking down the back alley to the stage door, a man is awkwardly asleep on a pallet, his skeleton contorted, his face thin and ruddy. Another man is using a nook to wash himself and reorganise his suitcase of needed things.
My scientifically illustrative cardigans keep me very hot on stage tonight and I yawn like a snake consuming an antelope inn the dressing room.
Tonight's audience questions in Austin include –
Can you do science in isolation from geopolitics. How do you balance innovation with ethical realities?
Is it a possibility that the universe collectively is warping the fabric of space less and less as we spread apart thus speeding up the expansion of the universe?
Can you explain how Matthew McConaughey is able to interact with his daughter in her bedroom from a black hole in Interstellar?
AND
How many thick wool sweaters does Robin Ince have?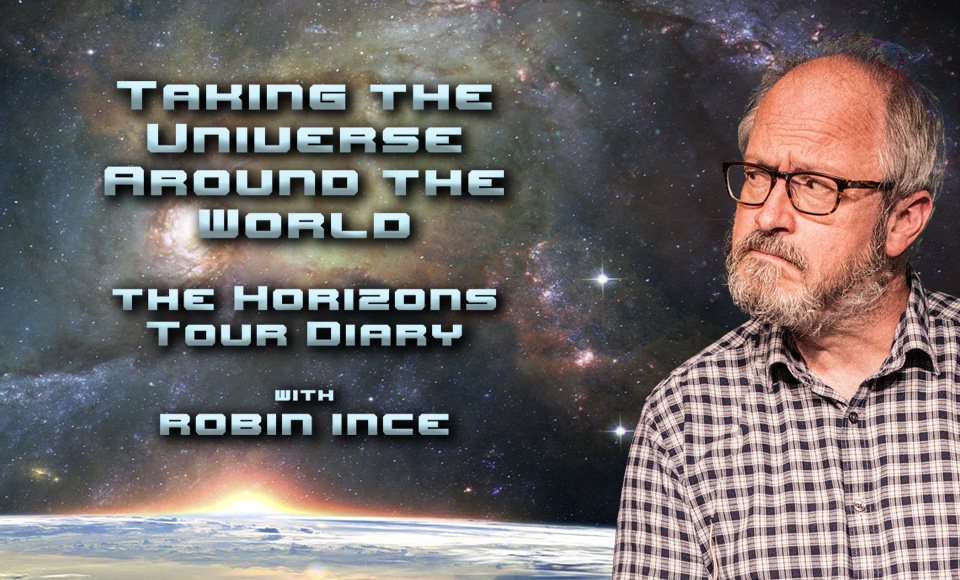 Listen to the Horizons tour podcast, Taking the Universe Around the World HERE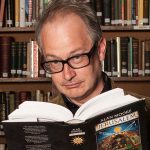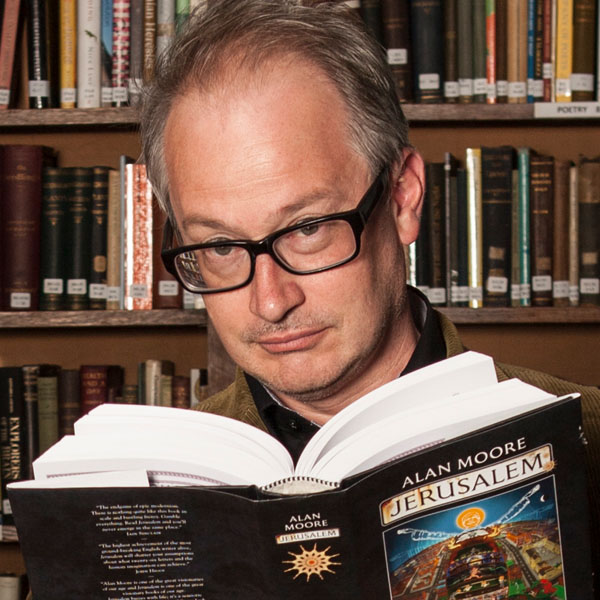 Robin Ince is a multi-award winning comedian, writer and broadcaster.  As well as spending decades as one the UK's most respected stand-ups, Robin is perhaps best known for co-hosting The Infinite Monkey Cage radio show with Brian Cox.  For his work on projects like Cosmic Shambles he was made an Honorary Doctor of Science by Royal Holloway, University of London. His latest book, The Importance of Being Interested is out now.
If you would like to reuse this content please contact us for details
Subscribe to The Cosmic Shambles Network Mailing list here.