Onward to 2021
by Trent Burton and Robin Ince
Well, that was 2020. On the whole, it was pretty rubbish.
We don't think that's a controversial statement. We started the year with a few live shows at The British Library and The Slapstick Festival. We headed out to the US to film a special documentary series, Atlantis, with Professor Lucie Green, Chris Hadfield, Matt Parker and the Space Shuttle Atlantis herself. Then came the pandemic.
We won't go over the details of that. It's not great.
Like most people and companies in the arts and entertainment world, it's been a particularly tough year. Not tough by the standards of frontline healthcare workers but tough within our own sphere of operation. We at The Cosmic Shambles Network have had to cancel somewhere around 150 shows this year. 150 shows for which we'd already invested money into pre-production, marketing, PR and such things, all just gone. No ticket income and no, we repeat, no, not a single penny, of government support.
Now, we could've shut up shop or wallowed but that's not how we do things here at Shambles.
So just a few days after lockdown was announced, we launched The Stay at Home Festival. For just over 10 weeks we did almost 100 livestream shows. A morning show, hosted by Robin Ince and Josie Long, every weekday at 10am with guests including Tim Minchin, Mark Gatiss, Jo Brand, Lemn Sissay, Sara Pascoe and Stephen Merchant. Most Fridays John-Luke Roberts and Josie Long hosted the Friday Night Quarantine Comedy Club with house band Jonny and the Baptists and weekly guest comedy sets from the likes of Mark Watson, Kemah Bob, Isy Suttie, Bilal Zafar and more. There was a weekly Sunday Science Q&A show hosted by Robin Ince and Dr Helen Czerski with guests such as Brian Cox, Hannah Fry, Chris Jackson, Jim Al-Khalili and Tamsin Edwards. Helen also hosted a Saturday morning science show especially for kids with special guests like Ginny Smith, Simon Watt and Suze Kundu. Plus loads of extra shows, the Book Shambles podcast, Show and Tell episodes, Robin Ince and Josie Long stand up specials, two special editions of the Off Menu podcast with James Acaster and Ed Gamble and loads more.
You can catch all of those on demand now on our YouTube channel. All those shows were available, to all, for free. We asked for donations during the Stay at Home Festival to help out struggling artists and venues in the early stages of the pandemic and were able to give out over £15K as a result.
In May we were supposed to be back on stage at the Royal Albert Hall with the sequel to Space Shambles – Sea Shambles. When that was COVID cancelled we moved it online, for free, and put together a 3.5 hour live spectacular celebrating the ocean and trying to replicate as much of the live show as was possible online. We had a huge laser ocean planned as part of the show which obviously couldn't work online so it was lovely to see a mini version used as part of Helen Czerski's brilliant RI Christmas Lecture. Sea Shambles, as part of Royal Albert Home, is still up to watch on Catch Up with Robin, Helen, Steve Backshall, Chris Hadfield, Liz Bonin, British Sea Power, Jess Hitchcock, Cobie Smulders, Brian Cox and more.
Since then we've continued to do hundreds of free livestream shows, documentaries and podcasts including the weekly Sunday Science show (3pm every Sunday), Book Shambles, Science Book Shambles, Science in Zero G, countless blogs and all sorts of other stuff. And of course the Genetics Shambles series that we produced in association with, and with a bit of funding from, our friends at The Genetics Society and The Milner Centre for Evolution at the University of Bath.
And then, of course, with the inevitable cancellation of Compendium and Nine Lessons we embarked on Nine Lessons and Carols for Socially Distanced People, a free global livestream for 25 hours (plus a 4 hour encore) broadcast live from Kings Place. With over 30K people watching live, nearly £30K raised for charity and a show that included five astronauts, the discovery of a new supernova, an all star adaptation of Dickens' A Christmas Carol, over 130 guests and a surprise, exclusive performance from The Cure's Robert Smith, it was quite the way to end the year. You can watch almost of that show on catch up here and also bid on the original artworks created during the show here.
And finally a special Stay at Home Christmas Day show with Robin, Josie, Adam Kay, Grace Petrie, Andy Nyman and more.
Normally all the podcasts and end of year charity shows are possible due to the pledges of our amazing Patreon supporters and also, in fact, mostly because we've had a year of touring and doing live shows. That didn't happen this year. Like, at all. And yet we wanted to stay true to the ethos of Shambles, and that's making things that are available for all, putting them out as free access. Patreon supporters get some cool perks like extended episodes of podcasts, some exclusive Show and Tell livestreams plus our new documentary podcast series An Uncanny Hour, which is our first ever Patreon only series. But around 90% of what we produce is free to access.
As we move into 2021 and, for the first half of the year at least, live shows continue to look like they won't be possible, so we're more reliant on Patreon support than ever before. Currently around 2% of our huge audience  (things have been downloaded/viewed over a million times this year) contribute to our Patreon. If we could raise that to just 5% we would be able to produce all the shows you enjoy in a more sustainable way.
Seeing the community around Shambles grow this year, and all the messages we've received about how much the shows have helped people get through lockdowns and such has warmed our hearts. We know making them helped us get through it too. And we've got lots more planned for 2021 as well (Robin will go through that below) so if you do find yourself in a position where a couple of quid a month is a possibility, that'd be much appreciated. Happy New Year everyone, and thanks for coming along for the ride. – Shambles Producer and co-founder Trent Burton 
*******
From a life of travel to a life where two trips to the dentist in a month feels like an adventure and something to write home about, but you don't need to write there, and so you barely leave the attic.
When the pandemic began in earnest, my first reaction was "Well we better start making a lot of stuff", a reaction I knew Trent would share. With Josie Long, we spent two months making a daily live show with musicians, comedians, writers and astronauts. Then, we increased the number of regular podcasts, a Science Shambles to compliment the Book Shambles, some live shows based around my book I'm a Joke and So Are You and we were also well in to making our live Sunday Science Q&A show co-hosted by Helen Czerski and with two further scientists to answer all you cosmological, evolutionary and whale poo queries.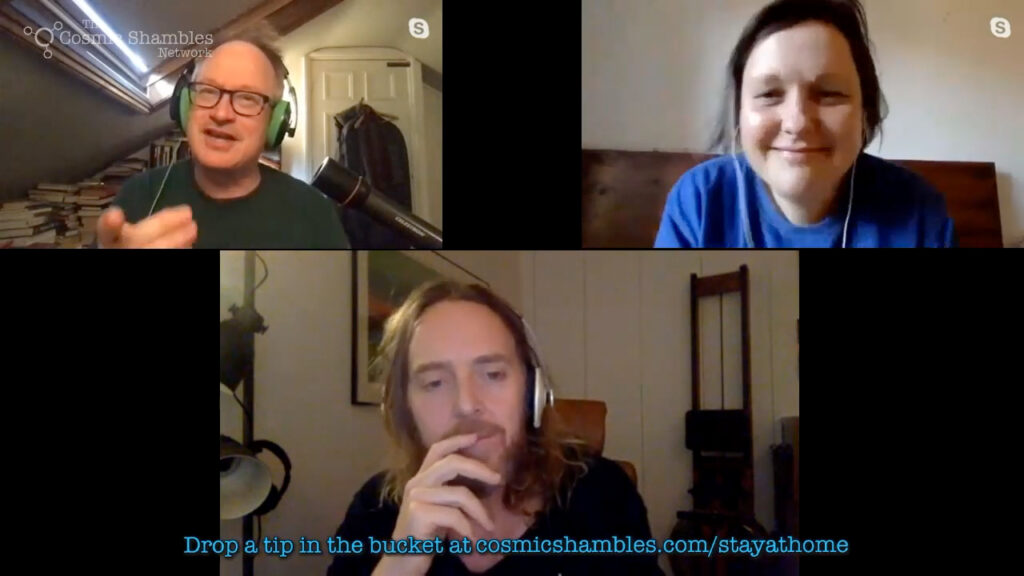 We also put together a series of panels about COVID-19 with virologists, immunologists and doctors.
All of this was made to be freely accessed and the money raised by the daily shows went towards struggling acts and small venues.
The one show we did receive outside funding for was Genetic Shambles, a series of conversations with geneticists dealing with 21st century gene centred views on disease, neanderthals and the progress of life.
Trent and I have always wanted to make everything free to access – we have thousands and thousands of hours of interviews with scientists from our Incomplete Map of the Cosmic Genome series alone.
Our desire to make content free for all has probably had a negative effect when we have actually needed funding as if you are used to something being free then why start paying for it? We have no outside funding, no corporations or avuncular benefactors. That need for funding has become far more apparent as this pandemic means that there are yet more months ahead when neither of us will be able to make a living from our usual professions (for those thinking, 'But you must make Zoe Ball money from Monkey Cage – 5 years of writing and presenting Monkey Cage pays the equivalent of ten minute headline set on Live at the Apollo).
In the autumn, we made our first behind a paywall series – An Uncanny Hour. This was a little more ambitious. It is a documentary podcast series about the films, TV and culture that err towards the weird and uneasy. We started with the ghostly classic Dead of Night, then David Cronenberg's The Brood, Hawkwind and the counterculture of the 1970s and, most recently, Penda's Fen. The final two episodes of this series will be on cannibal cult classic Death Line and the cultural role of UFOs. Later in the winter we will start a second series that will include the apocalypse trilogy of John Carpenter, folklore in Doctor Who, Derek Jarman's Jubilee and The Exorcist 3.
I will also be doing a series of interviews under the working title Cosmic Conversations in which I will be talking to the great science communicator and artistic director of the Golden record, Ann Druyan, ISS astronaut Nicole Stott, musical dynamo Tim Minchin and feverishly creative mind Neil Gaiman, among others, about finding meaning in what may appear to be a meaningless Universe.
I will also be doing a fortnightly live show on things I have learnt over the preceding 14 days, the first of which will be about ghosts, death and physics. On top of that we will continue with our normal Book Shambles shows and Sunday Science Q&A plus other one off specials.
Another addition is going to be Patreon supporters often being able to watch the live recordings of shows like Book Shambles and ask our guests questions. We are also finally going to get down to editing the Alan Moore podcast series – Blooming Buzzing Confusion – which got buried some years ago.
Our Patreon supporters are what has meant we can keep all this going and a huge thank you to them. Under 2% of viewers and listeners of our output donate, if we could get that up to even just 5% we would be in a far more secure position. Thank you all and happy new year. – Shambles Co-Founder Robin Ince
If you would like to reuse this content please contact us for details
Subscribe to The Cosmic Shambles Network Mailing list here.