A Beautiful Nightmare Day
Robin Ince's Blog
I knew that Friday would a nightmare day, but a beautiful nightmare day, as I would finally see Jeff Towns's wonderful book storerooms.
They would be a place somewhere between Borges and Lovecraft, a home to both popular and arcane texts, places where a forgotten spell might fall out of a Nevil Shute that was used by the shaman to hide his spell. "No one will expect the power of my words to be hidden between the pages of Requiem for a Wren".
But first, to Pontypridd. Drew from the Crickhowell Book Festival kindly took me through the hills to Pontypridd and Storyville books, one of the dinkier shops on the tour (apparently smaller than bookseller guidelines for the smallest bookshop economically possible).
Arriving early, I meandered through the charity shops and listened to various people in late middle age outdoing each other with aches and illnesses. The plumbing in the shop was going through an erratic phase, so I went to the public toilets in the market where a lady in a booth collects your 20 pence that allows you entrance to cisterns and taps. This, too, was a place of tumbling health anecdotes and rumours of a urinary tract infection.
The first surprise of Storyville was to see a copy of James Herbert's The Rats in the window with a new introduction by Neil Gaiman. Inside was a carousel of Welsh interest books including a biography of Elaine Morgan who pioneered the aquatic ape theory. I also heard of William Price, a Welsh doctor with a neo druidic bent. It was a gentle book signing with time to talk and even time to pop out for an interview with Radio Cambridge. A couple with a young lad called Orion popped in, surprised to see me in their town's small bookshop. They had been expecting to see me in the arena in Cardiff with Professor Cox this month, now postponed until next Autumn. I learned of science festivals among trees and talked of the excellence of Gruff Rhys.
On the train to Cardiff, a woman was telling her friend of how excited she was to see Gary Numan and what a lovely family atmosphere there is at his bouncing temples of electro goth. He popped by when I was with Brian in Brighton once and seemed to be a lovely man. I wanted to tell her that she was right to be excited as he had been many people's favourite turn at Beautiful Days festival, but decided not to invade her conversation due to manners and anxiety.
Jeff Towns picked me up from Swansea station and turned on his radio, 6music were in the middle of playing a Gary Numan song, I like such coincidences synchronicities.
The store rooms were magnificent and I barely dented them in the 90 minute browse, hut discovered rare treats that now contribute to my traveling stoop.
I now carry with me a first edition of Al Alvarez's The Savage God, a book about suicide that was influential to my early 20s, Hans Holzer's Psychic Photography:Threshold of a New Science and a first edition of Harold Pinter's The Birthday Party (among many others).
The magnificent find of magnificent finds was a book by Joan Lindsay, author of Picnic at Hanging Rock. Through Darkest Pondelayo is a spoof travel journey, 'An account of the adventures of two English ladies on a cannbal island' with wonderful mocked up photographs. I never knew it existed and now I had to have it.
Jeff then generously took me to his house for home-made soup (delicious) and then I arrived at the Volcano Theatre with 3 minutes to spare. It remains my favourite theatre that was formerly a Bejam, then Iceland freezer. It was from here that prawn party rings were distributed across South Wales. The ghost of Arctic Rolls shuffled in my eye line.
Lots of signing followed and then I spent the rest of the evening listening to Jeff's magnificent tales of bibliophiles and booksellers now gone while eating more soup.
In every corner of his house there is a plethora of stories stimulated by intriguing book spines and fabulous art.
Thank you, Jeff.
———————————————————-
Coming soon – Shelf Life books in Cardiff and Griffin Books of Penarth. This week's tour includes Blackwells in Oxford on Monday, The Book Case in Hebden Bridge on Tuesday and then talks in and around Merseyside, Manchester, Harrogate and Leighton Buzzard. All Tour dates here.

Order signed and dedicated copies of The Importance of being Interested here.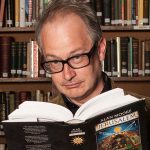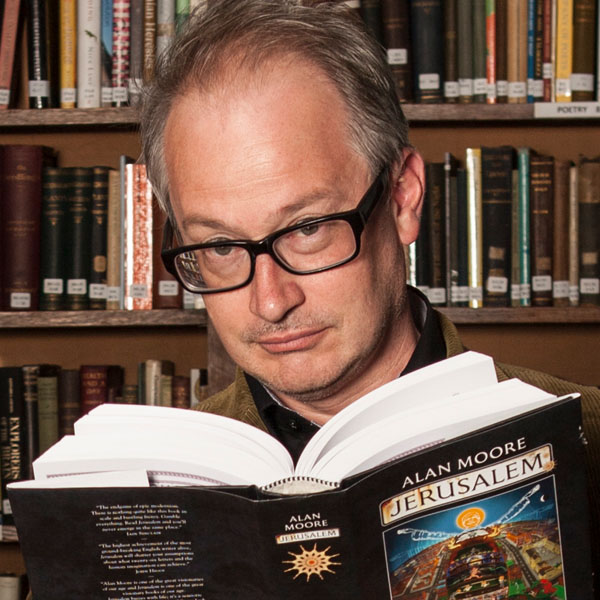 Robin Ince is a multi-award winning comedian, writer and broadcaster.  As well as spending decades as one the UK's most respected stand-ups, Robin is perhaps best known for co-hosting The Infinite Monkey Cage radio show with Brian Cox.  For his work on projects like Cosmic Shambles he was made an Honorary Doctor of Science by Royal Holloway, University of London. His latest book, The Importance of Being Interested has just been released.
If you would like to reuse this content please contact us for details
Subscribe to The Cosmic Shambles Network Mailing list here.