The Best Bookshop in the World
Robin Ince's Blog
I have just found out that the bookshop I wrote about in this blog post is due to close after sixty years of being in business, it's even been a location for Midsomer Murders and a possible inspiration for Terry Pratchett and his L space. On the same day I heard the news, I was wandering around London, noticing the shops and venues on their way to being transformed into empty luxury flats, the shiny bland has usurped the less profitable kooky and intriguing things and maybe it is only people like you and I who will miss them. Sat on the train by some fashionably trimmed young business bucks with feet on seats, they talked of the swanky bar where they'd just spent over three hundred pounds on a bottle of wine and two beers as they tucked into their pungent big macs and litre bucket fizzy pops – all those ambitions of extortionate Chablis and comfort gherkins may or may not sum something of us up.
Here is an updated post.
I was born to browse.
Some days, I worry that I spend more time browsing for books than reading them. Schopenhauer would not be pleased.

It is the excitement of the potential within.
The cover painting or the back blurb or a rumour going around a bibliophile enclave lures you to a book. It is the potential of what lies within.
What will this book do to your mind?
How will it change your world?
What sort of ride are you going to be taken on?
There is the excitement of finding a book you have been on a quest for for many years, suddenly spying the pine in secondhand bookshop. On the way home, you leaf through it over and over again, not reading, just looking at your conquered quarry.
Desmond Morris described the delight experienced in finding a book you have been hunting for as the modern equivalent of dragging a gazelle back to the cave (I think that was in The Nature of Happiness).
For years, I sought The Alice B Toklas Cookbook for a friend. Finally, I found it. This was probably many years after she wanted it, but nevertheless, I was successful, even if it was a situation of too late the hero.
What is the perfect secondhand bookshop?
Since I was a little boy, I have been going to bookshops with my father. It may be nurture, but one more generation and it may be nature. I went to book fairs where I saw Ivor Cutler seeking out rare Maurice Sendak books and Michael Foot astutely examining the yellowed works of romantic poets.
When touring, I return to Driff's Guide, an eccentric pocket encyclopedia of secondhand bookshops in Britain. The most recent edition I have is from 1992, so many shops are now gone. (If you would like to know about the author Driffield or Driff Field or Dryfield , ask Alan Moore. Also he appears in Iain Sinclair's novel, White Chappell, Scarlet Tracings. You can also read his essay on him in London: City of Disappearances. I promise you it is an interesting and enigmatic tale).
I like a secondhand bookshop to be too full. In front of the shelves, piles teeter. It is a test of zeal.
Can you be bothered to shift the weighty hardbacks to peek at the bottom shelf of old Penguins?
There should be a semblance of order. It's not good going into a bookshop that is like a firebombed Borges' fantasy.
But it shouldn't have absolute order. You should know roughly where philosophy is, or what the owner judges to be philosophy, but rigorous cataloguing dampens delight. Part of the fun of the search is to leave the bookshop with many things you never knew existed in the first place. Books you woke up unaware of, but by lunchtime you know you cannot live without.
Haphazard pricing systems also add to the adventure. Occasional overpriced tat increases the whoop when you unearth the underpriced gem.
Finally, it is useful if there is an independent tea shop with teetering Victoria Sponges within a short walking distance. To sit with a cake fork in one hand and your new books in the other is an immensely satisfying end to bookwormery, plus a much needed sugar intake after the exertions of scrutinising and lifting up the heavy piles to find out what lies beneath and behind.
Unlike Orwell's perfect pub, The Moon Under Water, these bookshops exist. If you are drawn to a seaside trip with a bibliophile bent, I recommend Camilla's in Eastbourne (they have a parrot too) or The Sanctuary Bookshop in Lyme Regis (actually, that one is very well ordered, but great nevertheless).
(I don't really want to tell you about my favourite shop. Then you'll go there and snap up all the delights before me.)
My favourite bookshop in England is The Cottage Bookshop in Penn. I visited it many times as a child. I had not returned for almost twenty years, but yesterday I did. It was a rare occasion of nostalgia barely living up to the revisited contemporary reality. I first went when I was nine years old. The elderly man who ran it had an attic room where only the chosen could go with some of the more treasured books that you could be locked into. I would sit in the corner with an annual while my dad browsed with intent. Eventually, that attic room was no more, rumours were that people had been stuck in there for too long on occasion and had taken to weeing in any available vase. I think it is his daughter who runs the shop now. The aisles remain tight, the selection remains wondrous. It's magnificence is such that it seems close to being a fiction, it is sad that it may soon be a memory.

The shop is a cottage, where every room is full of shelves and books. The stacks teeter, the prices are wonderful. It is in the cusp of being a maze.  I left knowing that there was much I missed. I knew that, somewhere inside, there were many more books I desired, but the 23 I had in my hands were enough for today. (there isn't a cafe nearby, but the pub is 50 yards away). Maybe I'll go back for the 1980 Hazell annual and that Huxley in Hollywood book, oh and all those copies of Penguin's Science News that I couldn't decide on, and the book of William Blake prints, and…
Josie and Robin's Book Shambles, our book podcast, is available HERE.
Latest interviews include a Stewart Lee two parter, Jenny Landreth, Jeff Garlin and Andy Weir. 
There are many other shops I adore, why not add your choices or your shop under here, especially if they are in or near my upcoming tour destinations of Eastleigh, Corsham, Newcastle, Aberdeen, Glasgow, Edinburgh and Lyme Regis.
Footnote and Competition.
Can you guess how much this all came to? Best guess (UK only) will get some books I need to get rid off due to my house sinking into the ground
This is what I bought –
Space, Time and Nathaniel – Brian Aldiss
The Blind Owl – Sadegh Hedayat
Mass Control – Jim Keith
BFI Modern Classic: Salò – Gary Indiana
Liquid Metal: The Science Fiction Film Reader – Sean Redmind (ed.)
Robots: Fact, Fiction and Prediction – Jasia Reichardt
Curationism – David Balzer
Six Existential Thinkers – HJ Blackham
Penguin Science News – 1, 4 , 5, 9, 25 and 28
BFI Classics: The Seventh Seal  – Melvyn Bragg
Dancing Naked in the Mind Field – Kary Mullis
Bright Air, Brilliant Fire – Gerald Edelman
The Sphinx and The Megaliths – John Ivimy
Breakfast with Lucian (hardback) – Geordie Grieg
Victim Prime – Robert Sheckley
Star Wars Official Marvel Collector's Magazine 1977
Fantasy Art Techniques – Boris Vallejo
Science Fiction Film – Denis Gifford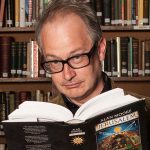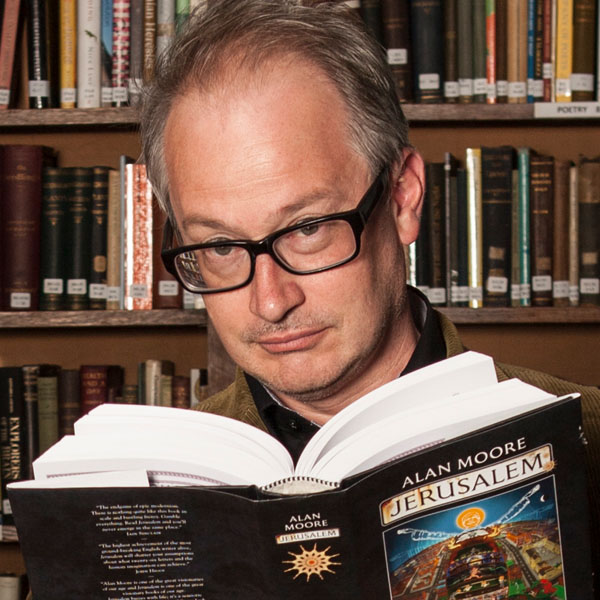 Robin Ince is a multi-award winning comedian, writer and broadcaster.  As well as spending decades as one the UK's most respected stand-ups, Robin is perhaps best known for co-hosting The Infinite Monkey Cage radio show with Brian Cox.  For his work on projects like Cosmic Shambles he was made an Honorary Doctor of Science by Royal Holloway, University of London.