A Book Buying Bonanza in Salt Lake City
Robin Ince's Horizons Tour Diary
My first "new book anxiety" dream happened last night.
I did a big event. I spoke well, though tangentially. I sold no books. I was angry because I had taken time out from my family life and achieved nothing. It was possibly a guilt dream too. It was also a reminder of why I turned down hosting an event this Sunday. I have ten days at home, then back on the road. I am getting better at defeating that voice that says, "but maybe this event will be the one that leads to that big deal with Hollywood/Netflix/Pontins Camber Sands". I have started to err onto the correct side of regret. Rather than regretting I may have missed an opportunity, I think of the future regret when my son is grown up and our adventures are fewer (though I hope there will always be some). 
Today, we all feel a bit gritty and fugg-ish. We are on the way to our final gig of this leg – Salt Lake City – then two weeks off before we start again in Edmonton. 
Today's breakfast waiter is just the right side of friendly. He compliments me on my shoelaces and I admire a picture of his dog. I discover he and his wife are foster parents and that he hopes that cold snap is not coming this weekend as he has just planted his garden. 
Denver has good people. Last night's barman had the air of an optimistic George Carlin and carried himself like he had a story to tell. He also had perfect memory of what we drank the night before.
Brian has a special certificate that allows him to travel unimpeded to an airline gate, while Steph and I went towards normal security. We moaned that it would be hideous and prepared for the worst, but we got the best – straight through and the security staff even smiled. 
Waiting for the plane , I listen to a businessman –  "For me 2% teamwork is insignificant because I think we can sell that message as we are adding additional opportunity for discretion"
I am sat next to a stranger again, so decided to avoid Haunted America as my inflight reading just in case it falls open on the page with Carolee Schneeman removing a scroll from her vagina. 
Instead, I read another issue of Broken Pencil. I make numerous notes of things I should learn more about as I do so. 
David Lester's Prophet Against Slavery bout Benjamin Lay, a quaker activist with dwarfism who fought for "the abolition of slavery and the emancipation of all living things from the tyranny of others".
A Slug Story by Mandi and Hana Kujawa, which stemmed from one of Hana's friends saying he had a great idea for a kid's story about a slug who stays a slug.
Michael McGlennon's album tIME mACHINES, a work of grief dealing with the loss of a bandmate and of his idol, Daniel Johnston.
I must find  way to subscribe to Broken Pencil when I am back in the UK. 
Our driver from the airport tells us that Denver airport is renowned for its ghosts and hauntings. Brian is having none of it and gives a quick lecture about how the unexplained is just that, unexplained, mystery of cause does not mean we must venture straight to phantasms and spirits.
I try to find the middle ground and quote Alan Moore's From Hell yet again about how the one place that the gods or ghosts are undoubtedly real is in the minds of men, or words to that effect. 
Steph, Brian and I go for a walk and, within minutes, we reach Utah Books and Magazines, a used bookstore that is 106 years old.
They tell me to go in.
They insist I go in.
Steph immediately comments on the smell. It is old books and old paper, musty but not offensive.
Brian soon finds a book about Henry Winkler.
I am soon on the floor rooting through film tie-in paperbacks.
A pal had promised me that Salt Lake City should be a safe place for me with few temptations in the bookshops, how wrong they were.
It began with Winfred Van Atta's Shock Treatment -"More terrifying than Psycho. More revealing than The Caretakers" (I don't know what The Caretakers is, but I will research)
Then it was a copy of Two Screenplays by Jean Cocteau published by Pelicans, followed by Phase IV – "a race of super ants delivers an ultimatum to mankind – ADAPT OR DIE!" You may remember the film directed by Saul Bass.
Then, it went crazy – the first US publication of Peter Watkins' The War Game , the play about nuclear war that was banned by the BBC for 20 years, the US film tie in for Get Carter, Dick Gregory's From the Back of the Bus, Hedy Lamarr's Ecstasy and Me, a first edition of Yonder, stories by the brilliant Twilight Zone writer Charles Beaumont, a grubby but interesting illustrated edition of Susan Cooper's The Dark is Rising and much, much more. I also bought a copy of Kings of Kings, a book all about the Jesus movie which also contained separate photographs of Jeffrey Hunter as a very blue eyed messiah.
It was $64 well spent.
Utah Books and Magazines is beautiful chaos. It is ordered, but has that exciting ramshackle quality that means the unexpected is always a thrilling possibility. You leave knowing there was something in the shop that you didn't find this time, but it is there.
I also enjoyed the conversation between the owners which seemed to be about a man so drunk he could not mount his bicycle and a woman who was utterly furious with him. Rather than a carrier bag, I was given a proper shoulder bag which included three new pens as they come from the owners brother's company that is going out of business. I walked proudly down Main Street and started working out my plans to get all these darn books fedexed home.
When I meet up with Brian and Steph, they tell me they had imagined returning to the shop and finding it boarded up. Any hint of me would also be long gone. I was sucked into a ghost shop and now my soul would be ricocheting around a hell library.
In my version, they would return and find me now behind the counter as if I had always been there. Like the priest that guards the gate of Hell, I would now be the sentinel of the books and ephemera.
Tomorrow, I have plans to have breakfast at Mark of The Beastro, a diner that combines veganism with Satanism by the looks of things.
From what I have seen of Salt Lake City so far, I like it very much (and I just didn't spend the whole afternoon in the bookshop, just half of it). Knowing that it is built on a single religion with some eccentricities (I cannot think of any religion free of eccentricities, it is part of the package) my mind couldn't help but keep storyboarding scenes somewhere between The Stepford Wives and Rosemary's Baby when I saw some very happy couples walk by. Though maybe the Denton of Richard O Brien's Shock Treatment may be closer to the mark. I kept seeing that opening scene where the couple who have just moved to the area are invited to a drinks party where the beaming friendliness is ominous.
"Oh my, I think that punch was a little stronger than I thought, Jean"
"Don't worry, Lucy, you go and lie down on my bed and ignore any realistic dreams you have about prepaid goblins".
I think this might also have been caused by watching the whole series of Severance in the last couple of weeks.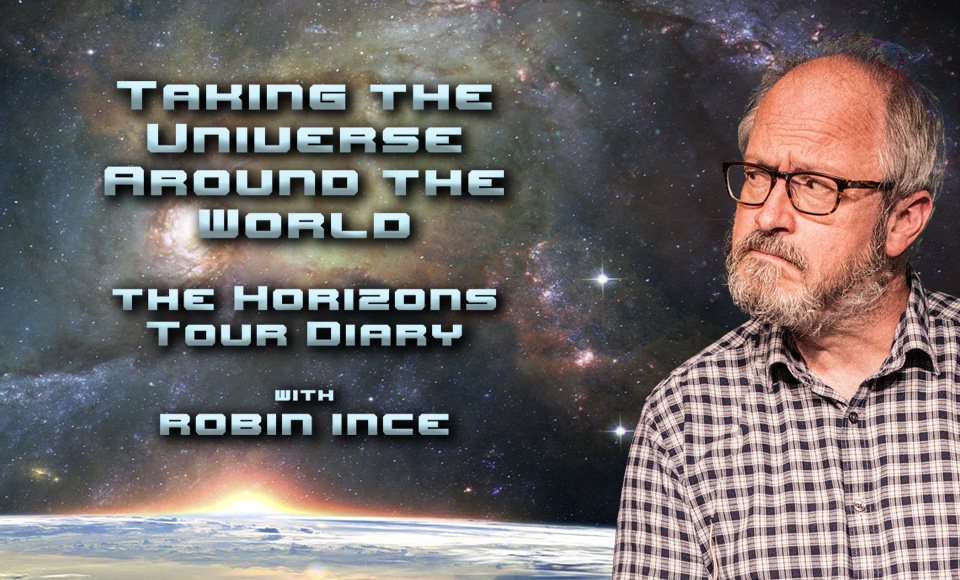 Listen to the Horizons tour podcast, Taking the Universe Around the World HERE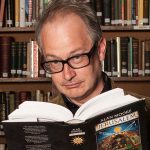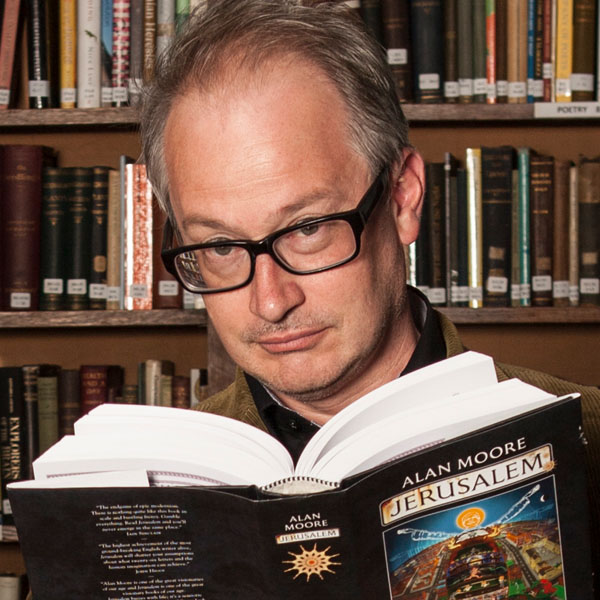 Robin Ince is a multi-award winning comedian, writer and broadcaster.  As well as spending decades as one the UK's most respected stand-ups, Robin is perhaps best known for co-hosting The Infinite Monkey Cage radio show with Brian Cox.  For his work on projects like Cosmic Shambles he was made an Honorary Doctor of Science by Royal Holloway, University of London. His latest book, The Importance of Being Interested is out now.
If you would like to reuse this content please contact us for details
Subscribe to The Cosmic Shambles Network Mailing list here.