Happy and Surprised Faces
Robin Ince's Bibliomaniac Tour Diary
It has been a joy to see the happy and surprised faces of people who find out that they appear in the Bibliomaniac book.
On Saturday, sat in exactly the same place in the room above the Red Lion Bookshop were the mum, dad and two daughters who I wrote about. They are both children with a christ fort knowledge and a delightful excitement for books and reading. This is what I love about touring the shops, I talk to excitable 90 year olds and 9 year olds. 
Beforehand, I was at Wivenhoe. Before the show, Meg came up to me and said, "I run a book festival and I was wondering if…."
"Sure, I'll do it, what are the dates"
I like to save people's time so that don't have to give their pitch and I made s and judgement on Meg – she looked kind and I reckoned whatever sort of festival she ran there would her an adventure to be found. So I'll be in Felixstowe this June. Meg warned me about the Treasure Chest bookshop and warned me that it would be best if I bought an extra suitcase. 
Wivenhoe is a pretty place and was home to Dickie Chopping who designed those hardback James Bond covers that looked more like they were celebrating the Mexican Day of the Dead rather than an alcoholic super spy who surely had syphilis by the time he reached Octopussy. 
I talked for longer than I meant to and found that I hadn't packed some of my favourite books to talk about. An author friend has lived in the town and I had been disturbed to be told by her that because she argued against BREXIT she would have human faeces left on her doorstep. I found out that she was not the only one and that one vicious bigot had gone so far as poisoning a dog with antifreeze. In the kindliest of towns, there is often bitterness waiting to punish those who dare to disagree and those who dare to be different.
The event was in the Nautical Centre, so I hastily drop into the bookshop which is as perfect as any village bookshop can be. When I was at JE Books in Hull, an airline pilot came up to me with two books. He had doubled his purchase as he saw that this bookshop was one of those illustrated on the endpapers (oh, to have endpapers AND an index, you don't know how happ[y this makes me) and it was his mother, Penny, who began Wivenhoe Bookshop in 1976. I was delighted to receive a photograph of Penny receiving a copy of my book. 
While speed browsing in the art section, I heard Meg talking to Sue from the bookshop. 
She was talking about how much she had just enjoyed my talk so I thought I better make my presence known. Meg was embarrassed, but I see no shame in someone speaking warmly and the subject of that warmth being near enough to hear.
I eventually bought a copy of Only Too Much is Enough (Eris editions) a collection of quotations from the artist Francis Bacon and a book about Wivenhoe Artists that caught my eye as it aped the cover of the Penguin Artists series of the 1940s.
The trains were all up the spout, I think the train companies are running them so badly so that we don't know when it is a strike for a fairer system and when it is just years of greed and mismanagement causing the entropy of the tracks. Fortunately, Trent has already planned to film both shows today, so he was able to transport me about. He is a good man.
I arrived at Red Lion Books just in time to be late. This situation was assisted by the heavily pissed in NCP car park that created quandaries and confusion at every smelly turn.
I sat down parched but my vocal cords moved at their usual speed. I chatted and signed and ate doughnuts greedily. I looked enviously at the signed copies of Patti Smith's latest as I had bought it without her inky flourish.
Then I joined a queue of confused people at the parking lot, prodding the ticket pay unit from which all clues of operational practice had been erased.
Amazingly, we made it to Stratford International just in time to catch a train that would save me a further hour of travel. Less amazingly, the train from Euston was confused and delayed.
A group of women in their 30s tried to explain to some teenage boys who the band Blue were and then accidentally catapulted a vanilla milkshake at a man behind them when they were surprised by the spring mechanism of the litter bin.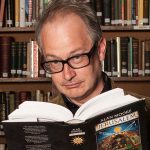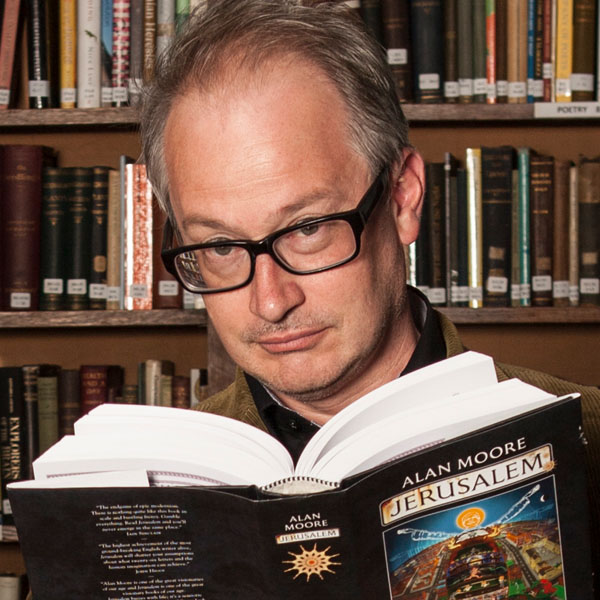 Robin Ince is a multi-award winning comedian, writer and broadcaster.  As well as spending decades as one the UK's most respected stand-ups, Robin is perhaps best known for co-hosting The Infinite Monkey Cage radio show with Brian Cox.  For his work on projects like Cosmic Shambles he was made an Honorary Doctor of Science by Royal Holloway, University of London. His latest books are The Importance of Being Interested and Bibliomaniac.
If you would like to reuse this content please contact us for details
Subscribe to The Cosmic Shambles Network Mailing list here.