Upstaged by Bono in Chorlton
Robin Ince's Bibliomaniac Tour Diary
I return to Wotton-Under-Edge for Battenburg cake. 
The Cotswold Book Room is another bookshop that illuminates the high street, a beacon for knowledge and adventure between ironmongers and greengrocers. 
I leave my home early, packing lightly, but including the necessary canvas bag in my suitcase for the books I am bound to bump into and then refuse to let go.
I start at the optician where he checks if the mole stains inside my eyes have remained steady over the year. Nothing to report. 
The trains are as awry as usual and at Bristol Parkway I ask the the man who has just lowered his flag on platform 2 if there is any reason the Monday trains are sop confused. He keeps his cards close to his chest. I like the railway workers with dulled union lapel pins who spill the beans with vigour. 
I am collected from Cam and Dursley by Gideon from the Cotswold Book Room. 
I have 25 minutes spare and so I hastily make a small pile of books from their shop that I will engage with, including Bono's and The Hitchhiker's Guide to the Galaxy, then I speed browse the charity shops. I collect a copy of Patricia Lockwood's No Is Talking About This, a collection of Martha Gellhorn's writing and a sealed catalogue from an Amsterdam art exhibition about The Sixties. I like the element of countercultural surprise that might lie within.
I am talking ion the wine bar. When I walk in everyone has homemade battenburg and a cup of tea.  I have the Bono book, which I have heard many warm things about even from people who are U2 cynical, because of an incident at The Chorlton Bookshop. At the weekend, Bono made a detour from his big gig and popped into the bookshop, a fantastic gesture of support for the independent shop. I tweeted to them that clearly this visit by a bono fide rockstar would overshadow my talk for them in the tub across the road a few days before. They replied that the book they had chosen to gift him was Gratitude by Delphine De Vigan, a novel I passionately recommended at my talk. This made me happy as it is a novel I would like everyone to read as it is full of compassion and fascination. It became part of my mind when I was at The Warwick Bookshop in December, recommended by the booksellers there. I have been praising it for a while now and I am so pleased that now it is in the hands of a world famous artist who will spread the word far further than I can.
Read it, Bono, read it. 
The audience energise me as usual with their warmth and openness and the possibility of getting to my allotted train is in jeopardy. Gideon has told me that he will drive me to Penarth if necessary, so I look to him and ask if I should stop talking or if the conversation can continue. At this point it is a conversation with everyone in the room sharing their theories on books, reading and love. 
Gideon and I talk of neurodiversity and the need or not for diagnosis as we cross bridges and I misdirect him around mini roundabouts.
He drops me at St Luke's Church, Griffin Books's venue for tonight, two minutes ahead of soundcheck. There is a microphone available but I suggest that I am noisy and with an ability to project at speed that might make any further amplification unnecessary. After a quick "is it louder with or without" it is agreed that voice alone is enough.
Before the show, I meet Simon who gave me a fantastic bottle of whisky before the Cardiff Horizons Live show but which I have not yet broken the seal of due to relentless but rewarding touring. Griffin Books kindly give me another bottle of whisky from Penderyn, probably my favourite distillery, not merely for taste, but because it makes me think of browsing Jeff Towns's book bus and having a snifter as I perused pamphlets, postcards and an intriguing 1950s pornographic magazine where all the nudity was captured at Stonehenge. In that time, the pubic hair was haphazardly erased, leaving the women entirely without genitalia. I imagine that those who educated themselves via these publications were as shocked to see the reality of women as Ruskin was in the apocryphal story of the pubic hair shock on his wedding night.
At the signing, many share their own bibliomaniac stories including one involving a children's author, Gwen Grant, who I knew nothing of until this night. She won the Carnegie Medal for Private Keep Out and this audience member was telling me how she had bee n collecting the books for her daughter. One day they bought one from a secondhand shop and then found that it contained a sticker declaring "Personal Copy of Gwen Grant – please return". They decided that they must and, via the publisher, tried tried to make contact. Some days later and out of the blue, she received a call from Gwen who warmly told her that she should keep the book and that this must have been its destined path.
A lovely story to end the night with.
The night concluded with wine and Tapas with Sharon, who used to run the Cheltenham Science Festival quite brilliantly,  and her pal, Wayne. We talk of wonder and, sometimes, of melodrama.
Order signed copies of Bibliomaniac from the Shambles Bookshop NOW
​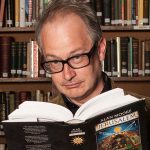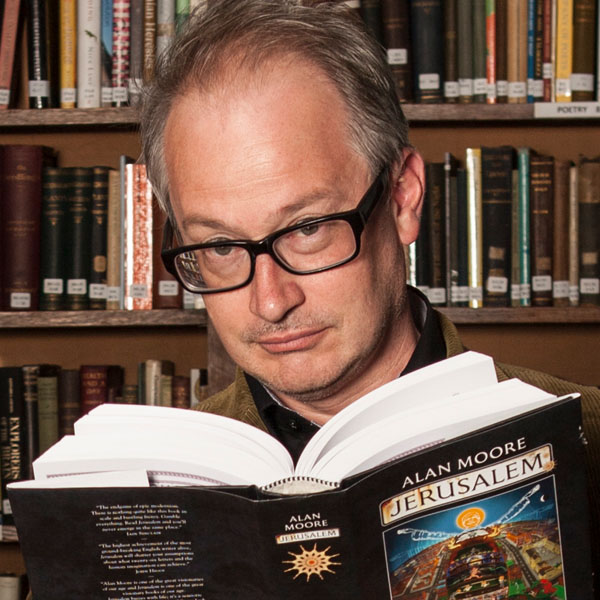 Robin Ince is a multi-award winning comedian, writer and broadcaster.  As well as spending decades as one the UK's most respected stand-ups, Robin is perhaps best known for co-hosting The Infinite Monkey Cage radio show with Brian Cox.  For his work on projects like Cosmic Shambles he was made an Honorary Doctor of Science by Royal Holloway, University of London. His latest books are The Importance of Being Interested and Bibliomaniac.
If you would like to reuse this content please contact us for details
Subscribe to The Cosmic Shambles Network Mailing list here.