November News Update
from The Cosmic Shambles Network
You're busy, we're busy, everyone's busy, we get it. So here's some exciting stuff you may have missed.
A brand new short documentary that we've produced has been added to the site this week. In 2019, for the first time, electric motorcycle racing has a proper World Cup series; MotoE. So Dr Helen Czerski paid a visit to the British round of the MotoGP championship at Silverstone to find out where we're at with electric motorbikes, both on the road and the track, why they're seemingly a bit behind the electric car industry, how the 'biking' community is accepting this revolution, and what the future holds. Features exclusive interviews with top team bosses, reporters, technical directors and even a MotoGP race winner. You can watch it here.
We're also about to head off to France with Helen and Ginny Smith to shoot an exciting new series that we're looking forward to being able to tell you about very soon…
There's a brand new podcast on the CSN now too! Wife on Earth is a new comedy podcast series from Jo Neary and Joseph Nixon in which Jo revives a much loved character that will be very familiar to British comedy fans. Celia Jesson, a repressed housewife from Upper Lowing, has been encouraged to do a book-based podcast to promote the local library in nearby Lower Upping, because no one else wants to do it. It's too much of a time commitment. So listen and subscribe now from here or search for it wherever you get your podcasts.
We've also helped produce, in association with science troubadour Jonny Berliner and The Stephen Hawking Foundation, SciTunes. SciTunes are music videos to keep classrooms lively, increase student engagement and make lesson content, and revision, more manageable. This first series of films looks at GCSE Physics. Check them out here.
There's also been plenty of new episodes of both the Book Shambles and Science Shambles podcasts for you to catch up on. Recent guests have included Helen Sharman, Stewart Lee, Kevin Fong, Natalie Haynes and Peter F. Hamilton.
Meanwhile we've still got a whole host of live events coming your way! Robin Ince is on tour with Chaos of Delight until the end of the month coming to places like Cambridge, Glasgow, Newcastle, Edinburgh and more so be sure to get along to one of those shows. Robin is supported by She Makes War at most of the shows too.
We've announced three new guests for our spectacular Sea Shambles show coming to the Royal Albert Hall next May. It's going to be a mammoth show of oceans, science, music, comedy, lasers and all sorts of mayhem. We'd already let you know Robin Ince, Helen Czerski and Steve Backshall would be there and now we're happy to say they'll be joined by Josie Long, Lemn Sissay and British Sea Power and LOTS more amazing guests to come too. Get your tickets now.
And of course at the end of the year it's Robin and Brian's Christmas Compendium of Reason at the Hammersmith Apollo and Nine Lessons and Carols for Curious People at Kings Place in London and The Lowry in Salford. The Compendium is now sold out but there's still tickets for Nine Lessons, including the first ever family matinee. Once again all profits go to charity and this year's line up of guests continues to expand with some recent, amazing additions to the bill including Konnie Huq, Liz Bonnin, Angela Saini, Chris Jackson, Grace Petrie and Foxdog Studios.  
Also at this year's Nine Lessons shows in London, the foyer will be home to a special photography exhibition. Photographer Steve Best has been shooting CSN gigs for years and this December we'll be displaying some of his best shots from Shambles live events over the years. At the end of the shows we'll be auctioning some of the prints off for charity too, and getting them signed by the subjects.
And plenty of our Shambles chums are on tour or have new things out you should take a look at too. Matt Parker, Josie Long and George Egg are on tour for example. Bec Hill has a VR comedy special out. Lots of people have new books out too like Chris Lintott, Dean Burnett and Suzi Gage.
So enjoy all the new content, thanks for reading, and we hope to catch you at one of our events soon!
None of what we do and you enjoy would be possible without your pledges on Patreon, coming along to our live events or your purchases from our online shop! So if you like what we create and you'd like to support us you can do so for as little as a $1 a month on Patreon, get yourself a book bag or badge, or even just share our content on your social media. It all helps!
The Cosmic Shambles Network relies on your support on pledges via Patreon so we can continue to provide great, new, exciting content without the need for third party ads or paywalls.
For as little as $1 a month you can support what we do and get some great rewards for doing so as well. Click the Patreon logo to pledge or find out more.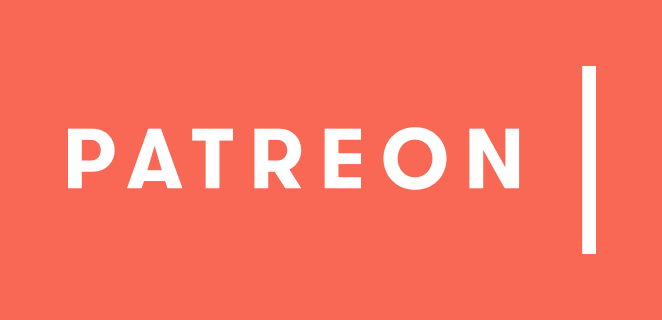 If you would like to reuse this content please contact us for details
Subscribe to The Cosmic Shambles Network Mailing list here.