A Favourite Room to Play
Robin Ince's Blog
The transition from the joy to the anxiety inducing uncertainty can give you whiplash. 
I have just finished a solo show at The Stand in Newcastle, one of my favourite venues for staff and audience. 
Everyone is delightful, kind, complimentary. 
I need to get to Halifax tonight and, as this is now the tenth day that I have been away from home, I have built up bags that have me teetering like an explorer's manservant in a Tarzan movie. 
It is wet, slippery and the streets are full of people bursting with adrenaline for the night ahead and those who have peaked too soon. 
I steer carefully, the hubbub and alcopop caterwauling fortunately drowning out the pained squeal of my perturbed suitcase wheel. 
I board at platform 4. My mind has gone from febrile and rapid connections to focusing on the potential perils that could strike from any angle. Yet again, I decide the vestibule is the safest place. Two slightly boozed women, still sober, but losing their potential for balance if the train leans, decide on the vestibule too. Every now and again, they whisper to each other and my paranoid mind fears that they are talking of the peculiar mountain goat-man surrounded by carrier bags with his nose pointed firmly towards his book (The Salmon of Doubt by Douglas Adams). 
So much luggage curbs your freedom of movement. 
The day started well. The naught was quiet and I slept through, only pausing to wake at 5am which seems to be a new tradition. It is not for my bladder, just for my mind. 
My hotel doesn't do breakfast, but I still have some oatcakes, tomatoes and olives from the night before. In my continental Scottish frame of mind, I eat and watch The Simpsons.
Dan, from the Kielder Observatory, kindly offered to greatly go out of his way and ferry me from Stockton to Whitley Bay. I promise to perform at the observatory is now sealed by this generosity.
I am going to The Bound in Whitley Bay, part of Forum Books. I was meant to talk there last Saturday, but storm damage of the town and uncertain weather led to cancellation. It seemed rude not to pop in when I was in the area.
It is another beautiful bookshop, pleasingly busy with browsers and staffed, as usual, by people who really love books (and had bought pastries too).
As I sign, I am asked which has been the best bookshop.
It is not discretion that stops me from answering, the number of independent bookshops that have charmed me is too many to whittle it down to one.
I slump in the backroom for a while. The tiredness feels more embedded, as if my body is saying, "hang on, you said 100 Bookshops, but today is 101 and 102. Not fair."
I walk to the Metro squealing.
I was last at The Stand in Newcastle two years ago, accompanied by my friend Laura, then She Makes War, now Penfriend.
Helen from Forum Books has come to sell my book and see just how far a wifi signal can pierce the ground, nobly battling with technology not made for the underworld.
I make a fizzy Lemsip and wonder what sort of show I am capable of.
I am blessed by a technical hitch when I get to the stage.
Fuses blow and I am in darkness and unamplified.
This is what I need. It means my mind has to work, to create something out of the unexpected.
This is a room that I love to play.
It is made even better by the fact that the technicians always have incredibly good taste in music. Today, it is post punk – Fall, Wire, Joy Division, X-Ray Spex – something else I need.
And now we find ourselves where we began. The gig is over, the signing done. I am hurrying to the station, looking forward to the security of Halifax's Premier Inn.
I have wine and cookies.
————————————————————-
Sunday, it is 103 and 104 – Halifax and Hull.  All Tour dates here.
Order signed and dedicated copies of The Importance of being Interested here.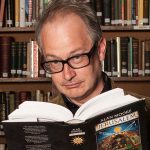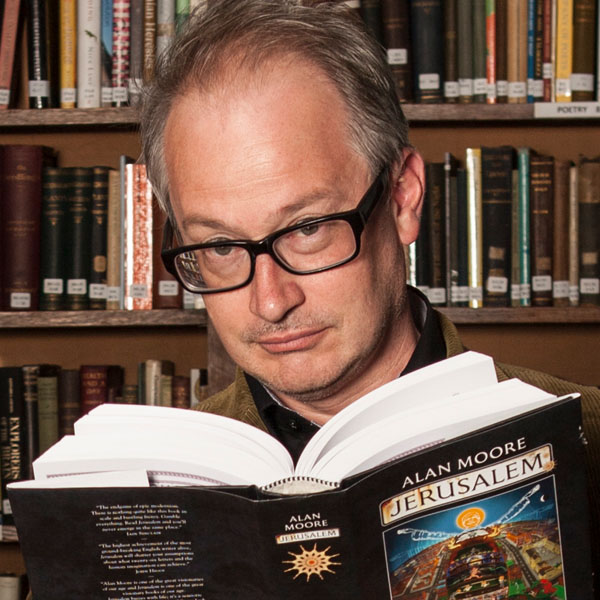 Robin Ince is a multi-award winning comedian, writer and broadcaster.  As well as spending decades as one the UK's most respected stand-ups, Robin is perhaps best known for co-hosting The Infinite Monkey Cage radio show with Brian Cox.  For his work on projects like Cosmic Shambles he was made an Honorary Doctor of Science by Royal Holloway, University of London. His latest book, The Importance of Being Interested has just been released.
If you would like to reuse this content please contact us for details
Subscribe to The Cosmic Shambles Network Mailing list here.