Dark and Twisted Dreams
Robin Ince's Horizons Tour Diary
Last night, I had a dark and twisted dream which I did not enjoy at all.
Freud would have feasted on it (Sigmund or Clement). It may have been stirred up by going to bed unhappy. 
I spend much of my life contemplating my failure. I don't want to, it is just there. 
Some people would measure me as successful, and I think that on paper I have not done badly at all, but the self critic and loather in my head is adept at magnifying failure. Much like anxiety, it is not about logic, it is in some deep seated , ancient, festering part of the primal brain that is immune to persuasion. It is that ability that we all have to blush and dismiss compliments, but the first online stranger that says we are shit is something to take very seriously. 
I was thinking about that after Wembley. It was a very good gig, I should have been, if not elated, at least beaming, but my mind just told me that I had done what I was meant to have done, any less would have been failure. 
At midnight, it was my failure to sell out the bookshop in Corbridge that stoked my "you life has been a failure" sequence of neurones. 
I tweeted the feeling to try to get it out of my head, then felt ashamed to have done so in the morning and deleted it. 
The day began with a trip to my dentist, I go as much for his anecdotes as his hygiene equipment. This time he told me about being a temporary roadie for The Members as he was a pal of one of the band. At one gig, he was mistaken for Lou Reed by some Eastern European punks and so lived a life of free drinks without the misanthropy that would have been needed to really be Lou. 
The unfortunate thing about my dentist is that he is only a few footsteps away from the Notting Hill Book Exchange. Luke was behind the counter and , knowing my taste, sadly showed me two of the later Pan Book of Horror Stories (volume 28 and 29) which I knew had to be mine. Having only just off loaded a bulk of books after Wembley, I was reloading again. I also needed Jordan's Defying Gravity, the recent biography of Nico, a book on toxic masculinity, a book about superstition, the autobiography of former Olympic swimmer and androgynous fashion model Casey Legler (highly recommended by Michael Stipe), a Benjamin Myers novel, Julian Cope's Japrocksampler and something by some Rolling Stone writer that won't be as good as the back blurb, some Jonathan Franzen essays, and Gruff Rhys's book where he goes across America in the steps of another enigmatic Welshman. Oh, and a book by John C Lilly and his wife, as John C was one of those academics who took LSD and then tried to teach dolphins to speak English, and a biography of Tallulah Bankhead. 
The occipital neuralgia crept up. 
I arrived early to Peterborough Arena, just missing the auction of cows they usually have before lectures on cosmology.
Over dinner, the crew and I shared stories of stage adaptations of 'Allo 'Allo and how Gordon Kaye would steam the stamps off the SAEs people requesting autographs sent him.
There are no backstage toilets at the gig, so if Brian needs a wee, Giles has to take him for a drive. I suggested he just urinated on the tour truck wheels like cosmonauts urinate on the bus wheels on the way to a rocket, but apparently that is not a good idea. Though the cosmonauts perform this as a ritual that might be good luck, I am told scientists have not yet found the link between good fortune and urinating on a Goodyear.
Despite this, it is another satisfactory gig. Being near the fens, this means there is the largest number of banterish questions in the interval, there is some cheek in these flat lands.
Giles and Brian go up north after the gig and I go to the Premier Inn and drink a bottle of Amber Ale while watching 24 Hours in A&E. The worried man did get back the ability to use his fingers after microsurgery, so that was good.
Tonight's audience questions included
If you had the chance to, would you throw Robin into a black hole?
The furthest galaxy we have now lost sight of … if we are moving in one direction faster than the speed of light and the opposite is true for the far side – we are separating at more than twice the speed of sound. How did the light reach us in the first place?
Have you ever considered a different warm up guy?
​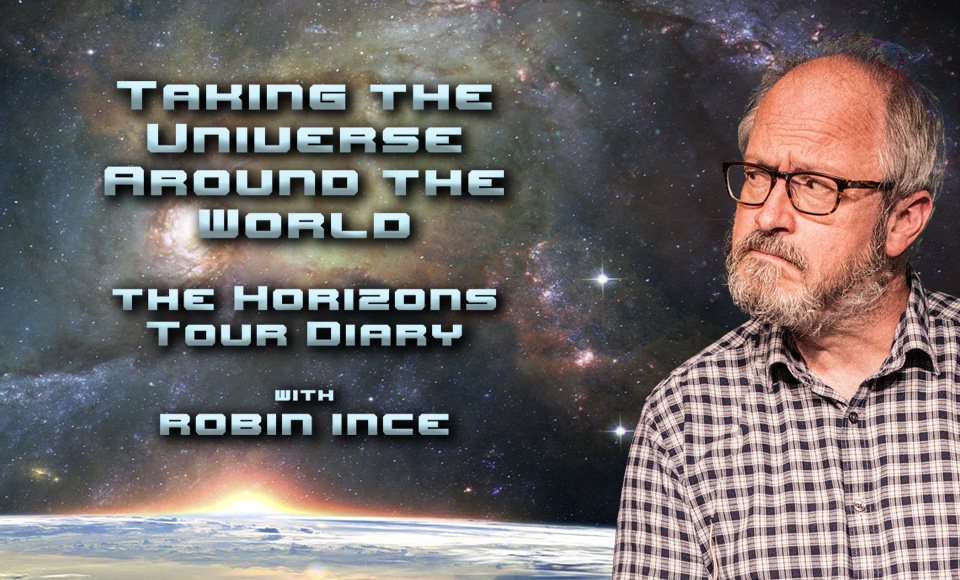 Listen to the Horizons tour podcast, Taking the Universe Around the World HERE.
Bibliomaniac is available for pre-order now at cosmicshambles.com/shop with exclusive art cards.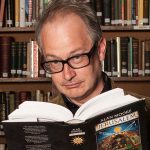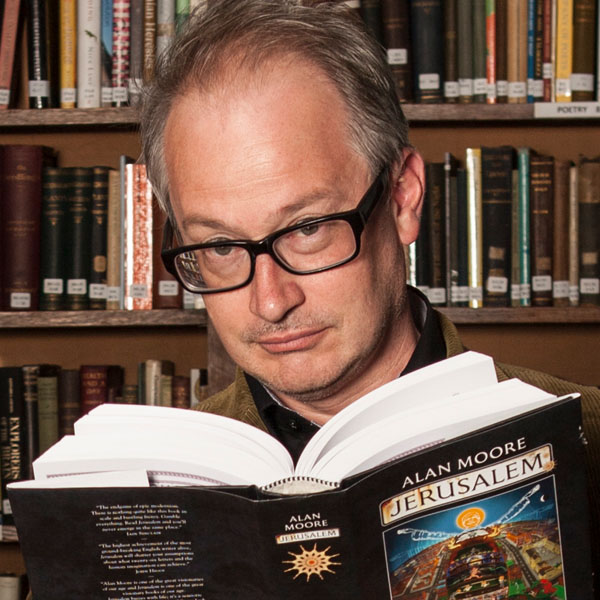 Robin Ince is a multi-award winning comedian, writer and broadcaster.  As well as spending decades as one the UK's most respected stand-ups, Robin is perhaps best known for co-hosting The Infinite Monkey Cage radio show with Brian Cox.  For his work on projects like Cosmic Shambles he was made an Honorary Doctor of Science by Royal Holloway, University of London. His latest book, The Importance of Being Interested is out now.
If you would like to reuse this content please contact us for details
Subscribe to The Cosmic Shambles Network Mailing list here.