Hello Wembley!
Robin Ince's Horizons Tour Diary
Before the Wembley gig, I talk to a young lad that I know.
He is 12 and I ask how school is. With little emotion and only slight resignation, he tells me that he is still being bullied. 
A hairline crack runs across my heart. 
I ask him how he reacts and he tells me he just ignores them. 
I tell him it is a good tactic.
We all know the victory of the bully is to see you reduced, perturbed or angry.
When Ricky Gervais would bully me on tour, I could see his glee when he could see me crack.
That was the game.
I told the young lad that I didn't enjoy school much either. I hoped that when he saw me up on that stage later, he might think, "he didn't have much of a time at school either and now people are laughing with him not at him" (hopefully). 
When I was at school, I was one of those that was bullied because I could I could "take it".
Some of the kids were so outside their comfort zones that they might just become freaks to be left alone. I appeared to have resilience. Some bullies once defenced me from other bullies because I was their victim and no one else's. When we are young, sport is so important. If you cannot throw a ball or kick it, you move into the margins, though from what I can see, this situation is, at least in some schools, not what it was. 
The young lad has fun at the show. He's never seen anything like it. 
Hopefully, he knows that he does not need to remain silent , to keep calm and carry on and bottle it up. 
Wembley is being filmed, so we have some run throughs for cameras and I have my head sprayed. I know I am truly bald now as the make up starts underneath my chin and then keeps advancing to the back of my head.
We also have a surprise guest. Eric Idle, dapper in pink tails, will interrupt Brian and sing The Galaxy Song.
Throughout this arena tour, I have been unhindered by stage anxiety and even though this may be for TV or similar, I feel the same tonight. I am relaxed until the spotlight and then release all the energy I can muster. I may be calm, but I am quite aware that there are 1000s of people who have paid good money for the show, so my performance in front of them will never be blasé. 
The audience in the arena have a great energy, and there is whopping and whistling when Brian reaches the stage, his hair trimmed and parted for extra boyishness. 
During my second appearance, there are a few distractions and my usual performance brain is desperate to play with them and see what happens, but my organisational brain reminds me that time is very limited and I must get on with it. This is why I loved the Leeds show so much, a power cut allowed me to see what I could do unamplified and at a loose end in front of 8000 people, waiting for the fuse to be changed.
Eric's appearance is a delightful shock for many with audience reactions varying from "oh my god, it is Eric Bloody Idle the comedy legend" to "Dad, it's the guy from Caspar".
The night feels like one of the most celebratory of the tour. After the show, I pop into the auditorium to check my guests have gone in the right direction for an after show drink. Two couples ask for selfies and I have a brief chat with them, but others are shooed away as the security are keen to empty the hall (sorry).
Up at the bar are some very old pals, including Heather, who introduced me to lots of wonderful books and ideas when I was a late teen, the Cosmic Shambles gang, and Charlie and Jakko from my hometown. Jakko has played to 120,000 at Rock in Rio and we talk about the strange difference between intimate gigs and the enormous (though my enormous is only 11% of his enormous). I am pleased when he tells me that I managed to fill the stage with my short set as, until now, he has only seen my more conversional gigs. I drink slowly and carefully, as their are still many of gigs to come and we leave for Australia in a week.
I am never very good at after show drinks. Every conversation is a half conversation, so you feel as if you are being rude to everyone.
I try not to stay too far from my corner.
I don't like it when people suddenly walk into the middle of the group you are talking to, back to your "unimportant" friends and make their compliment worthless by their rudeness.
I was once approached by a famous theatre director. It was flattering that he enjoyed what I had done that night, but when I said that I should go and see my wife and son, he said, "No. no, this is work". But it wasn't work. I would never be his Macbeth, and they would always be my family.
As this is a brief trip home, I empty the tour van of all the books I have picked up on the way, bringing on a return of my occipital neuralgia – there can be no learning without pain.
​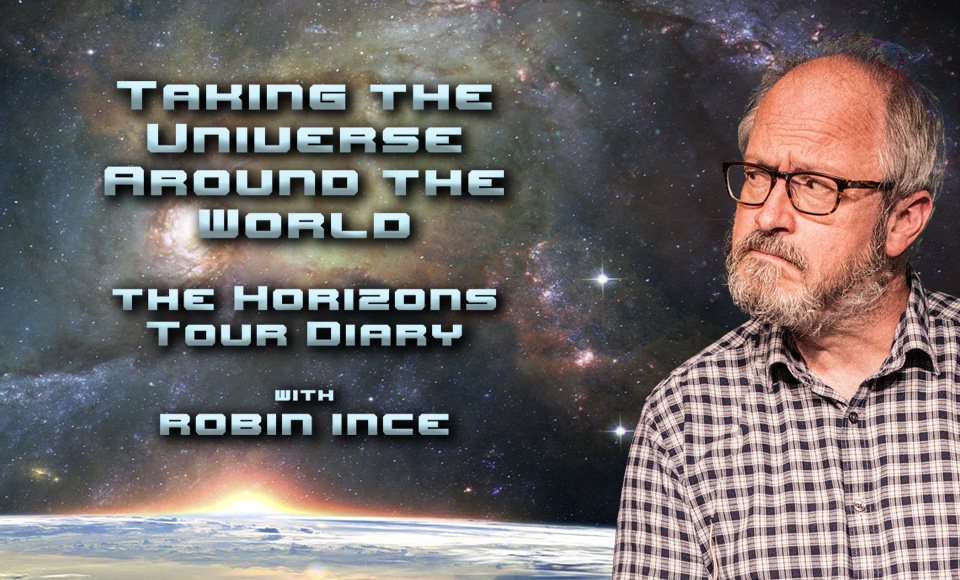 Listen to the Horizons tour podcast, Taking the Universe Around the World HERE.
Bibliomaniac is available for pre-order now at cosmicshambles.com/shop with exclusive art cards.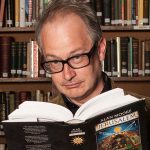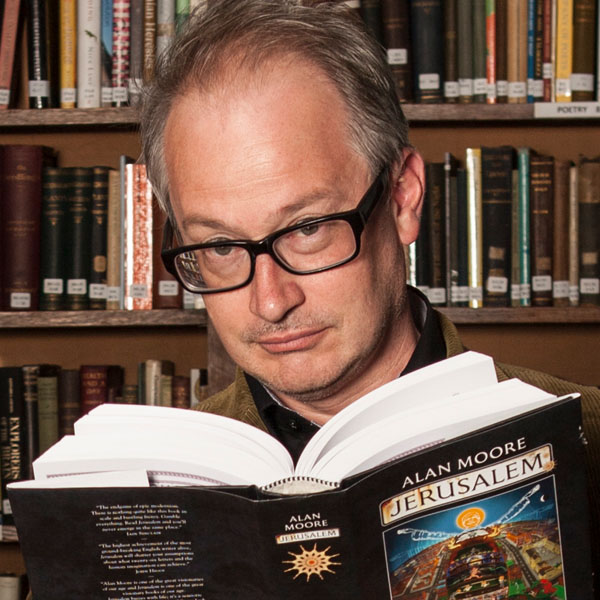 Robin Ince is a multi-award winning comedian, writer and broadcaster.  As well as spending decades as one the UK's most respected stand-ups, Robin is perhaps best known for co-hosting The Infinite Monkey Cage radio show with Brian Cox.  For his work on projects like Cosmic Shambles he was made an Honorary Doctor of Science by Royal Holloway, University of London. His latest book, The Importance of Being Interested is out now.
If you would like to reuse this content please contact us for details
Subscribe to The Cosmic Shambles Network Mailing list here.