Day Two of 100 Bookshops
Robin Ince's Blog
Luis Bunuel wrote that solitude is perfect just as long as you have someone to talk to about it afterwards (or near enough) and that is how it felt as I walked around the countryside of Wigtown.
The more I look at the sky, the bigger it gets.
24 hours before, I had felt anxious in a hectic Euston, so the quality of silence as I looked across Wigtown harbour was even more transcendent.  The mixture of the wide sky, the rural silence, a silence devoid of technology but peppered with mooing, and the potential of browsing, came together to create an intense sense of well-being. The standing journey from London to Carlisle had an immense reward. I started the day at The Bookshop, made notorious by The Diary of a Bookseller, and marked a few shelves for further examination. It would be rash to start purchasing now when there was still a full day of browsing ahead. With post it notes in my head to mull over my need for a book on the humour of Kierkegaard and a dictionary of rational thought, I walked to the church where the cemetery is as perfectly dishevelled as a cemetery can be. The gravestones and tombs sink and lean ready for a manifestation of spooks and ghouls.
It is also the location of the Martyrs' graves.
This morning's clouds were enigmatic, they ruled the sky, but coquettishly only flirted with the notion of rain, then suddenly stamped their feet and it poured.
I retreated to steam in another bookshop, the one that I had bought Oliver Reed's Reed All About Me on my last visit. I was tempted by a signed first edition of William Blake and the Modern World by Denis Saurat, but though my cardigan was wet, I kept my powder dry…for now.
I was going to see Kathryn Harkup talking about death and Shakespeare with Lee Randall, but sadly it was sold out, but all reports were that it was wonderfully macabre (though no mention of Meredith Meridew in Theatre of Blood).
The first purchases were at The Book Corner, It began with Joan Gomez's A Dictionary of Symptoms, a book only one year younger than me and wearing about as well. From Abnormal stools via nettlerash and snuffles to Discharge and Deformity, there is a symptom to suit all your needs. To accompany it, I purchased A Skeptic's Handbook of Parapsychology, 700 pages of essays from modern occultism to the confessions of a telepath.
Well-Read Books of Wigtown was my downfall. A beautifully curated shop, mixing new and secondhand, I saw a pretty Thames and Hudson book by Stanislav Grof, Books of the Dead – Manuals for Living and Dying and next to it, a book from another in the Arts and Imagination series on The Tree of Life. Like the wonderful series of magazines, Man, Myth and Magic, these are the sort of well-illustrated books on mystical beliefs that I am drawn to because "if there is just one idea in there that strikes me and leads to a stand up routine  or a few paragraphs, then I am a winner". It is how I con myself into buying too many books, each purchase is disguised as a pragmatic act, a necessity for my creativity. Unfortunately, when I got to the counter, I said, "I don't suppose you have any more in this series?" And a vast pile thudded onto the counter.
Now I won eight in the series, including one on Robert Fludd and one on Earth Magic by John Michell (author of A View from Atlantis).
Time to crow over my plunder with a cup of tea and a golden crumble biscuits. The crows outside my window aided the crowing with caws.
Another walk, shoes muddied by puddles and then perfectly cleaned by long sodden grass.
Lunch with Lee Randall to talk about where we might go with our event that evening, but instead we talked of Clifton Webb (who you know best as Waldo Lydecker surely?).
The final browse was a return to The Bookshop. No Kierkegaard and I resisted buying a second copy of Harlan Ellison's Angry Candy just because it had a better cover than the copy I have at home. Instead, I bought a book of Parker Tyler's essays on film, the screenplay of I am Curious (Yellow) and, my greatest delight, a 1946 book of photographs of the great ballet dancer Robert Helpmann including one where he impersonates Margaret Rutherford (I hear your suffocating envy).
One more walk and then an energising ginger beer before I was led to my event. Lee kept me in check and insured that we were finished on time. I was tangential and gesticulated wildly and fortunately sold a few books too.
Some wine, a cup of tea, and then back to my B&B where I dreamt a Manic Street Preachers' song called We're Not Racists, but We are Cowards. I blame the effect of two Quorn cocktail sausages just before bed.
————————————————————-
Next live book gig – The Laugharne Weekend 1st – 3rd October
Next online book gig – In Conversation with Tim Minchin 4th October 7.30pm BST. Watch for free here.
Pre-Order signed and dedicated copies of The Importance of being Interested here. Discounts for Patreons.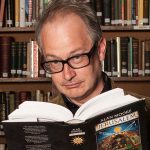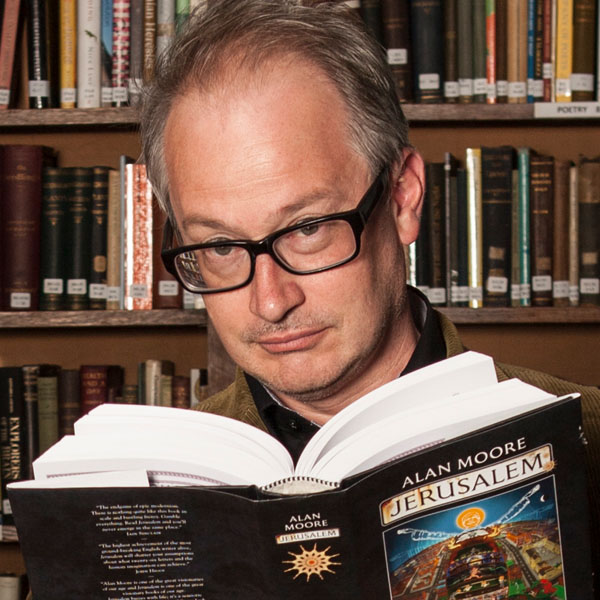 Robin Ince is a multi-award winning comedian, writer and broadcaster.  As well as spending decades as one the UK's most respected stand-ups, Robin is perhaps best known for co-hosting The Infinite Monkey Cage radio show with Brian Cox.  For his work on projects like Cosmic Shambles he was made an Honorary Doctor of Science by Royal Holloway, University of London. His latest book, The Importance of Being Interested is out in October 2021.
If you would like to reuse this content please contact us for details
Subscribe to The Cosmic Shambles Network Mailing list here.