Heavy Book Bags and Hippopotamus Dreams
Robin Ince's Horizons Tour Diary
I dreamt of two hippopotamuses last night. I debated the danger of them.
Perhaps this was brought on by last week's news that Nicky Noo Noo, one of London Zoo's pygmy Hippos had died. I once met Nicky Noo Noo and I think we got on well.
Tuesday will be a dangerous day.
I will be book shopping with my pal Johnny.
He now focuses on CDs more than books, obsessively seeking soundtracks.
Today, he is victorious, picking up CDs of the soundtracks for Gas-s-s-s (subtilted It Became Necessary to Destroy the World in Order to Save It), Jim Jarmusch's Broken Flowers and a Channel 4 series I have no memory of, The Trip, in which scenes of space exploration were soundtracked by ambient drum 'n' bass and techno. He also buys me the soundtrack to the original Italian Job.
My browsing begins in Oxfam Exeter, where I game a track back in October 2021 and bought an expensive and entirely unnecessary book about UFOs and high weirdness.
Before I even see my first must purchase, Johnny thrusts a book he believes I must purchase in my hand – Agent of Entropy by Martin Siegel.
"GAG
(Gestalt and Grok0)
The computer spread over Earth's largest city and ran the Universe.
GAG selected Tweedledee politicos for tweedledum planets…."
And we are off.
The Entropy Effect has put me in the science fiction section where I see a large format version of JG Ballard's  The Atrocity Exhibition. I have the usual size paperback edition and the RE: search illustrated edition, but not this one …until now.
In the art section I see a pile of Modern Painters magazines and decide that I need the ones with an interview with Gilbert and George , Tom Lubbock on Magritte and John Tavener on Cecil Collins. I am haphazard among the shelves today.
The Boy Who Was Raised as a Dog is a series of essays from a child psychiatry, an area that greatly interests me, and as I am on child psychiatry, I find myself approaching a book on horror movies with an essay on The Babadook. I have not seen Mat Glasby's The Book of Horror before , but I like his choices and the illustrations. Johnny and I talk of The Babadook, a film which I thought was brilliant, but which was not to everyone's taste. I know some people who loathed the child in it, but I thought any brattishness was so clearly caused by terrible loss that I empathised more than I retreated. I felt similarly about AnnaLynne McCord in Excision, in which she plays the daughter with aspirations to be a surgeon , brought up in a dysfunctional family. Some spectators found her monstrous and loathsome, but I rather liked her. The film also has John Waters as a catholic priest and Traci Lords as the evangelical born again Christian mom.
Johnny was chomping at the bit for the next shop, so we walked the short distance to the Hospice bookshop. Johnny is also seeking Uranium glass, but they have none today. I make one slight purchase, a series of essays entitled Mediocrity and Delusion. Maybe I will call me autobiography Delusions of Mediocrity, but I fear that should any of the current government suddenly have the epiphany of realising there shortcomings, they'll get to that title first.
On the way back up the hill, I decide I must return to the Oxfam to buy a large, boxed , Spanish book El Libro De La Vida Sexual – it appears to be from the late 60s and has some very idiosyncratic Freudian photographs. This causes to me to look at a shelf that has a book about Nancy Sinatra's inability to sue the company who made an advert where a singer copied her voice  and also a series of essays with the inviting title, The Emancipated Spectator.
Then, it was fries and a milkshake, followed by a train to the delightful station in Okehampton which is ready for the BBC Sunday night period detective drama.
I soundcheck in the church hall. I am told it all sounds great and when the local technician leaves, I notice that the microphone was not switched on. As I thought, I need no artificial amplification when behind a lectern.
I went for a quick wander and bumped into one of the audience in the arcade.
"Not running away?"
"Just strolling".
Unfortunately, he then pointed me to the local Oxfam.
I needed a copy of Garden Foes once given as an appreciation from the Leamington chamber of trade in 1939, and later given to Alice by Patt in 1984. It warns you of all the weevils and slugs that will reek havoc on your marrows and marigolds and includes a lovely colour plate of a strawberry snail. I also need Celia Green's book on Lucid Dreaming and as hardback of Julian Barnes's The History of the World in 10 1/2 Chapters. The woman at the counter tells me the lucid dreams books was once hers. I ask her if she ever managed to take control of her dreams, but she said that she never got beyond night terrors.
The pews are busy when I get back to the church hall and I have the joy of making up a talk on the spot, this is where an ADHD mind of rapid connections comes in very handy. It revitalises me to be in this situation after a month of arena shows.
After the talk, I agree to visit the Tavistock Oxfam and hope the independent bookshop three doors down from it fancies a talk too. I have plans to do occasional book crawls with Bibliomaniac where people join me on a trawl through shelves.
My bags are heavy now and I am fortunately given a lift from Totnes station by Clair from East Gate books.
I ramble on again and I am pleased when an elderly lady tells me that she found the talk a shaft of light in these dark days. She went to the same school as Bill Oddie and remembers his performance as Puck and the revue he wrote a year later. Some of the audience were also at the Horizons show in Plymouth and comment that they saw my Brian Cox interventions as Puckish, which also makes me happy.
I am kindly offered a lift back to my Premier Inn in Exeter and on the journey I promise to come and talk at the library in Exeter St Thomas.
I was given a box of chocolates by Kate at Dogberry and Finch and lounge on the bed with soft centres and Dog Soldiers in the background.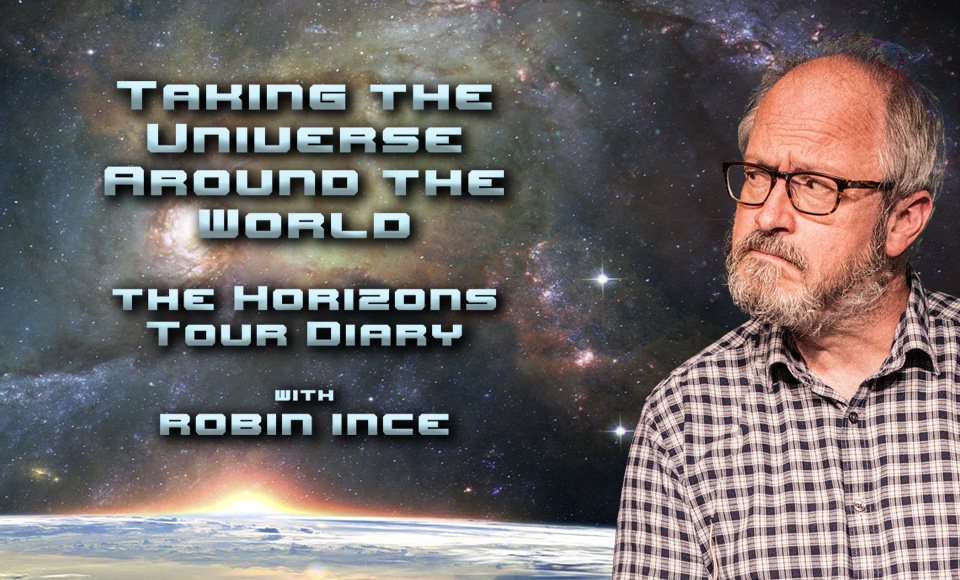 Listen to the Horizons tour podcast, Taking the Universe Around the World HERE.
Bibliomaniac is available for pre-order now at cosmicshambles.com/shop with exclusive art cards.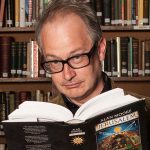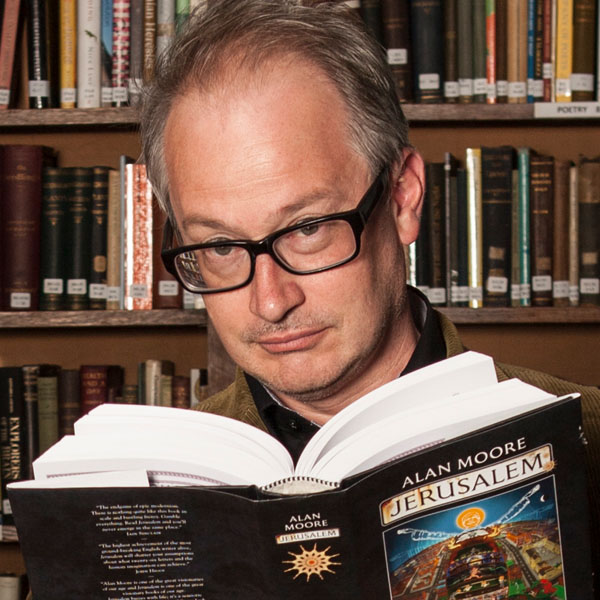 Robin Ince is a multi-award winning comedian, writer and broadcaster.  As well as spending decades as one the UK's most respected stand-ups, Robin is perhaps best known for co-hosting The Infinite Monkey Cage radio show with Brian Cox.  For his work on projects like Cosmic Shambles he was made an Honorary Doctor of Science by Royal Holloway, University of London. His latest book, The Importance of Being Interested is out now.
If you would like to reuse this content please contact us for details
Subscribe to The Cosmic Shambles Network Mailing list here.