The Martin & Lewis of Black Holes
Robin Ince's Horizons Tour Diary
We are the sunshine boys now.
Brian and I have been performing our double act for so long in Horizons now that I am Jerry Lewis to his Dean Martin. Of course, I would rather be Dean, but that is not the way the cookie has crumbled, genetically or professionally. I think as the weeks have gone by I have become more of a powder keg for our first interaction while Brian has mastered his bemusement. 
We drove across Dartmoor after the show, being careful not to damage the variety of farms animals that sleep on the road after dusk, supping up the warmth of the sunshine stored in the tarmac. 
We drink glasses of wine in a panelled room, already for our close ups as Sir Henry Baskerville and Jack Stapleton.
I wish I could go straight to sleep, but I always have to fiddle fiddle for an hour, sometimes watching short documentaries about the tragic star of Mind Your Language, Barry Evans, and at others watching amateur keyboardists playing the theme to The Long Good Friday.
Just before lights out, I start to worry about my new book. As usual, other people's success is my failure and strolling through recent tweets of friends who have got what they deserve, I see my own book lying unnoticed in a corner, hidden by those crowding around my adored pals and their words. Without any formal invitation, my skull has played host to a domineering puppet theatre of dismissive shadows. 
The fog that drifted in as I fell asleep has not cleared when I wake up.
It is a nonsense. Here I am in a fabulous hotel, making good money on a tour, and yet…
I am reminded of the time I stayed in the most exclusive hotel I have ever stayed in and experienced a terrible bout of insomnia in the softest cotton sheets which eventually soaked up my tears of fear and frustration.
Ridiculous.
We go off to exercise, but my body and mind want to surrender before the first jab and "1 -2".
I fight against my retreat and make it through the 70 minutes, feeling considerably better afterwards.
I reread the introduction to The Orton Diaries, about the tissue paper Orton out down his Y fronts to exaggerate his penis, of Kenneth Halliwell's growing doom and rejection, of the fame, rejection and cottaging. Orton's work and biography was a part of growing up in the 1980s.
The sheep are bold on the drive in. No longer waiting for darkness to occupy the moor road, they are lounging on tarmac by 5pm. We take a necessary detour through another winding road with antagonistic hawthorn bushes advancing on us and everyone feels a little car sick by the end of the journey.
The Pavilions feel intimate with Manchester Arena such a recent gig and Wembley imminent and that brings a slightly different rhythm to the show.
We speed out as everyone has an early start on Tuesday – Brian to prep for Wembley and me to visit Devon bookshops to talk about Bibliomaniac.
I do not hear the hound tonight.
​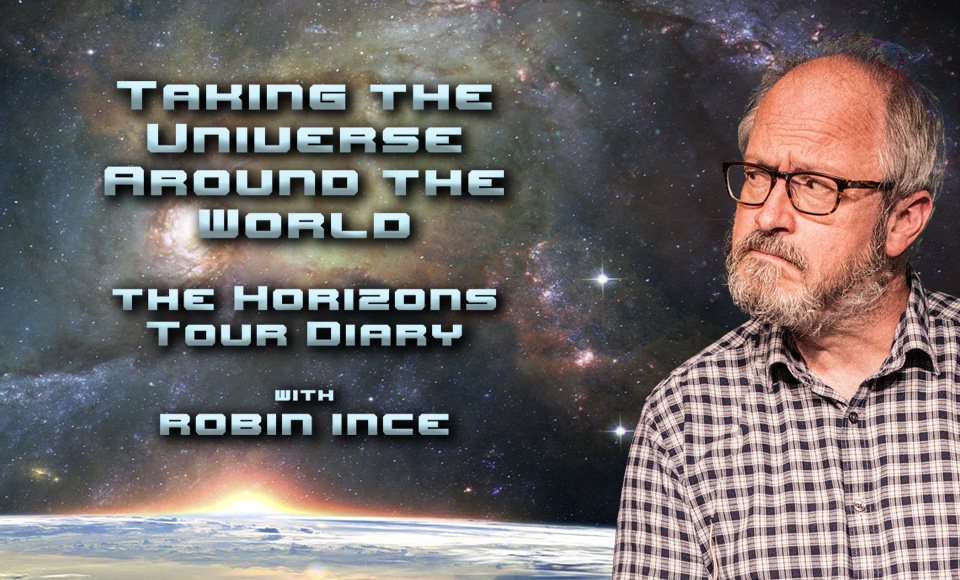 Listen to the Horizons tour podcast, Taking the Universe Around the World HERE.
Bibliomaniac is available for pre-order now at cosmicshambles.com/shop with exclusive art cards.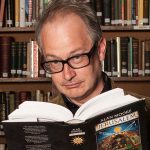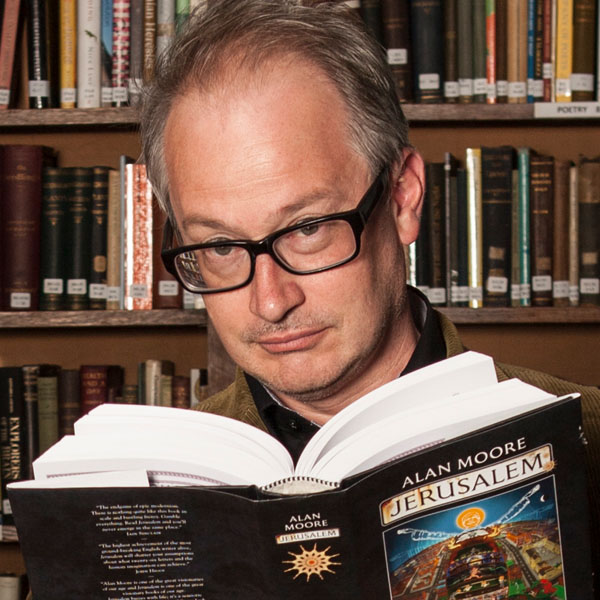 Robin Ince is a multi-award winning comedian, writer and broadcaster.  As well as spending decades as one the UK's most respected stand-ups, Robin is perhaps best known for co-hosting The Infinite Monkey Cage radio show with Brian Cox.  For his work on projects like Cosmic Shambles he was made an Honorary Doctor of Science by Royal Holloway, University of London. His latest book, The Importance of Being Interested is out now.
If you would like to reuse this content please contact us for details
Subscribe to The Cosmic Shambles Network Mailing list here.