Why You Should Always Punch a Galia Melon and Not a Watermelon
Robin Ince's Blog
Tonight, I certainly found out why I always used to punch a galia melon and not a watermelon.
Earlier in the afternoon, before the fruit detonation, I was mistaken for a bookseller. As I perused the second-hand book stall in Kent University campus, a young man asked me about the book pricing. I acknowledged that if anyone looked like they placed the pencil prices in the corner it was me, even more so since the beard, but that I was not the man he needed to speak to. He agreed that I looked more like the bookseller than the bookseller.
I have avoided hotels as much as possible in the tour, but this one in Canterbury included an image of Margaret Rutherford as Mistress Quickly on a landing wall, so it was safe place.
I sat alone at breakfast, imagining I was in a Terence Rattigan play as usual. I listen to some couples order far too much breakfast because it is all included, the blueberry muffins will topple their bacon stack. The middle aged men have a jokiness with the waitress and that sort of bluff laughter that makes me uneasy. I scribble notes for my Linda Smith lecture and I am briefly mistaken for an academic (until I open my mouth generally).
I walk the Canterbury streets in search of a crooked house that I know sells books. I like its door, it is only when when you are halfway through the shopdoor that you notice its Dr Seuss like skewiffery and then wonder if you are stepping into a dimension discreetly hidden when on the street outside. I buy some Doris Lessing, Liv Ullman's autobiography and a book on the films of Danny Dyer. I thought the balance of the universe would be maintained if I read a few pages of Liv Ullman and then dip into thoughts on The Football Factory and Pimp.
I potter towards my first talking destination – The University Bookshop at Canterbury Christchurch University. I skip a second-hand bookshop called The Plantagent King which specialises in 1st editions, it looks too delicious. Instead, I pop into a hospice trust shop and buy another Doris Lessing, Nigel Kneale's TV script for Quatermass and the Pit and a 'non-fiction" book with a UFO hovering over Stonehenge. I sit and drink coffee on a bench and listen to students planning a play of despair and ingenuity.
I enjoy giving my talk and the lovely people of University Bookshop give me some beautifully wrapped book presents (I open them a day later and I am delighted). I have met them before at the Canterbury Festival and Folkestone Book Festival. The vent diagram of our cultural tastes has a broad shaded area and we talk of the David Bowie musical Lazarus.
Early on Kent University Campus, Trent and I talk of the need for melons with tonight's one off show. I wander around the campus and see the young browsing at modern texts and old philosophy at the book stall. There is nostalgia. I see in some of them that late teen fear and excitement of beginning to build who you are going to be now, that distance from home that can be a dizzying freedom in terms of where your sexuality, politics or tastes may go.
I am going to deliver the Linda Smith Lecture from behind a desk stacked with books and decorated with melons – two galia and two watermelons. Oliver Double brings in his wonderful collection of alternative comedy LPs. He is an inspirational figure and I can see how much he empowers his students and shows them many options to be creative.
I have 9000 words of notes, 29 postcards of notes and some extra stray thoughts just in case I don't have enough to fill the hour. At the end of the first hour I am 3 postcards and one page in.
I wanted the lecture to be ultimately about love and how comedy can be something that gives freedom and makes people feel less alone. I talk of how what you create is never (for me at least) what I thought my head might hold, of when being a fool on stage connects with people in the audience who realise that they are not the only one in the world with full thoughts, of the tedium of people who say "you cannot say anything nowadays" or who bang on about not understanding non-binary, of Rik Mayall and John Hegley and Joanna Neary and Josie Long and Barry Crimmins and many more besides. At two hours, I stopped, about 1/3 into my intentions.
I also talked a little of ADHD. I may have mentioned this before, but after a long conversation with Jamie and Lion (look them up, worth your time) there was a string suggestion that I had ADHD and it made such utter sense (especially in terms of the persistent, omnipresent critical voices and my inability to ever create the narrative arc in my stand up and the endless connections that are hurled at me when attempting a through line. This. Might explain why Brian Cox always makes light of my ridiculously long questions which are usually 4 questions one or the beginning of one question, the middle of another and the ending of something quite different. I will write more lengthily about this another day). The great thing that came from this conversion with Jamie and Lion was that for the first time I started to feel that I did not have to beat myself up every time I failed to make a cohesive whole and that I should run with all those frantic connections – my weakness may be my strength.
Sometimes, parents have come up to me and said that their child was reassured by watching a show because it was how their mind worked and they now saw an adult who had somehow got an audience and a career with such a disobedient head.
I had some lovely conversations with people afterwards on similar themes.
Oh, and the melon?
Bloody hell, that really did explode when I punched it. Maybe I'll tell you the rest of the story tomorrow.
————————————————————-
All Tour dates here  including a big London launch event on Nov 8th with special guests including Katie Mack, David McAlmont, Helen Czerski, Hugh Warwick and Helen Zaltzman.

Order signed and dedicated copies of The Importance of being Interested here.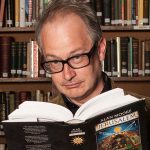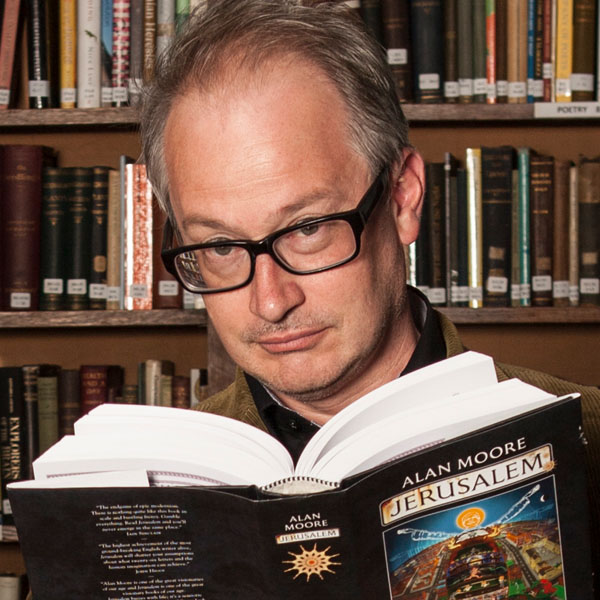 Robin Ince is a multi-award winning comedian, writer and broadcaster.  As well as spending decades as one the UK's most respected stand-ups, Robin is perhaps best known for co-hosting The Infinite Monkey Cage radio show with Brian Cox.  For his work on projects like Cosmic Shambles he was made an Honorary Doctor of Science by Royal Holloway, University of London. His latest book, The Importance of Being Interested has just been released.
If you would like to reuse this content please contact us for details
Subscribe to The Cosmic Shambles Network Mailing list here.