One Year's Worth of Art Centre Touring in a Night
Robin Ince's Horizons Tour Diary
On the way to Shoreham beach, a man in a mobility scooter takes a sharp and urgent turn onto the pedestrian crossing, nearly taking out two people.
His face fails to acknowledge the incident and he ploughs on to his Chelsea bun (he was careering to the street heaviest with baked goods).
My sleep was a little intermittent. I think I slept more than I imagined but, though I wasn't conscious of anxiety about playing the O2 today, there was a background hum in my belly.
On the last tour, I think we got to 11,000, tonight it is 13,000; one year's worth of art centre touring in a night. 
The pebbly beach is sandy near the tide today, the pebbles having been washed into a steep bank by water and the Moon strenuously working in tandem as they do.  I sit on the sand and eat a gingerbread man – legs, arms, head, smite button body, that's the order of consumption always. 
Looking at the wind farm, I am reminded of some nonsense on social media this morning from one of those people who has turned their dim-witted bigotry into minor celebrity. I think wind farms look beautiful. I think this sort of man is against them due to some ersatz macho posture. 
Drilling for gas is MANLY. Digging for coal is BUTCH. Capturing the wind is somehow effeminate, too damn close to nature and all that daisy plucking delicacy. Of course, these males who hanker for the masculinity of black lung would not be the ones drilling and digging. They are like those politicians who fetishise war and like dressing as soldiers for photo shoots, it all turns to cosplay when the physical reality appears. 
On the train into London, I read Billy Connolly's Windswept and Interesting. 
"Avoid people who say they know the answer .
Keep the company of people who are trying to understand the question"
The carriage gets busy at Gatwick Airport which puts me in a quandary 
I am sat in an aisle seat but the window seat is free. 
Now anyone who wants it could just ask, I have been careful to place my luggage on top of me so the seats freeness is apparent. But do some people view not just budging up as being an anti selfishness. Should I just stand up and get out to avoid this hoo-ha altogether? I don't like being hemmed in. I decide I must move in or I am part of a problem. Someone sits down  and my body shrinks. I am always very aware of other people's personal space and my limbs cramp in fear that I will infringe. Once she is sat next to me I am, of course, suspicious that I need to go to the loo. 
I stay hunched until my clumsy departure at East Croydon. 
I think I should feel overwhelmed as I watch people walking high up and across the venue in which we are performing tonight but I am not on edge. I could almost persuade myself that I'm calm. Brian and I are surprisingly calm in big spaces (perhaps because big spaces are very small on a cosmological scale). We jovially natter with Rusty and the rest of the crew, then the lights go down and the show begins. 
All went well, though Brian had to use a backing track for his first equation solo due to wifi issues. It is a privilege to get to perform a poem that I wrote on Wembley Central platform while waiting for the Bakerloo line to 13,400 people. This is the most nerve-wracking moment. With all the other bits of the show, I can dick about. With the poem, I must be exact. I pace around the buzzing machines backstage and recite the poem at increasing speed. 
The extra nerves tonight also come from my wife and son being in. It is one thing to screw up to thousands of strangers, but quite another to let down your family.
It was a good night. We hang around the long corridors drinking wine as if we were in the kitchen at a party. My publisher is in and I am delighted to find that out. The Importance of Being Interested (Paperback edition out today) is non-fiction book of the month at WH Smith shops at stations and airports (though if you can use your local independent bookshop, please do).
Had I screwed up, I would be inconsolable and brimful of self-loathing. I react to success with a shrug of "Well, you have only done what you were meant to do."
Just after midnight, we arrive at our fancy schmancy hotel and say goodnight at the lifts, returning to the foyer a few minutes later when both Brian and I discover our rooms have filthy sheets, empty bottles and used towels strewn about. When I approach my dishevelled bed, I fear that I will then see a man looking like a Turkish prison guard in Midnight Express entwined in the sheets, "ah good, they have sent you…now relax".
Fortunately, it is only the ghost of whoever the late checkout was.
We both end up with clean rooms.
I eat a complimentary shortbread and fall asleep in my crumbs.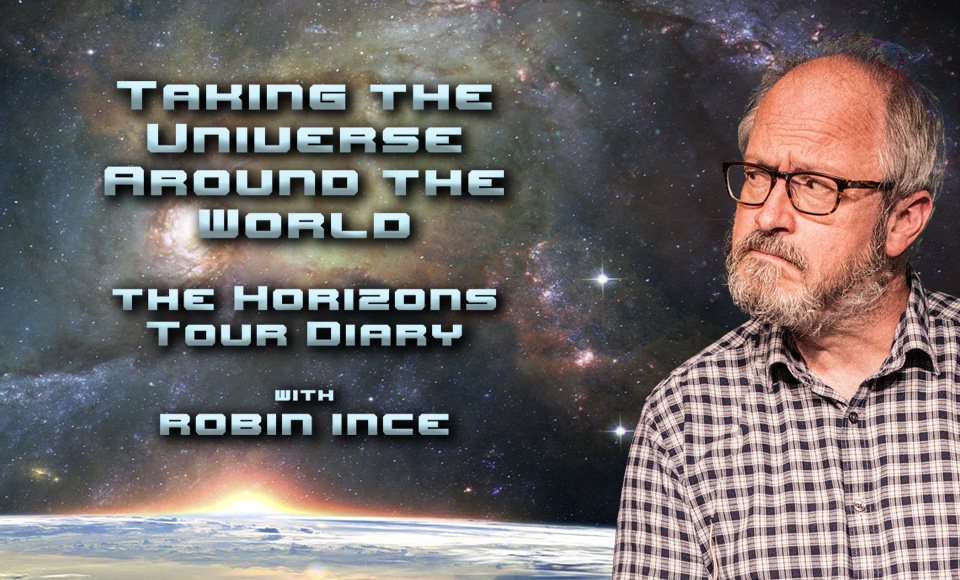 Listen to the Horizons tour podcast, Taking the Universe Around the World HERE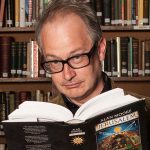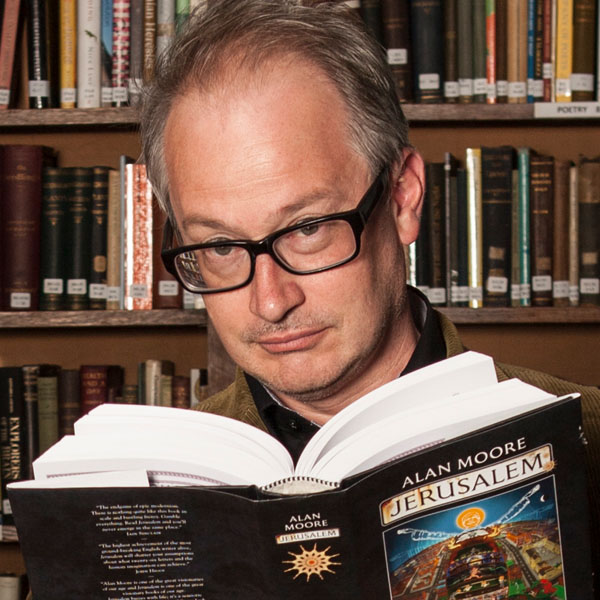 Robin Ince is a multi-award winning comedian, writer and broadcaster.  As well as spending decades as one the UK's most respected stand-ups, Robin is perhaps best known for co-hosting The Infinite Monkey Cage radio show with Brian Cox.  For his work on projects like Cosmic Shambles he was made an Honorary Doctor of Science by Royal Holloway, University of London. His latest book, The Importance of Being Interested is out now.
If you would like to reuse this content please contact us for details
Subscribe to The Cosmic Shambles Network Mailing list here.