Prevenge: Visceral Savagery and Dark Wit
Robin Ince's Blog
Alice Lowe has a way with visceral savagery and dark wit. She is part of an informal group of actors and writers who were first noticeable in live sketch comedy and are now creating low budget, independent films that are have more creativity than a thousand CGI minds on multimillion dollar budgets.
The key players in this independently minded swamp are Steve Oram, Tom Meeten, Gareth Tunley and Alice. Steve and Alice wrote and starred in Sightseers (directed by Ben Wheatley, who brutally killed Gareth Tunley in Kill List), Steve then made Aaaaaaaah!, co-starring Tom, a terrific film of a human suburbia with all the banality and repression, but without language beyond apish grunts,  and The Ghoul, directed by Gareth Tunley and co-produced by Tom Meeten, a horror that carries with it a very excited word of mouth before it summer release. While television is often a battle with too many demographic studies and executive panels who dilute visions through fear and guesswork, the ability to make professional films at lower budgets as technology becomes more easily accessible and affordable has allowed these creators to go to the big screen instead.
Alice's Prevenge is the latest film from this collective. Already a festival circuit hit, the film was shot in 11 days while she was heavily pregnant. Last night's London audience recoiled, gasped and occasionally crossed their leg. Lowe is an equal opportunities user of gore and peril, for the fellas there is a bloodied and blade detached testicle falling to the floor, for the women, there is a punch to a pregnant belly. For those with excess empathy, you can gasp wide-eyed at both.
After starring in Black Mountain Poets, Alice was asked by Western Edge Pictures if she would like to make another film. As she explained in last night's Q&A, she told them she may be a little busy being pregnant for a while, and then the idea came to her of a black comedy involving a vengeful pregnant woman, a vigilante figure beyond the capabilities of Charles Bronson.
The cast of victims, some seedy, some pathetic, some not even getting the chance to speak before violent death, are all brilliantly portrayed by a cast with reputations for making an impact how brief their roles. You can smell the scene where Tom Davis vomits into his afro wig before explaining how horny being sick in a wig has made him.
Alice Lowe is sad, terrifying, barbed and funny as Ruth. Amongst the savagery, there are some beautiful scenes of subtle sadness, and Ruth's emotional confusion brought on by pregnancy and loss means the audience have rarely empathised so much with such a bloody slaughterer.
In the Q&A afterwards, the subject of who was a deserving victim was hotly debated.
Secreted in the film, there may also be a warning against outward bound pursuits and overly jovial activity addicts.
Beware, as you stand near pregnant women, you may well start believing you can hear the thoughts of their womb.
We talked to Alice, and her hidden co-star, now out in the world and crawling around our studio (as well as starting to eat my James Baldwin book) on Book Shambles. Alice talks of being too weird.
"Being a woman is one weird, and then…"
Prevenge is in cinemas in the UK from Feb 10th.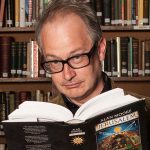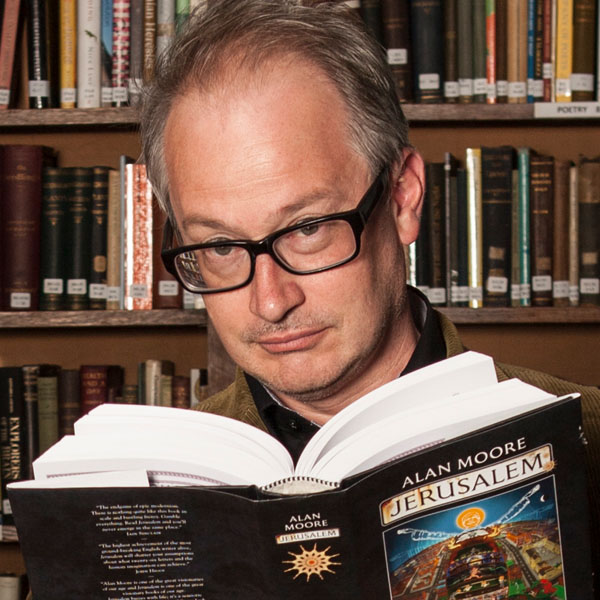 Robin Ince is a multi-award winning comedian, writer and broadcaster.  As well as spending decades as one the UK's most respected stand-ups, Robin is perhaps best known for co-hosting The Infinite Monkey Cage radio show with Brian Cox.  For his work on projects like Cosmic Shambles he was made an Honorary Doctor of Science by Royal Holloway, University of London.