Sorting the Post Apocalyptic Library
Robin Ince's Blog
This morning, I yawn like a Python. At times like these I wish I was a badger, secure in the knowledge of my bone hinged jaw, I am not sure I can trust my sinew to keep my head together.
My skull cinema plays the moment that Jeff Goldblum's Brundlefly loses his jaw in The Fly, some time after he has already lost his fingernails and his penis. I toy with being vertical and then realise that I must attempt it as I have to record a Book Shambles in eight minutes.
Your Friend Forever (unbound) was one of my favourite novels of last year. It is very funny and, at times, rather sad. I get frustrated when I see just how many copies of ghost written books or celebrity fluff fly out of the shops. I would love people to know what was really out there, the better possibilities of reading (in my opinion), but celebrity sells. I would imagine Stephen Fry's book of pictures of his ties, with accompanying anecdotes, was rewarded with an advance that would cover a good few years of Faber and Faber poetry commissions. Zena Barrie, author of Your Friend Forever, was my first Edinburgh fringe producer. Her book is the story of Maud, a very funny teenager who is very much Zena. When she went on a writing course she rediscovered the funny and mischievous voice that had got lost under the pressures of life and responsibility. It is a hopeful book and deserves an audience. It eats with those "teenage dreams, so hard to beat" and then the middle age afterwards. Some lose those dreams forever, but I don't think either Zena or Maud have.
Then, I talk to Louis Barfe, biographer of Les Dawson, Ken Dodd and now Morecambe and Wise. I know it will be a tough conversation because the moment we touch on Bernie Clifton we will want to spend the hour talking about his pranks. In fact, the moment we touch on any name from variety or comedy, we will want to talk about them for an hour. I sometimes steer it perilously close to actually talking about his latest book.
I am hopeful that I am getting close to being able to read again. Juggling so many gigs and rushing on and off so many trains means that the voices in my head are too busy butting in for me to be able to read a novel. Now I am passed event 70, I think I am close to be able to read again. I wonder what my bath time book will be, perhaps Borges to WG Sebald?
Unfortunately, the decision is made for me when I look through the post, the new Viz has arrived. If it is good enough for David Bowie then it is good enough for me. This reminds me to remind you of two other novels that deserved far more fanfare, Barney Farmer, who is one half of the creative team behind some of the most despairing Viz strips including The Drunken Bakers and Whoops Aisle Apocalyspe, has written two novels for Wrecking Ball Press, Drunk Baker and Coketown. Perhaps because of the Viz connection these have not been given the attention they deserve. I promise you, they are stunning pieces of work, dark and fascinating, illuminating unheard voices (this really isn't a joke, I believe if the fancy schmancy critics read them without prejudice, they would be blown away AND Alan Moore agrees with me too).
Having an afternoon off, I have to try and sort the chaos I leave behind when I rush into the house for a change of books and socks before cantering off again. I decide it is time to reopen the Blooming Buzzing Bookshop. I will sell more of my popular mystery book parcels. I must get rid of more books to prevent the house looking like a post apocalyptic library. I daydream getting rid of all but 500 of my books and imagine the bestselling memoir that comes from it. Hahahahahahahahahahahahahahahahahahaha, yeah, like that's going to happen.
————————————————————-
This weekend is London Weekend Bookshop Tour – next week, the last crazy journey begins – Malvern, Ledbury, Hay, Sedbergh, Newcastle (and 3 othe Forum bookshops), Malton, Edinburgh, Edinburgh, Lintlithgow, Hexham, Barnard Castle, Saltburn, Stockton, Newcastle, Halifax, Hull, Hull….  All Tour dates here.

Order signed and dedicated copies of The Importance of being Interested here.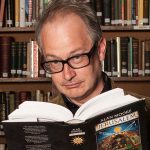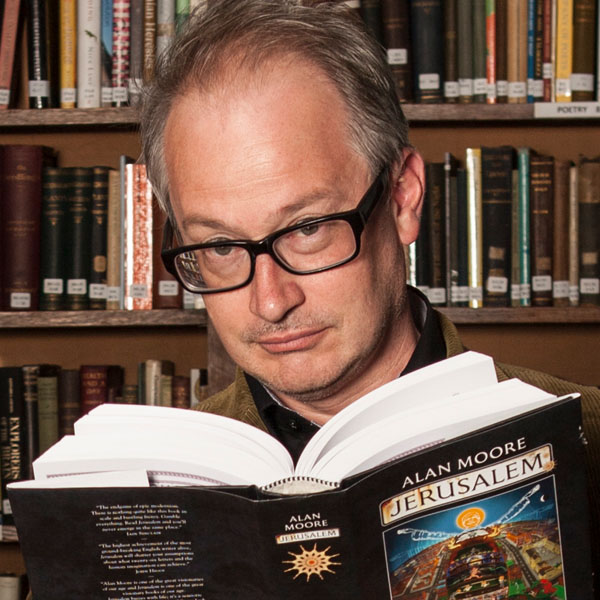 Robin Ince is a multi-award winning comedian, writer and broadcaster.  As well as spending decades as one the UK's most respected stand-ups, Robin is perhaps best known for co-hosting The Infinite Monkey Cage radio show with Brian Cox.  For his work on projects like Cosmic Shambles he was made an Honorary Doctor of Science by Royal Holloway, University of London. His latest book, The Importance of Being Interested has just been released.
If you would like to reuse this content please contact us for details
Subscribe to The Cosmic Shambles Network Mailing list here.