The Last Breakfast Alone
Robin Ince's Horizons Tour Diary
The prize for best performance of the tour so far goes to the waitress how seemed genuinely interested in the man explaining to her how the expense account system has changed in his company. 
I don't need to be talked to by people who have to wait tables. In North America, it takes really shit service for me to tip under 20%. I do not tip more for the brief illusion that anyone has an interest in my life in between mouthfuls of risotto. Anyway, everyone I have met in Edmonton has been delightful, though I apologise for startling the young cleaner twice with 24 hours. The first time I popped in to pick up a book as she was refilling the coffee tray, a proper jump scare, the kind of thing William Castle was aiming for in his exploitation thriller The Tingler. 
This morning, I just presumed that I had left my door open and walked in as she was tucking in a sheet. I am one jump away from a reputation. 
I am one of those people who doesn't like to leave their hotel room messy. It seems rude. 
Last night, I popped down to the gym. Even though Steph is not here yet, I do not want to have returned to total pale flabbiness in the interim. Unfortunately, another man was there and he gave me that look of, "All this used to be mine". He was distinctly unfriendly so I found a discreet corner and wobbled under weights for a short time, leaving him to pace about like a mangy lion with squeaky sneaker paws.
I woke up at midnight, 2am, 4am and eventually 730am. I was a tenacious sleeper, just when the sandman thought he could leave me, I would turn up again. 
Strange dreams, perhaps because I annoyed that sandman so much. 
I was overworked and in a Shakespeare play I hadn't agreed to and no one would show me the text and I lost my shoes and I missed my train and my laptop lead dropped into a drain flooded with oozing, festering food.  I kept trying to explain I didn't have time for all this, then someone tried to pull out my tooth. Busy busy busy. 
At breakfast, I reread Brigid Brophy's introduction to By Grand Central Station I Sat Down and Wept. I like to try and learn something before the day's digestion begins. I realised that I still don't really know what bathos means and wouldn't dare use it in a sentence, which means I could never work for the London Review of Books. It appears it is an anticlimax caused by a sudden change in mood. Keep an eye out for me crowbarring it into future blog posts.
Brophy writes that Smart shows that you can be "a middle class housewife and Isolde at the same time". She hears the novel as both a rhapsody and a lament. Writing about the metamorphic indetermination of the sexes in both Smart and Jean Genet. It reminded me that I had still not read two pieces sent to me by a biologist after last week's fracas over my post about the danger of dehumanising people with stand up, on that occasion, particularly about trans people (I really wasn't expecting it to become quite as maniacal as it did, but it seems questioning dehumanising can make you into a twitter monster).
She sent me to the work of Dr Anne Fausto-Sterling among others. 
"There is a continuity between masculinity and femininity. In 1993 I published an article titled The Five Sexes that unleashed a firestorm of debate about sex and gender, with a particular focus on the intersex experience. I asserted that "the two-sex system embedded in our society is not adequate to encompass the full spectrum of human sexuality." I had intended to be provocative, but nevertheless was surprised by the magnitude of the controversy unleashed."
Today is the last breakfast alone for this month. To avoid as much jet lag as possible, I arrived in Edmonton a couple of days early (Brian is only over the border in the US, so will not need as long to adapt). Brian is not good at solitary, whereas I am quite content to eat alone, watch movies alone, sit alone in a bandstand while people pass by and say, "who's that weirdo sat alone in a bandstand". We are used to each others' company enough that, even when it is three of us, we can sit comfortably in silence or Brian can explain why there is matter in the Universe. 
My fridge is making a weird noise so I decide to use the television to hush it. The Price is Right is a bit ecstatic and I find myself watching a ceremony about the first nation compensation deal. Marc Miller, Minster of Crown Indigenous Relations, initially speaks in Siksisa Blackfoot. He is humble and calmly passionate and I think of John Redwood's dismal mouth as he attempted to join in the Welsh national anthem while Secretary of State for Wales. It is comforting to see that sometimes politics and dignity can still occur in public. Ouray Criowfoot, Chief of the Siksika nation then speaks, seemingly without notes, about the societal racism that led to the idea of "killing the Indian in the child". He speaks hopefully and also that reconciliation is not the needed word, reconciliation can completely heal what has come before – "it is not about reconciliation, it is about moving forwards". 
Sadly, Kyle Rittenhouse is trending in social media. It seems the Depp/Heard trial has given him vim and vigour and, as someone who killed two people and got away with it and then made money off the back of those deaths with a new media profile, he feels he has been defamed. This sums up the populist right – you can kill two people and still think that your the real victim. 
I decide it will be best to go and look at some orchids rather than roll around in this festering swill, so I go to The Muttart Conservatory.
Walking across the bridge, the footpath is under the main body of it and the cement above is decorated with images of the wild and the colourful and a heart that appears to also be strawberry (dead or alive?)
I enjoy a biome and having made a documentary about Silent Running not so long ago, I feel Bruce Dern guiding me. I see a particularly exuberant  tree that reminds me of a gorgon's head (though I have been educated by Natalie Haynes's Pandora's Jar to know that Medusa's history is not as I saw it in Clash of the Titans). Looking at the Jojoba, I can only hear Billy Connolly luxuriating in the word during his shampoo routine on his masterpiece album Wreck on Tour. I see a plant called String Theory next to Heavenly Bamboo and wish Brian was here to see it. It is Blue Star Amonsia and it is good to see at least something tangible and provable in the world of strong theory.
In the Tropical House there is a memory bench for someone who lived to be 102 years old and one for someone who didn't make it to 5 months old.
I walk along the river and decide I will attempt Brian's rejuvenating trick of an afternoon nap, but my head keeps talking, so I give up and got to buy some emergency Cheetos just in case I get hungry in the future. I decide that I should perhaps drop in at The Wee Book Inn, I have been debating buying the film-tie in copy of Logan's Run, a snip at $5. Its photographs include such scenes as "widespread panic erupts as the life clock explodes" and "the hallucinogenic vapour of the love shop where sensual delight know no bounds" (Jenny Agutter and Michael York holding hands). I don't need another copy of William Burroughs' The Soft Machine, but this is Grove Press's first paperback edition and includes an advert that asks me if I have what it takes to join the undeground. I need to be adult, literate, and adventurous. I leave Nova Express and the Wild Boys in the carousel, but they may be gone tomorrow. I enjoy the extra story in The Soft Machine which is the ink stamp of the Pride Centre of Edmonton. It still exists 50 years on, though it has moved streets.
"The Pride Centre of Edmonton provides a non-judgmental, welcoming space where people of all attractions, identities, and expressions can be themselves, find support, meet new people, and be part of a caring community."
I also buy Tanith Lee's Don't Bite The Sun. The cover artwork has a woman with a leopard skin bikini and the face of Danny La Rue.
"It's Jang to be wild and sexy and reckless and teenage"
My final purchase is The Weekend Witch – Everywoman's Guide to Enchanting Her Man. It combines sorcery and psychology. I keep buying books like these because one day, my club night, The Book Club, will return. When, I do not know, but I always see it in the distance.
​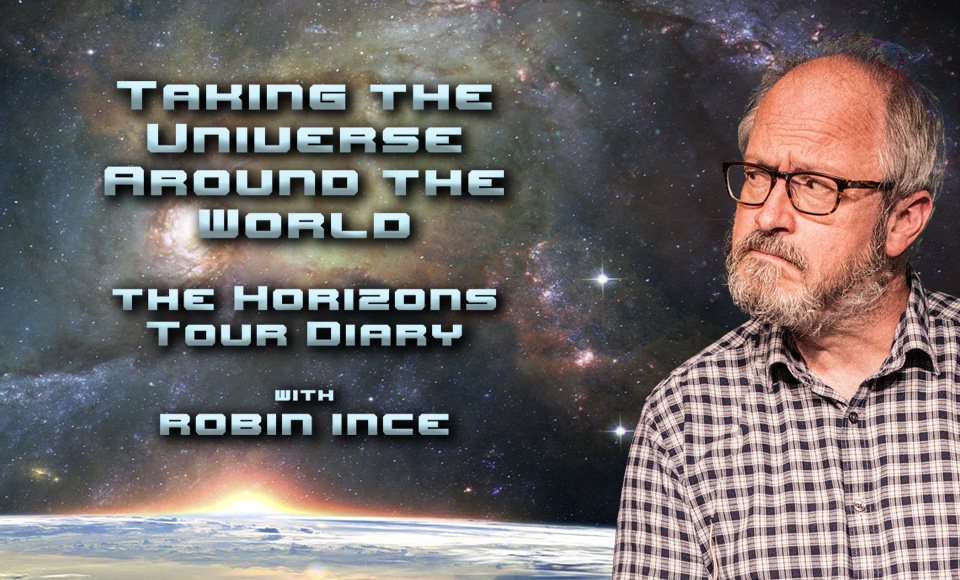 Listen to the Horizons tour podcast, Taking the Universe Around the World HERE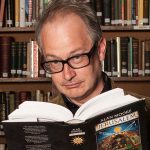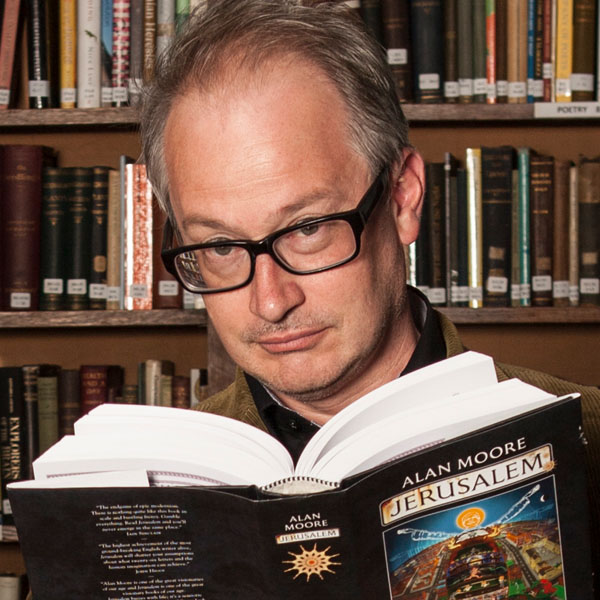 Robin Ince is a multi-award winning comedian, writer and broadcaster.  As well as spending decades as one the UK's most respected stand-ups, Robin is perhaps best known for co-hosting The Infinite Monkey Cage radio show with Brian Cox.  For his work on projects like Cosmic Shambles he was made an Honorary Doctor of Science by Royal Holloway, University of London. His latest book, The Importance of Being Interested is out now.
If you would like to reuse this content please contact us for details
Subscribe to The Cosmic Shambles Network Mailing list here.