The Sadness of a Closed Oxfam
Robin Ince's Blog
How age and workload change us. Today was ten hour round trip to Norwich.
Arriving at Norwich station, I browsed the beer and cider fridge and then old man me said, "No, you still have at least 3 hours until home. It will just make you tired and/or grumpy should there be any infrastructure failures and will get in the way of writing your Linda Smith Lecture. I wish Old Man Ince had lived in my head in my 20s, a decade that I pretty much pissed away, waking up every morning saying, "tonight, there will be no drinking" and living that groundhog day until somewhere in my 30s.
There is no point in regrets but I wish I had not done that.
For this afternoon's show, I was introduced by a man who had been elbow deep in a late llama, a science festival attraction that was fun for all the family even if the cup cake munching kids had to be reminded to step away from the splash zone when munching on their sponge and icing.
Trent was in Norwich too prepping for some of the Cosmic Shambles events which include talks by Dean Burnett and Helen Czerski, as well as Hannah Fry and Adam Rutherford hosting Jerzy Balowski's Medieval torture Hour (you'll understand this reference when you go to see their show).
It was an easy day, light on anecdote.
I woke up in my own bed. Ate Shreddies. Took a train into London where I was saddled with two loud and jovial swearers. They were very boring swearers too, light on imagination. They also showed each other noisy clips of noise on their phones. I tutted like ticker tape.
No young men sweating out the night before on today's train to Norwich.
I met up with Trent and we organised a signing session in one of Norwich's palatial multi-storey car parks  (just the books that needed dedicating for the Cosmic Shambles online bookshop orders).
We viewed the closed Oxfam Bookshop with sadness and sat outside the Arts centre with coffee and luxury biscuits. A woman with a sketch pad approached me and said she was going to be extremely rude. Like most people who approach you kindly and warn you of the imminent rudeness, she was not rude at all, but wondered if I would sign her sketch pad. I said Inwould if she would let me look at her sketches. She told me she preferred working in paint, but her ink sketches felt like enchanting sketches you see in the more elegant margins of an old book involving adventures in trees.
Rebecca Wragg Sykes joined us and I forced her to eat the luxury biscuits that were still tempting me (you have bought her magnificent book Kindred, haven't you?)
I was introduced by Ben Garrod who made it delightfully short and then I roamed around the ideas in my head and in my book. Being a Sunday, my limbs were a turgid parody of liveliness, and I had a seat every now and again I left it to my arms while my legs dangled like the final marionette.
Afterwards, I signed books and and Henry from The Book Hive gave me a sketch that the person with the pad had left for me, delightful. I also saw James Kinsley, who has been visiting my shows since the giant killer crabs were front and centre. He has written a novel called Playtime's Over and it has a wonderful uncanny quality. I also saw Rachel, a pal from college days. I still have her VHS of the first REM Unplugged, but she says I can keep it for another decade.
Strode to the station.
Now on the train.
Ate a banana.
Typing this.
———————————————————-
Maybe see you on this week's west country odyssey – Okehampton, Crediton, Totnes, Ivybridge, Plymouth, Liskeard, Mevagissey, Penzance, Falmouth and on.  All Tour dates here.

Order signed and dedicated copies of The Importance of being Interested here.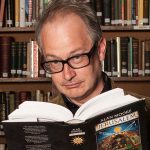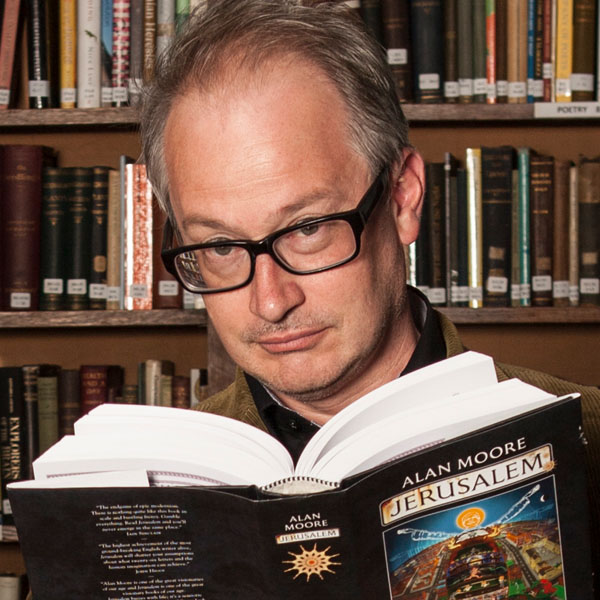 Robin Ince is a multi-award winning comedian, writer and broadcaster.  As well as spending decades as one the UK's most respected stand-ups, Robin is perhaps best known for co-hosting The Infinite Monkey Cage radio show with Brian Cox.  For his work on projects like Cosmic Shambles he was made an Honorary Doctor of Science by Royal Holloway, University of London. His latest book, The Importance of Being Interested has just been released.
If you would like to reuse this content please contact us for details
Subscribe to The Cosmic Shambles Network Mailing list here.