Today is a Not Day
Robin Ince's Horizons Tour Diary
Today is a Not Day, though not an Un-Day.
It is one of those days where a short journey in the middle of it all saps the potential from either side. 
I wake up a little anxious and slightly melancholy, this is usual on a travel day. Though I think the Sertraline is taking some of the edge off, it is not obliterating it. Perhaps too much of "me" would go if all my anxiety went, I would be a happy shell of man turning to dust as I sped around on a fairground waltzer. It might have been the strange dreams, which included an appearance from my mother, which is rare. I must look I into melatonin and its effect on dream memory. 
I ate yoghurt alone and read my Cookie Mueller book. I go to the essay on Edie Massey.
"When she memorized her part, she would memorise her screen directions too and say them right along with her lines during shooting. John had to do a million takes, but she was worth it. She was such a great terrible actress, the best". 
For four days, I had kept some order with my luggage, but the fifth day in the same hotel is when suitcase entropy sets in and the room becomes a cacophony of clothes, receipts and occasional loose wine gums. I wrote a little and then reversed the laws of the universe until the zips of my bag did up again. 
Brian managed to escape the hotel without taking Faye Dunaway with him. An art shop in the foyer had a vast and limited edition print of a Terry O Neill photograph of the movie star sat by a pool at the dawn after she won an Oscar for Network. Her feet are surrounded by the early editions celebrating her and Peter Finch's posthumous accolade. It is beautiful, but expensive, and has dimensions some way beyond hand luggage. 
August was our driver to San Jose.  He was listening to a local jazz station. I liked what I heard. It was that kind off jazz that finds a wonderful tune and then does its best to evade it for the rest of the song, then returns to it on the cusp of utter discordancy. 
Looking at the lawyer billboards decorating the highway, I wonder how many car accidents have been caused by people being distracted by adverts for attorneys who will deal with your automobile accident case. Is there an attorney who specialises in attorneys whose billboards have caused crashes? 
Brian explains something that is remarkable to me involving "old black holes" (black holes in the middle of their life) and where your consciousness might end up if you fall into one. 
Once in San Jose, Brian needs lunch. As usual, we venture the wrong way and find all the diners that have closed down during COVID. Eventually, we find a nice looking restaurant, but it turns out that it has the rather odd habit of closing for lunch. 
Steph is cheered up being seeing a confident skateboarding man with coffee in hand collide with an uneven sidewalk. She thought he was too old to be skateboarding anyway. 
We are all tour tired. This is an odd sort of undeserved tiredness. While our crew deserve to be exhausted, we have had rest and larking about, but a brain on tour percolates strangely. It pickles in a vague uncertainty. 
Somehow, I have a few further questions from the proof reader and agree to lose an extraneous "also" and lightly adjust an anecdote in Cheadle. I aim to write a proposal for my next two books – Anxiety for Everyone, in which I will be the main lab rat from ADHD and beyond, and Taking the Universe Around the World, which will be a diary of bookshops, black holes and Brian Cox from Ipswich to Dunedin, San Antonio to Iceland. I achieve one proposal, but decide that I need to walk. 
When we are in a city for a short amount of time, it is easy to get no sense if at all. We are usually right in the civic centre where life is business, banking or a closing down sale. 
It didn't take many steps to find some weird little diners, a tattoo parlour and bars where something is just about to happen, though it might never happen. 
I reach a methodist church with a big hole in the roof and solid barricades on the doors, but above the porch are banners that invite all. "Love is love …. Science is real … be kind to all"
A few further blocks down, another church with a Black Lives Matter banner and the words of Martin Luther King, "Injustice anywhere is a threat to Justice EVERYWHERE".
Down the street, I see the Martin Luther King Jr Library. One window is dominated by images of young people, Hispanic, Indigenous, Afro American,  killed by the police, immigration officers and security guards in recent years – Trayvon Martin, Breonna Taylor, Corey Kanosh, Korryn Gaines and many more – the window demands "JUSTICE FOR OUR LIVES".
Near our hotel is the sculpture of a table and a hat in memory , not is memory of Ernesto Galarza –  a man who proved it was possible to be " a scholar and an active citizen".
"Could be
I only sang
Because the lonely road was long:
And now the road and I are gone
But not the song…"
Audience questions tonight included –
Can the laws of physics be used to explain how life formed from chemical building blocks (from Max – a biology student – and we know Brian LOVES biology)
How long would it take to get to the edge of universe? From Mercy, Age 8
What will it take for Pluto to be considered a planet again?  Poor Pluto.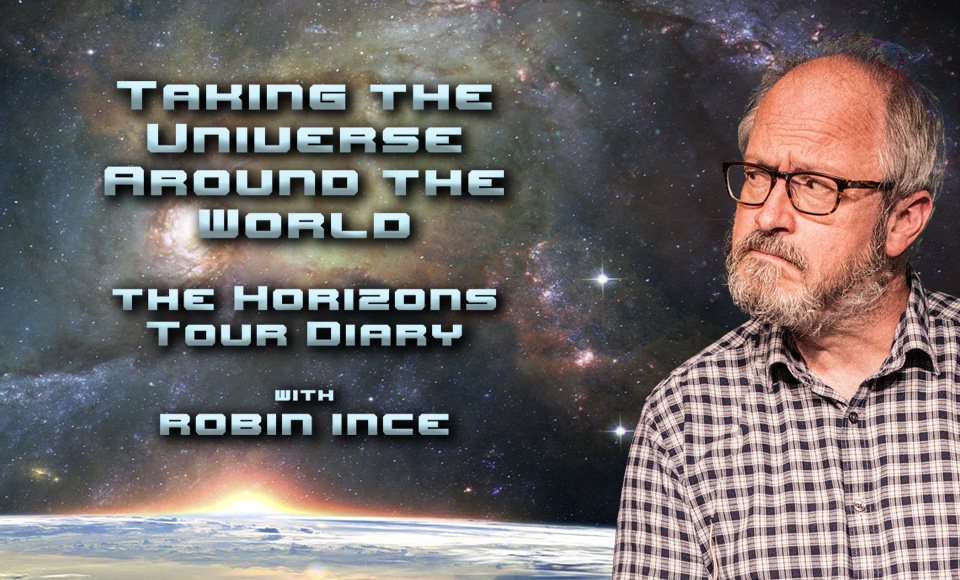 Listen to the Horizons tour podcast, Taking the Universe Around the World HERE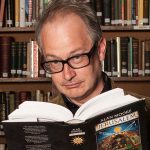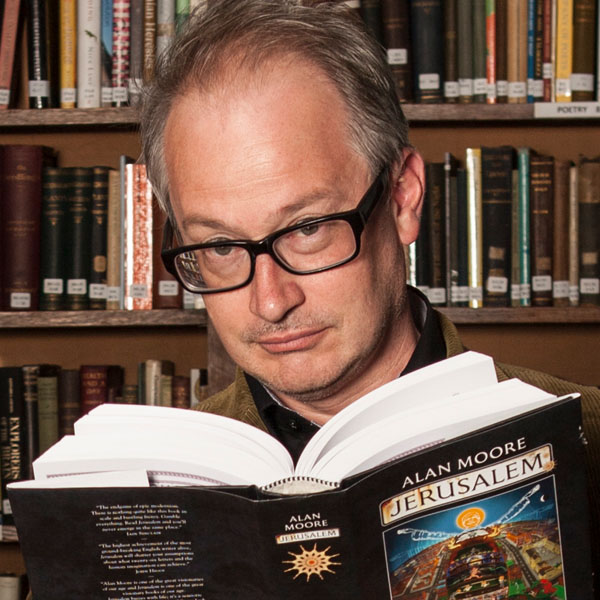 Robin Ince is a multi-award winning comedian, writer and broadcaster.  As well as spending decades as one the UK's most respected stand-ups, Robin is perhaps best known for co-hosting The Infinite Monkey Cage radio show with Brian Cox.  For his work on projects like Cosmic Shambles he was made an Honorary Doctor of Science by Royal Holloway, University of London. His latest book, The Importance of Being Interested is out now.
If you would like to reuse this content please contact us for details
Subscribe to The Cosmic Shambles Network Mailing list here.