Waking up in Seattle
Robin Ince's Horizons Tour Diary
Waking up in Seattle, I remember that my room has floor to ceiling windows looking out over the street, so remember not to flamboyantly open my curtains in my pajama trousers for fear I will affect the business of the strip joint across the street.
There is something unsettling about De Ja Vu Showgirls adult entertainment club. 
Perhaps it is what the men deserve. They want to be drawn into a world of erotic illusion, but as the tassels shake they are disturbed by a vague memory, a thought that they know that dancer from somewhere. Confused and enfeebled, they remember with horror, "That is my Auntie Phylllis!"
It is a short day in Seattle and then an afternoon drive to Portland. 
Unfortunately, the secondhand bookshops are very very close to our hotel. 
I work my way through the market where people loll and dawdle as fish are gutted and cannoli are boxed. As well as the multiple delicacies, the Sanitary Market, which got its name from its refusal to allow horses in, a rule it appears to continue to this day, is near another place of great historical interest. Here you will find a huge and perpetual queue to buy coffee at the site of the world's first Starbucks. I think I can see David Starkey ordering a Frappuccino or is it Simon Schama ordering a kiwi starfruit lemonade? 
The first bookshop I find is Lamplight Books. I am glad to see Eddie Glaude Jr's Begin Again on display at the front of the store and in the memoir section is a copy of Stewart Lee's How I Escaped My Certain Fate, of course the people of Seattle are aware of Alan Bennett's chosen gag man. I pull out a slightly battered copy of Herman Melville – Four Short Novels, formerly owned by Cindy Klawse by the looks of things. On the inside page, she has drawn an ecstatic pac man saying "Hmmmmmmm! Jesus sure fills you up" . I have mainly bought it for Bartleby, having seen the 1970 movie adaptation and noticing how often Bartleby is referenced by people cleverer than me. Always being attacked by pointless connections, I remember Stewart Lee's King Dong Vs Moby Dick, which combined the work of Melville with Noel Fielding in a giant penis costume. In the essays, section, I pick up a hardback copy of Ursula K le Guin's No Time to Spare – Thinking About What Matters. I open it on the line, "the sacred and the comic are not that far apart, something the Pueblo Indians seem to know better than most of us do". 
Again, a Stewart Lee connection, he is fascinated in Pueblo Clowns and made a Radio 4 documentary on the subject. This plays no part in my decision to buy this book. 
Harlan Ellison does play a part in my decision to buy Patton Oswalt's Zombie Spaceship Wasteland. I thoroughly enjoyed his book Silver Screen Fiend about days correctly wasted in LA by relentless moviegoing when he should have been working on his career. It reminded me of all those afternoon's in London's Prince Charles Cinema when I watched Man Bites Dog and The Passion of Darkly Noon when I should have been working out how to be less useless stand up. 
I am wary of buying too many books when there are still three weeks away and cities that may contain sacred books and sacred bookshops. Ellison writes, "I have impeccable taste, and I only converse with the following three: God, the Devil and Patton Oswalt". 
Sold. 
The big heavy book I really shouldn't have bought was The Vonnegut Encyclopedia, but I really do need to brush up on my Bokononisms. 
In BLFM books, I only allow myself one, Dick Gregory's Political Primer. 
"There is no denying that politics as currently practiced in the United States is 'power to the people'. The question is, what people. In the Lion Heart Book Store, there were a few essay collections on late 60s science fiction, by William Atheling Jr among others. The owner's card machine was not working, so I went in search of a cash machine after we had a discussion about the continued need to ensure that science was seen as a place for women. 
Then, I realised I was running late. I hurriedly went to sort my luggage which had exploded out of my suitcase like a cak-handedly primed magic trick. 
Waiting in the foyer, I worried about the bookseller. Perhaps he had been having a bad day, the weird little Englishman promising to purchase the science fiction essay collections that had been loitering on the high shelf for years had been a real pick me up for him. Maybe he wouldn't have to close down the shop after all, but where is he?
I ran down the hill to purchase the books, to ensure Lion Heart's future, to save the day.
The shop was absolutely packed and, it seemed, someone had seen the four books of essays liberated from their concealment on the top shelf and purchased them. I snuck out as Where's Waldo books flew through the till.
Albert drove me from Seattle to Portland, he was born in Armenia, but the majority of his life had been in Seattle. We talked of gun ownership, Kyle Rittenhouse (neither of us keen), Black Lives Matter, the war in Ukraine (he has family in both Russia and Ukraine) and the similarity between the right in USA and United Kingdom. We also talked of the rain and volcanoes.
In Portland, Brian takes us four a walk to a warship he spied on the journey in.
We turn left out of the hotel.
Out of practice, Steph and I forget to say to Brian, "Are you sure it is this way?"
After a few blocks, we turn 180 degrees and start walking in the right direction.
Along the rive there's a currently format funfair.
Funfairs look no fun when empty, they just look like metal fatigue waiting to snare its next victim.
Eventually, we find Brian's chosen boat. It is the USS Michael Monsoor, apparently one of three Zumwalt class of guided missile destroyers. According to Brian, the one problem with this ship is that they discovered it costs one million dollars per missile, but only after it had finished being built. This has thrown a spanner in the works.
Strange lumpen flies are hovering around us as we walk through the old town. I don't want to swallow another fly after last night. What is the other is still alive in my guts and then they mate and die after stomach cramps and during my autopsy, as my belly is sliced, a swarm bursts out as if were the Tate and Lyle lion but far less delicious.
FOOTNOTE: I ended the evening listening to Stewart's documentary on pueblo clowning and so I found out about the Moby Dickens Bookshop in Taos..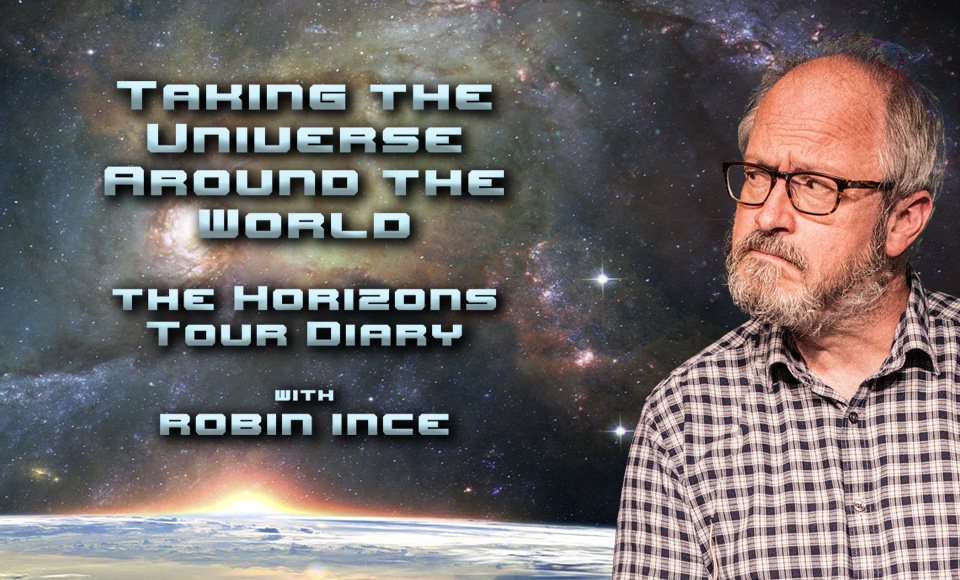 Listen to the Horizons tour podcast, Taking the Universe Around the World HERE
Feature pic by Mike Fisher. Kathleen Wall (Jemez) ceramic koshare sculpture inside a display case in the lobby of the Buffalo Thunder Hilton Resort Hotel on Pojoaque Pueblo in Santa Fe, New Mexico.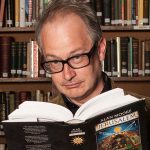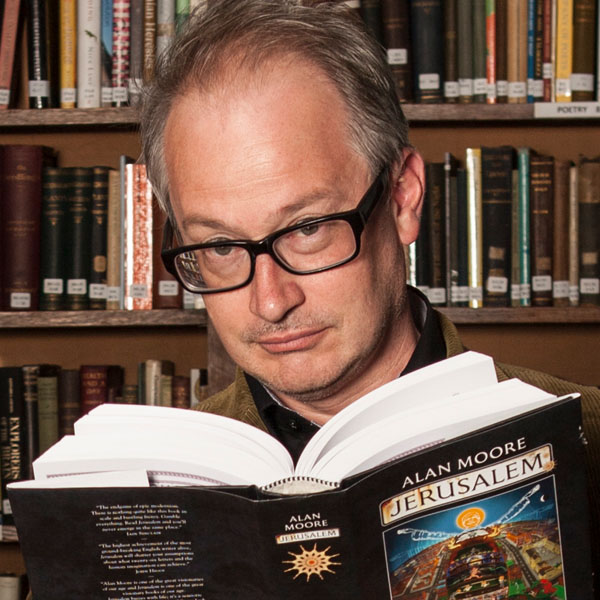 Robin Ince is a multi-award winning comedian, writer and broadcaster.  As well as spending decades as one the UK's most respected stand-ups, Robin is perhaps best known for co-hosting The Infinite Monkey Cage radio show with Brian Cox.  For his work on projects like Cosmic Shambles he was made an Honorary Doctor of Science by Royal Holloway, University of London. His latest book, The Importance of Being Interested is out now.
If you would like to reuse this content please contact us for details
Subscribe to The Cosmic Shambles Network Mailing list here.