Walking a Mile in Your Own Shoes
Robin Ince's Blog
There is a saying about walking a mile in someone else's shoes before judging them though the lesson I continually fail to learn is the need to walk for a mile in your own shoes, especially if they are new, before deciding that are the right ones to wear on a lengthy tour. 
The blisters I inaugurated with my 3 mile walk to Mount Florida Books last Saturday have grown and oozed for a while now and I have taken on the gait of Unlucky Alf.
While on the train to Newport, I was suddenly struck by the fact that after 18 months of earning not much, I have taken on a three month project that will earn me nothing at all. As the panic started to swell, a better thought created a balm, and I thought how lucky I was to be in a position to take on a project where I could earn nothing. The arts is often a secluded place and I am fortunate that I have got to the point where I can take on an adventure without financial recompense.
Wednesday began in Bristol and a meeting with Chris from the Slapstick festival about what sort of tomfoolery would be celebrated in January 2022.
This was a short trip day, a journey to Sidmouth and then a trip to Exeter.
Sidmouth Science festival was my second engagement in a church this week and the pews were full, my preaching grandfather would be proud. Alan, who kindly fetched me and returned me to Exeter, gave me a spare 15 minutes to look at the sea and eat a cauliflower pasty. The sky keeps looking bigger, do I have an illness or am I getting better, either way, I have beeb fortunate to see beautiful blue skies and peachy dusks this week.
The evening gig was in Exeter's now expanded Oxfam Books. This meant my pre-show allowed me time to browse as I drank tea and ate performance enhancing Jaffa cakes. I also met Jez Winship, who volunteers in the Oxfam music section, and who has also written a superb book on George A Romero's Martin for the Midnight Movie Monograph series.
I decided that I must highlight some of the stock in the hope that I sold not merely my book but some of Oxfam's wonderful collection. There was a Metroland box, I am not sure what it contained but it celebrated John Betjeman's Metroland and was signed by him too. I was tempted, but someone else snapped it up for £300. This was my first gig with a lectern, it is good to have something to lean on when blistered.
At the end of the night, Jess sold a stylophone but only after careful removal of Rolf Harris's beaming "buy me" face. Unfortunately, I looked into the glass cabinet of treasures and Ould not resist a book of High Strangeness with an introduction by Colin Wilson and a £60 price tag.
Thank you to Catherine and Edith and all the others in the shop, I thoroughly enjoyed it and the 100 Bookshop tour is made more pleasingly absurd with the knowledge of where I should have been on the Brian Cox tour that has been postponed until Autumn 2022. Another night where 14,000 is replaced by 40, but the delight remains frothing and delightful when I am in these shops and makes up for the cracks that occasionally appear as I think of how far I must go.
Evening ended with wine and crisps and the company of Francesca Stavrakopoulu and her husband, we covered a lot of ground and then I limped back like a Biblio Captain Oates.
————————————————————-
Now for the Welsh leg including Swansea, Pontypridd and Penarth, then Birmingham's Think Tank at 2pm on Saturday.. All Tour dates here.

Order signed and dedicated copies of The Importance of being Interested here.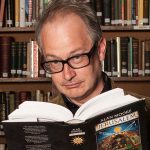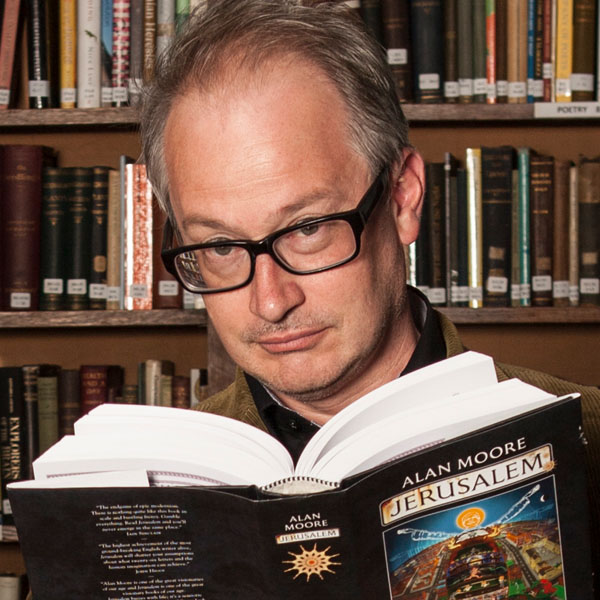 Robin Ince is a multi-award winning comedian, writer and broadcaster.  As well as spending decades as one the UK's most respected stand-ups, Robin is perhaps best known for co-hosting The Infinite Monkey Cage radio show with Brian Cox.  For his work on projects like Cosmic Shambles he was made an Honorary Doctor of Science by Royal Holloway, University of London. His latest book, The Importance of Being Interested has just been released.
If you would like to reuse this content please contact us for details
Subscribe to The Cosmic Shambles Network Mailing list here.