Book Browsing in Ottawa
Robin Ince's Horizons Tour Diary
We eat our scrambled eggs to Je t' Aime…Moi Non Plus by Serge Gainsbourg and Jane Birkin.
It is a civilised breakfast soundtracked by dashed love and breathy sexual hopes. 
While France had Gainsbourg and Birkin, it was reworked for the British market by Frankie Howerd and June Whitfield (the best English language version is sung by Nick Cave and Anita Lane. We still wait for Nick Cave's turn as Lurcio). Before that, we had Bonnie and Clyde by Gainsbourg and Brigitte Bardot. This was a song that haunted me during my worst period of insomnia. There is a strange caterwauling sound that permeates the song and that would play on a loop in my head as I cursed the ceiling and teetered on the cusp of hallucination. 
Brian decides he will continue to battle with the final chapter of the black holes book he is writing with Jeff Forshaw, so I take a walk. We are in the ornate, gothically decorated, bright and inviting cultural area of Ottawa. It doesn't take many steps downtown to hear a homeless man shouting to a bawling child across the street "SHUT UP!". Another homeless man pisses fluently in a doorway. 
Homelessness through poverty, mental illness, abuse or all three is even more galling in a capital city – a reminder that governments of whatever stripe so often fail to create the net that can catch so many who may fall (I remind myself to reread Rawls' Theory of Justice). 
I duck off the main drag on my way to Barely Bruised Books.
The shop is situated above a laundromat. There is a reminder that books in the stairwell are not free and it would be preferable if you brought them upstairs and paid for them. 
It is just the kind of bookshop I like, both ramshackle and ordered. 
When I walk in, the owner is helping a woman with books on the nature of evil and also artificial intelligence, he directs her to Nietzsche and to Ray Kurzweil. He asks me if I am after anything in particular and I explain that I am a broad browser. He is obviously one of those autodidact booksellers with an ability to direct people to books that they didn't know existed but fit exactly the prescription they are after. He points me to the shelves which are curated by customers.
(This reminds me, in Pages yesterday I saw a sign that was new to me, two tables with the sign ' "Books as seen on TikTok". This is not a shop of books as seen on TikTok, unless I start a TikTok account of course). 
The first book I pick from the customer curated shelves is Delmore Schwartz's In Dreams Begin Responsibilities, a beautiful title and an author I know nothing of. He is described as "an acute social observer…and is best known through his legend as poète audit". I also pull out Helena Parente Cunha's Woman Between Mirrors, "part of a tradition of innovative writing by Brazilian woman begun by Clarice Lispector". 
I open the novel at random, "the woman who writes me hears the sound of the rain and thinks of me. She wants to write me and she will, with her hands bandaged. Bloodstains on the gauze".
I am captured. 
I browse lazily, trying to turn down my usual alertness around the shelves as I am quite aware there is much I will want that will weight me down too much when there are still 18 days of this leg of the tour to go.
I decide that Her Own Woman, a series of essays by female Canadian authors about Canadian women is a good book for travel. There is a very cheap copy of the pocket book version of Daniel P Mannix's We Who Are Not As Others, stories of those who worked the circus freak shows, and The Invasion from Mars – A Study in the Psychology of Panic by Hadley Cantril, which includes the complete script of Orson Welles's War of the Worlds radio broadcast. I meet the bookshop cat and I am told that he is really the manager. It moves with great self possession, questioning your choices. It looks like an erudite cat. 
Fortunately, totting up the books takes just long enough for me to realise that I really do need that copy of Don't Look Now with the Julie Christie cover, once owned by Fraser and Betty Brown who owned an ink stamp of their names to make it very clear they expected any books they lent to you returned. 
"The child struggled to her feet and stood before him, the pixie hood falling from her head on to the floor. He stared at her, incredulity turning to horror…"
I weave my way back through side streets, passing by can handed homeless men and women, and then stylish brunch imbibers, with freshly squeezed orange juice and blackberry smattered pancakes. At a crosswalk, a car honks its horn, the fact that I find this noise incongruous today reminds me we are not in a US city anymore. 
I have enough time before our designated jog and press upon session to take a look at the National Gallery of Canada. There is an exhibition of Canadian impressionists. I am predominately ambivalent about impressionism, though a great admirer of Walter Sickert whose work grows out from that movement. My favourites of this exhibition are those that are lonely and approaching the cold and almost Norwegian, such as Maurice Cullen's Moret, Winter and Emily Carr's Autumn in France. I am also impressed by Marc-Aurèle De Foy Suzor-Coté's Symphonie Pathétique. I am also impressed by Helen McNicoll's The Chintz Sofa. She was active in the Society of Women Artists and was later elected to the Society of British Artists.
Laura Muntz's Interesting Story shows two girls embroiled in a book. It reminded me of a playground Brain and I passed in Manhattan. All the youngsters were cannoning around, save for one boy who was intensely reading a book – "there's your future scientist".
Mind you, I was that boy once and I am struggling with quantum entanglement.
On the Duchamp wall I see one of my favourite jokes of his, a snow shovel entitled "In Advance of Broken Arm". I also make a note to find out more abo
Running out of time, I go into the Rideau Chapel. Inside this reconstruction of sacredness, there is also Janet Cardiff's The Forty Part Moet. I think I have experienced this before at the Tate Modern, Spread around the chapel are forty speakers, each one the recording of a single voice in a choir performing a reworking of Thomas Tallis's Spem in Alium. Sit in the middle, and you hear the choir as a whole, walk from speaker to speaker and you change the dominate voice or capture a moment of silence. As I sat there, it reminded me of the importance of transcendent moments, of that peak experience I wrote about Robert Fripp seeking. It is something the evidence based minds of science must not shy away from, I think religion has cornered too much of this, made such reverie almost embarrassing to some of those who seek equations. There is no shame in it.
I hope some of the Horizons show delivers that, too.
Back at the hotel, Brian has gained momentum with his black hole and so decides to keep writing. I take to the gym. It is too hot and sunny for a pale man like me to risk press ups in the park.
The Ottawa gig has been sold out for a while so we have an extra level off excitement about this one. Outside stage door, I meet Heather and her husband. They've been playing real golf all day and I try to explain crazy golf, a game my son and I adore playing together – it is about as competitive as we get.
We are not very competitive people.
Heather kindly gives me some sweets, two coffee mug thermoses for Brian and I, and a book, Reel Ottawa by Dan Lalande. It is a memoir of growing up movie obsessed in the cinemas of Ottawa. Quite rightly, Heather is a John Hurt fan. She asks me my favourite and there is no denying The Elephant Man is one of my most watched films. During lockdown, noticing it was a certificate 12, I thought I could watch it with my son. I had forgotten just how emotionally potent it is. It looks some time for us all to come down from that. Heather has a very interesting choice. The mismatched cop buddy movie Partners with Ryan O Neal.
The Ottawa audience are a delight (so far) I write this halfway through the show.
Tonight, we take the tour bus to Montreal, the city with the Nick Cave exhibition I have been aching to see…which is closed on Monday.
No Nina Simone chewing gum for me.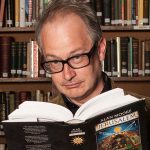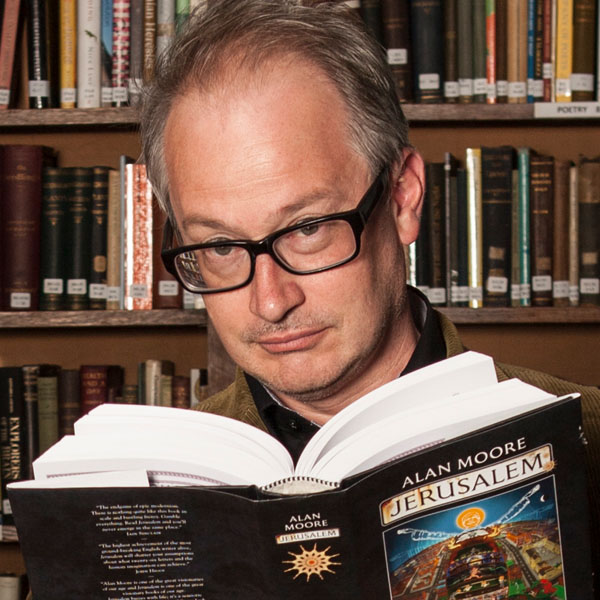 Robin Ince is a multi-award winning comedian, writer and broadcaster.  As well as spending decades as one the UK's most respected stand-ups, Robin is perhaps best known for co-hosting The Infinite Monkey Cage radio show with Brian Cox.  For his work on projects like Cosmic Shambles he was made an Honorary Doctor of Science by Royal Holloway, University of London. His latest book, The Importance of Being Interested is out now.
If you would like to reuse this content please contact us for details
Subscribe to The Cosmic Shambles Network Mailing list here.