The End of the Arenas
Robin Ince's Horizons Tour Diary
I am groggy, a little jet-lagged, time is slightly out of joint. 
Arriving in the Sydney hotel, it seemed faintly absurd that one week ago we were still ion a stage in Sunderland. I will hurry through my last few northern hemisphere days before the journey south.
In Newcastle…
My peripatetic late night viewing habits pay off when my pal Gavin Webster makes a joke about Arthur Cox. He presumes I will have no idea who he is.
"You mean Arthur Cox who was manager of Derby football team?"
Gavin looks shocked. 
Just 24 hours before, he would have been quite correct to presume that I didn't have a clue, but just before bed, I clicked on a link that led to an old interview with Brian Clough. Clough spoke of Cox's most recent season at Derby and also what a better world it would be if Murdoch and Maxwell did not control our press. 
Gavin is one of my favourite comedians, mixing absurdity and big studded voices with astute observations on class that should seem him revered and a media darling (oh how he would hate that), but go unnoticed by the gatekeepers as he does not pander or presume an ignorance of his audience. 
We drink lemonade and coffee and discuss how middle age reveals the conservatism of more people than we might have hoped or imagined. 
Tonight's gig is the Sunderland Empire. This is the venue where Ricky Gervais leapt out of the shower in my dressing room to startle me (or did he get the sound man to do it) not long after I agreed to be buried on a beach to quieten his shrill boredom. 
The energy in a theatre is different to an arena, and our sections of larking about approach the music hall. 
To Glasgow …
We finally get around to watching the second half of Withnail and I on the way to Glasgow Arean, one of our favourite venues. At a service station near Lockerbie, I sign some copies of Importance of Being Interested in the WH Smith and have a friendly chat with the sales assistant who is pleasantly surprised by this impromptu autographing and buys a book for her daughter. 
Morrissey is in the venue next door to us and I briefly wish that I could sneak in for a song or two, but looking at his recent setlist on-line my envy of his audience subsides. 
For the first and last time on the UK tour, I am late for a cue. Lucky I saved this for an audience of 10,000. 
I am always worried by impoliteness to security as I walk to and fro so often you can't just keep saying hello, but I manage to create a broken conversation that can be fragmentarily continued with each entrance and exit. 
We drive down to Carlisle, arriving at midnight to be greeted by the portrait of an upstanding goat in a dress on the stairwell wall. 
We have to say goodbye to Giles tonight, he has received the calling to Milton Jones's tour and must be in Tunbridge Wells on Monday afternoon. 
We miss him on our journey to Liverpool. 
It seems odd to end an area tour on a Monday, but the Liverpool audience behave as if it is Thursday at the very least. 
To London
We get a morning train to London. Brian is straight into interviews with co-writer Jeff Forshaw about their black holes book, and I am off to Scala Radio to talk with Penny Smith about Bibliomaniac. Brian has insisted I get a more modern phone, so spend much of Tuesday being confused by apps that send me in the wrong direction. Wanstead tube station is some distance from Wanstead Tap. Nevertheless, before the swearing, I enjoy the rather swanky high street of Wanstead and buy three books of philosophy on the Oxfam. I also notice they have a copy of The Importance of Being Interested and How to Build a Universe Part One, and dedicate them both to the Oxfam purchaser, whoever that might be.
I am exhausted and grumpy when I get to Wanstead Tap, though the fury soon disperses.
It is a fantastic venue with a loyal and lovely audience. Because I am exhausted, when on stage, the negative voices are busy in my head and I worry that I am not what the attendees hoped for.
My talk around this book is always a very improvised and ADHD connection affair and tonight is a little more poignant than it has been (you can listen online here.). Afterwards, I find out that it had far more impact than I had imagined and that the silences had been positive ones. I sit outside, drinking red wine and talking of books and of loss with the audience while I sign.
Home…
I have 13 local radio interviews today – I am introduced as Paul Ince on the first one, a less than auspicious start. I get the inkling that this DJ has no interest in the book or my conversation. The other twelve are far more satisfying.
Tring…
I end the day at Our Bookshop in Tring, a full room of readers including one of the local Oxfam bookshop volunteers who has seen me deliver and relieve 100s of books over the last few years .
Though home before 10, the rest of the family are sleeping.
I sneak about and quietly simmer soup.
Tomorrow, I visit five bookshops in London starting in Dulwich and ending in West Hampstead, My energy is fragile now.
​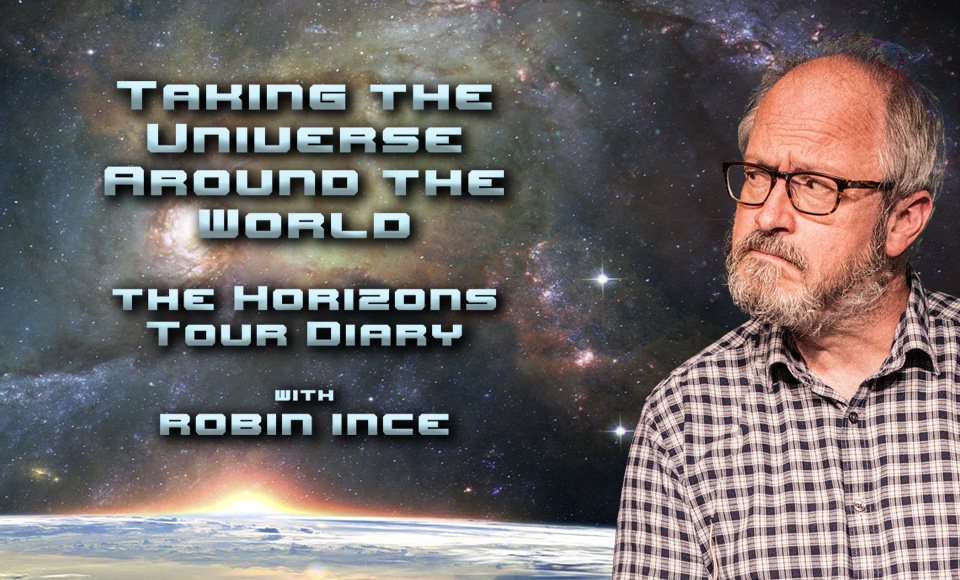 Listen to the Horizons tour podcast, Taking the Universe Around the World HERE.
Bibliomaniac is available for pre-order now at cosmicshambles.com/shop with exclusive art cards.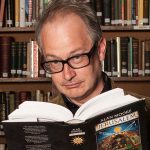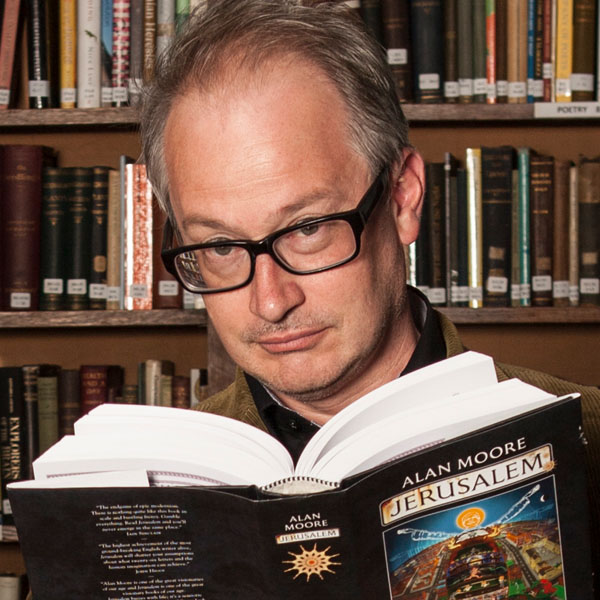 Robin Ince is a multi-award winning comedian, writer and broadcaster.  As well as spending decades as one the UK's most respected stand-ups, Robin is perhaps best known for co-hosting The Infinite Monkey Cage radio show with Brian Cox.  For his work on projects like Cosmic Shambles he was made an Honorary Doctor of Science by Royal Holloway, University of London. His latest book, The Importance of Being Interested is out now.
If you would like to reuse this content please contact us for details
Subscribe to The Cosmic Shambles Network Mailing list here.